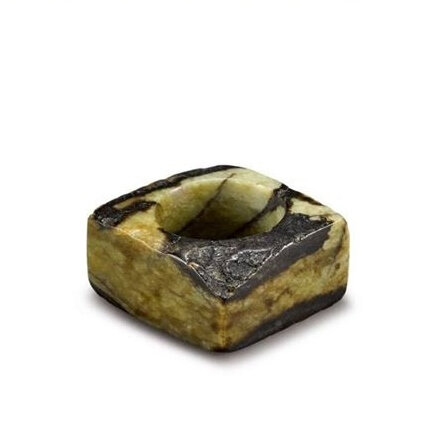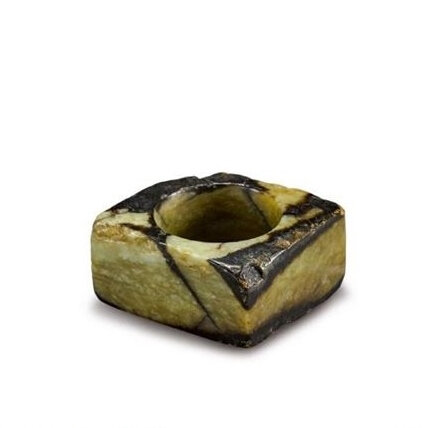 Lot 5021. A brown and black jade cong, Neolithic period, probably Liangzhu culture (3400–2250 BC); 6.4 cm, 2 1/2 in. Estimate 80,000 — 120,000 HKD. Sold for 100,000 HKD (16,269 EUR). Courtesy Sotheby's.
of square section with a central aperture, the stone of a mottled greenish-celadon colour with dark brown patches, wood stand.
Provenance: The Huai Qin Ge Collection, acquired during the 1960s to 1980s.
Sotheby's Hong Kong, 1st June 2017, 353.
Note
:
The Huai Qin Ge collection was assembled by Lui Shu Ying (1919-2000) from when the Lui family took refuge in the small French enclave of Guangzhouwan on the Southern coast of China during the World War II before it was eventually receded to China in 1946. During this period of instability in Guangzhouwan, Mr Lui met other young professionals, with whom he would remain friends and later form a collector's club and fraternity in Hong Kong called 'Yau Hoi' from the late 1950s. The members of the fraternity regularly met to discuss art and other matters, echoing the scholars' gatherings at the Orchid Pavilion, and cultivated together an interest in collecting paintings, calligraphy and archaic jades – as well as the gardening of bonsai.
See two other archaic jades, also formerly from the Huai Qin Ge collection, offered in this sale, lots 5006 and 5010.
Sotheby's. EYE/EAST, Hong Kong, 22 May 2020