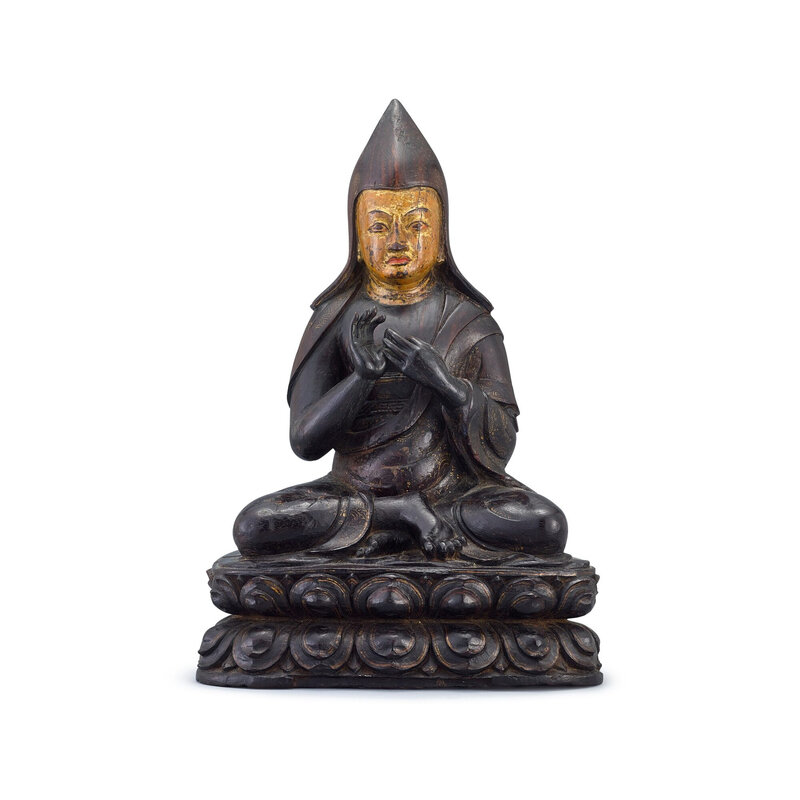 Lot 5012. A gilt-lacquered zitan figure of Tsongkhapa, Tibet, 16th–17th century; 35.4 cm, 13 7/8 in. Estimate 60,000 — 80,000 HKD. Sold for 87,500 HKD (10,353 EUR). Courtesy Sotheby's.
heavily carved seated on a double-lotus base with the hands held in dharmachakra mudra, wearing a voluminous robe wrapped across one shoulder with brocade borders rendered in gilt-lacquer against the dark brown ground, the gilt-lacquered face crowned with a peaked hat.
Note
: This large and finely carved sculpture depicts the lama Tsongkhapa (1357-1419), founder of the Gelugpa School of Tibetan Buddhism. He established the Ganden Monastery which became the principal seat of the school. Beginning with Tsongkhapa, the successive Throne Holders of Ganden are the heads of the Gelug Tradition. In this sculpture, his hands are depicted held in
vitarkamudra,
forming the
dharmachakramudra
, the gesture of teaching, which is a characteristic
mudra
of Tsongkhapa, lending support to the identification. For a 15th – 16th century representation of Tsongkhapa in gilt-bronze, see
Buddhist Art from Rehol: Tibetan Buddhist Images and Ritual Objects from the Qing Dynasty Summer Palace at Chengde
, The Chang Foundation and Kaohsiung Museum of Fine Arts, Taipei and Kaohsiung, 1999, no. 21, p. 83, where Tsongkhapa is shown complete with his attributes.
Carved zitan figures of Tibetan Buddhist lamas are rare. See a closely related figure of Atisha in the Rubin Museum of Art, New York, no. C203.12.6, which shares the same intricate design on the robes. See also a 15th-century figure of a lama in the John and Berthe Ford collection, illustrated in Pratapaditya Pal, Desire and Devotion: Art from India, Nepal and Tibet in The John and Berthe Ford Collection, Baltimore, 2001, p. 298, pl. 174.
Sotheby's. EYE/EAST, Hong Kong, 22 May 2020