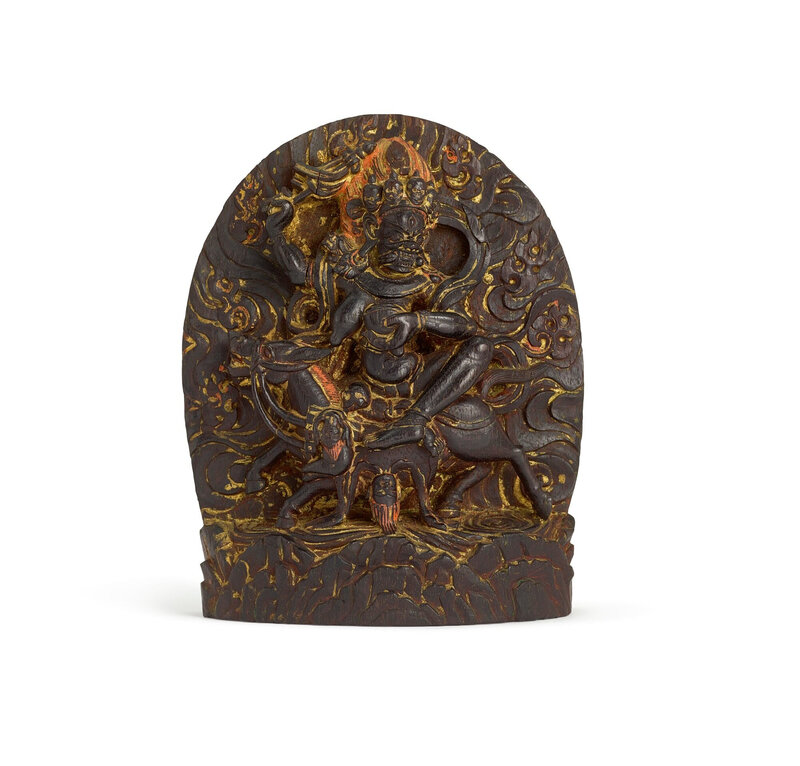 Lot 5091. A rare gilt and polychrome zitan figure of Shri Devi, Tibet, 16th – 17th century; 16.7 cm, 6 1/2 in. Estimate 40,000 — 60,000 HKD. Sold for 62,500 HKD (7,395 EUR). Courtesy Sotheby's.
the deity seated on a mule with a saddle made of human skin within a flaming mandorla atop a sea of blood on a mountainous base, depicted with a ferocious expression and a third eye surmounted by flaming hair secured by a skull diadem, her left hand holding a skull cup and her right raised holding a banner, wearing a swirling scarf around her shoulder and adorned with a garland of severed heads, all the details accentuated with gilding and red pigment.
Note: This finely carved zitan figure, which retains extensive areas of the original gold and red pigments, depicts the female protector deity Shri Devi, known as Magzor Gyalmo in Tibetan. For a Qing Imperial figure of Shri Devi, see Buddhist Art from Rehol: Tibetan Buddhist Images and Ritual Objects from the Qing Dynasty, Summer Palace at Chengdu, Taipei, 1999, pl. 28.