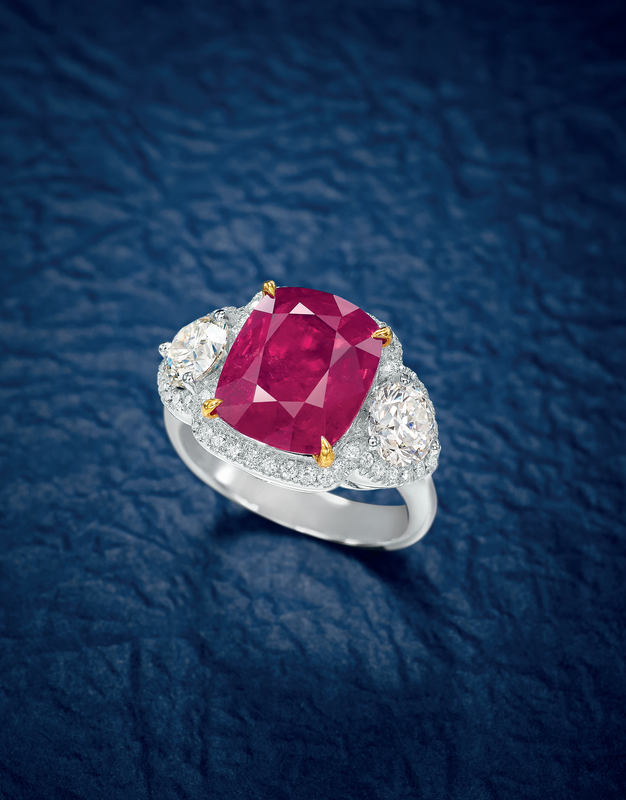 Lot 26. 5.52-carat natural Vietnamese ruby and diamond ring. Estimate HK$1,100,000 - 1,600,000 (US$140,000 - 205,000). © Tiancheng International
Set with a cushion-shaped ruby weighing 5.52 carats, decorated with brilliant-cut diamonds together weighing approximately 1.70 carats, mounted in 18 karat white and yellow gold. Ring size: 6.
Accompanied by GRS report numbered GRS2020-011204, dated 9 January 2020, stating that the 5.52 carat ruby is natural, Vivid Red (GRS type ''Pigeon's Blood'') colour, of Vietnamese origin, with no indication of thermal treatment;
Lotus report numbered 1270-9708, dated 28 January 2020, stating that the 5.52 carat ruby is natural, Red colour, of medium tone and vivid saturation, of Vietnamese origin, with no indications of heating or treatment; with colour type, stating that 'The highly saturated crimson color of this gem earns it the Lotus Pigeon's Blood distinction.'
VIETNAMESE RUBY
When Vietnamese rubies first appeared on the market in late 1990s, the trade was surprised by their vivid colour and exceptional crystalline clarity that can even rival those from Mogok in appearance. Vietnamese rubies usually have a glow in the red colour and are of lively brilliance. The country which had never previously been known for any gemstone sources thus was believed by many experts that produced one of the two finest ruby mines in the world.

The majority size of Vietnamese rubies is less than 2 carats. Most Vietnamese rubies have naturally excellent clarity and are exempted from treatment; nevertheless, since many stones tend to be pinkish, heating is still commonly applied to the less saturated goods. Therefore, a natural untreated Vietnamese ruby of fine quality is very rare; let alone a special stone over 5 carats.
Tiancheng International. HONG KONG SPRING AUCTION, Jewellery and Jadeite, 7 July · 1 pm