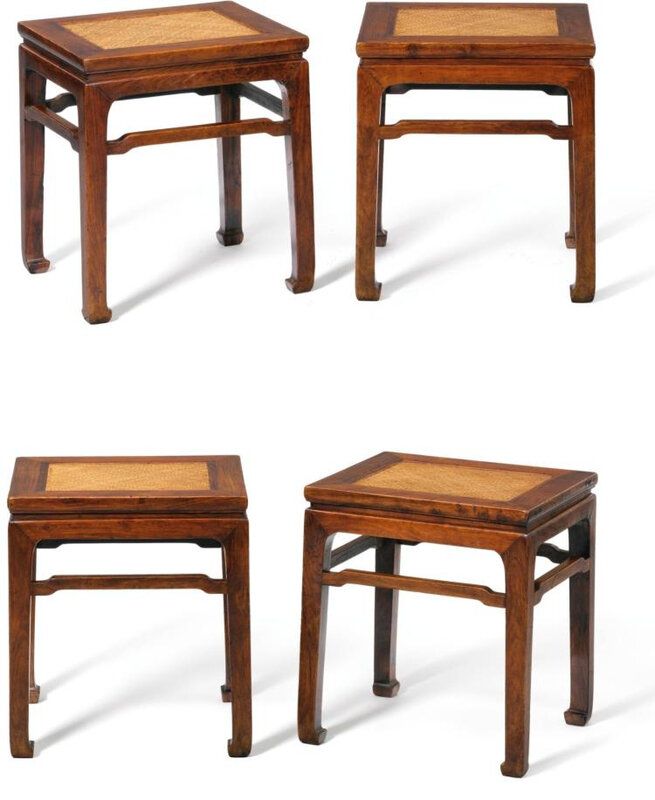 Lot 134. A set of four huanghuali rectangular stools, Late Ming dynasty; 51.5 by 45.6 by 40.1 cm., 20 1/4 by 17 7/8 by 15 3/4 in. Estimate 1,500,000 — 2,800,000 HKD. Lot Sold 6,680,000 HKD (767,906 EUR). Courtesy Sotheby's.
each frame top of standard mitre, mortise and tenon construction, with exposed tenons on the short sides of the frame, drilled for soft-seat construction (now replaced with old matting), supported by two curved transverse braces, the flat edge of the frame with a beaded edge and resting above a recessed waist and a plain straight apron, both the waist and apron made of one piece of wood and mortised and tennoned into and half-lapped onto the legs ending in well-drawn hoof feet, a humpback-shaped stretcher slightly set back and tennoned to the legs below the apron.
Exhibited: Grace Wu Bruce, Dreams of Chu Tan Chamber and the Romance with Huanghuali Wood: The Dr. S. Y. Yip Collection of Classic Chinese Furniture, Art Museum, Chinese University of Hong Kong, Hong Kong, 1991, cat. no. 12, pp. 46-47.
The Chinese Collections, Asian Civilisations Museum, Singapore, 1997-99.
Grace Wu Bruce presents Ming Furniture from the Collection of Dr. S. Y. Yip, Institute of Contemporary Art, London, 1999.
Grace Wu Bruce, Grace Wu Bruce presents a choice selection of Ming Furniture from the Dr. S. Y. Yip collections, Hong Kong Convention and Exhibition Centre, Hong Kong, 2012, pp. 18-19.
Literature: Grace Wu Bruce, Two Decades of Ming Furniture, Beijing, 2010, p. 153.
Grace Wu Bruce, Ming Furniture Through My Eyes, Beijing, 2015, p. 157.
Note: "Four stools as a set are really rare, lucky be the new owner!"
Stools are seats without backs. Surviving examples of stools made in the late Ming and early Qing period come in a variety of styles, mostly with great similarity to table designs of the same period. This set of stools, with a recessed waist, hump-back shaped stretcher and hoof feet is identical to that of a classic banzhuo table.
The ranking of seats in the Ming period was hierarchical with chairs being deemed more important seats reserved for the master of the house and senior guests. Formal occasions would also call for the usage of chairs while stools were used in more relaxed gatherings.
This classic design is typical of Ming period stools. Stools were made in sets and pairs but easily became separated over time so extant examples of huanghuali stools in a set of four are quite precious.

Standard in design, this set of four stools with excellent proportions, exemplifies the undecorated stream of Chinese hardwood furniture at its best. The lines are pure and elegant, the form simple and restrained. A similar piece is illustrated in Chen Zengbi, Zhongyang Gongyi Meishu Xueyuan Yuancang: Zhenpin Tulu [Central Academy of Arts and Crafts: Illustrations of collections], vol. 2: Mingshi Jiaju [Ming Furniture], Hong Kong, 1994, no. 5.
Sotheby's. Ming Furniture – The Dr S Y Yip Collection, Hong Kong, 07 October 2015