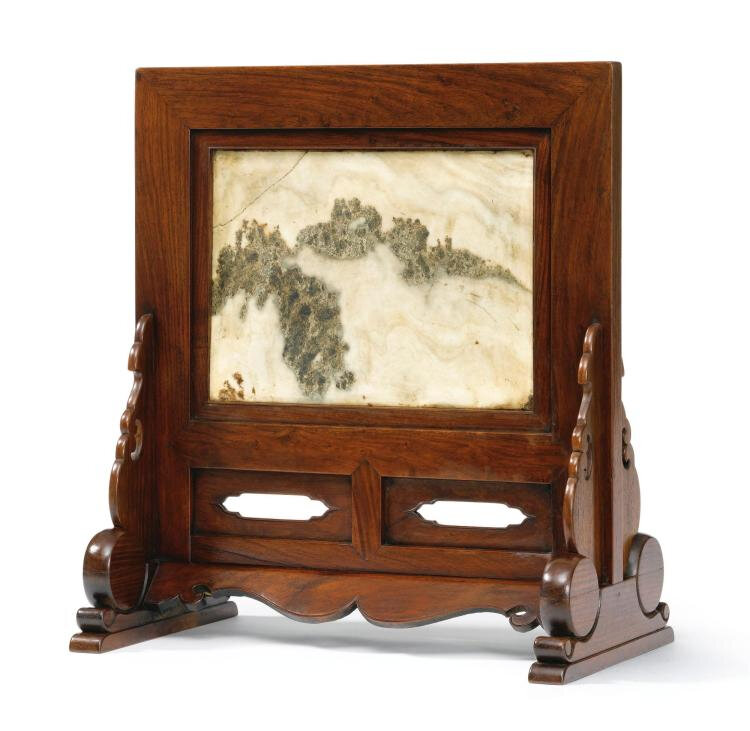 Lot 138. A large huanghuali and dalishi marble table screen, Late Ming dynasty; 62 by 56.3 by 32.7 cm., 24 3/8 by 22 1/8 by 12 7/8 in. Estimate 380,000 — 550,000 HKD. Lot Sold 1,375,000 HKD (158,064 EUR). Courtesy Sotheby's.
beautifully modelled, the two base supports edged with drum-shaped and deep curvilinear aprons on each side, flanking a pair of openwork panels inset below a well-figured dalishi marble evoking mountains and clouds.
Exhibited: In Pursuit of Antiquities: Thirty-fifth Anniversary Exhibition of the Min Chiu Society, Hong Kong Museum of Art, Hong Kong, 1995-96, cat. no. 275, p. 304.
Freer Gallery of Art and Arthur M. Sackler Gallery, Smithsonian Institution, Washington D.C., 1997-2001.
Grace Wu Bruce, Chan Chair and Qin Bench: The Dr. S. Y. Yip Collection of Classic Chinese Furniture II, Art Museum, Chinese University of Hong Kong, Hong Kong, 1998, cat. no. 48, pp. 154-155.
Literature: Grace Wu Bruce, Two Decades of Ming Furniture, Beijing, 2010, p. 267.
Grace Wu Bruce, Ming Furniture Through My Eyes, Beijing, 2015, p. 273.
Note: "Table screens are often distinguished by the classic marble landscape painting mounted on a well-made base. Of classic literati taste."
Table screens are contracted versions of large floor screens, and their method of construction is often identical to their larger counterparts. Table screens are divided into two groups: those with removable panels; and those of which the panel is fixed to the base. This piece is of the latter, a smaller version of the large floor screens often depicted in woodblock illustrations to Ming publications. A very similar table screen with inset dalishi marble is illustrated in the 17th century novel Jing ping mei [The Plum in the Golden Vase, or the Golden Lotus].
Sotheby's. Ming Furniture – The Dr S Y Yip Collection, Hong Kong, 07 October 2015