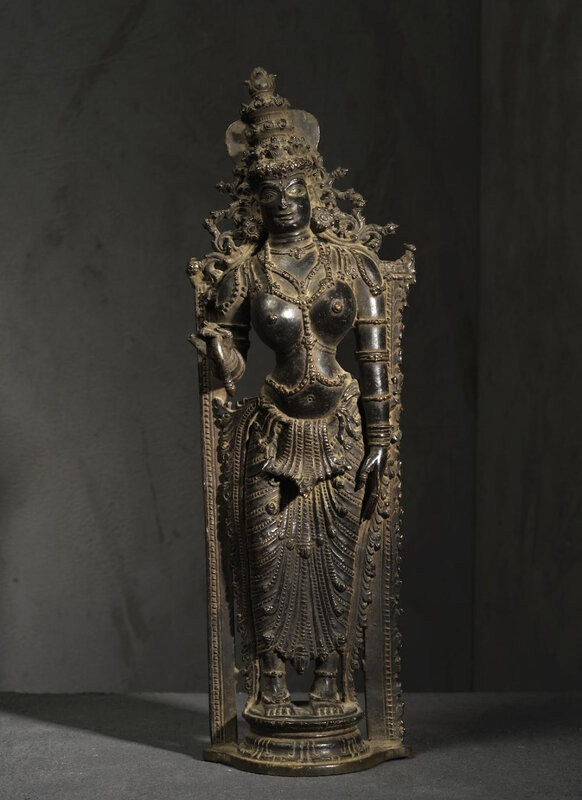 Lot 169. Bhumi Devi?, Inde, Kerala, ca 16° siècle. Alliage cuivreux. H. 35,7 cm. Estimate: €8,000- €10,000. © Cornette de Saint Cyr
Rare et importante représentation d'une déesse debout brandissant un lotus de sa main droite, le haut du corps incliné dans la même direction.

Cette rare sculpture peut être rapprochée d'une quasi identique conservée au Los Angeles County Museum of Art (inv. M.2005.73), cadeau de Mrs. Harry Lenart en l'honneur du 40° anniversaire du musée, identifiée par le Dr Pal comme Shri Lakshmi. (cf: P. Pal. "The Divine Presence: Asian Sculptures from the Collection of Mr. and Mrs. Harry Lenart." Los Angeles: Los Angeles County Museum of Art, 1978).
The Hindu Goddess Shri Lakshmi, India, Kerala, 16th century. Copper alloy, 14 x 4 5/8 x 3 in. (35.56 x 11.75 x 7.62 cm). Los Angeles County Museum of Art. Gift of Mrs. Harry Lenart in honor of the museum's 40th anniversary (M.2005.73). © MUSEUM ASSOCIATES 2020
Les inclinaisons de têtes convergentes des deux divinités incitent à penser que les deux déesses ont autrefois pu entourer la même représentation de Vishnu. Cette proposition est renforcée par le fait que les deux éléments de prabha apparaissant derrière les déesses présentent une bordure lisse sur la face intérieure de la possible triade, et flammée sur le bord extérieur.
Si cette déesse se trouvait initialement à gauche du dieu, opposée à Shri Lakshmi, il ne peut s'agir que d'une représentation de Bhumi Dévi.
Provenance: - Jean-Claude Moreau-Gobard (Paris) avant 1980.
Cornette de Saint-Cyr. ART PRÉCOLOMBIEN - ART D'ASIE, 9 Juin 2020