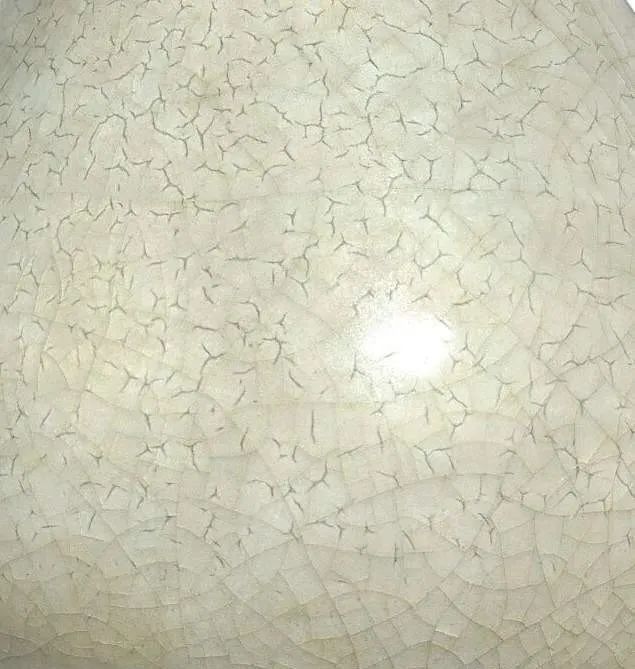 Lot 357. A Guan-type pear-shaped vase, Song-Ming dynasty (960-1644); 19.6 cm, 7 5/8 in. Estimate 60,000 — 80,000 HKD. Lot sold 162,500 HKD (213,662 EUR). Courtesy Sotheby's.
well potted with a baluster body rising from a gently splayed foot to a tall flaring neck, covered evenly overall save for the unglazed footring with a pale celadon glaze suffused with a network of crackles and 'earthworm tracks', the pale grey stoneware body burnt dark grey in the firing.
Provenance: Collection of Sakamoto Gorō (1923-2016).
Note: The present vase is covered in a crackled guan celadon glaze, originally used on the fabled 'official ware' created for the imperial court of the Southern Song (1127-1279) in Hangzhou, Zhejiang of south China. The elegance of its minimalist form – generally referred to as danping, or 'gall bladder vase'– is particularly appealing to the eyes.
Guan vases of this restrained form are rare; see an example with a straight mouth excavated in 1952 from the mid-14th century tomb of Ren family in the town of Zhonggu, Qingpu District, Shanghai, now in the Shanghai Museum, Shanghai, published in the catalogue to the exhibition Precious as the Morning Star. 12th-14th Century Celadons in the Qing Court Collection, Taipei, 2016, pp. 165 and 227. Another related guan vase was recently sold in these rooms, 2nd April 2018, lot 3062. Compare also a guan-type example from the Carl Kempe collection and now in the Museum of Far Eastern Antiquities, Stockholm, included in Oriental Ceramics. The World's Great Collections, vol. 8, Tokyo, 1982, pl. 138.
For vases of similar form covered in related glazes, see two ge examples from the Qing court collection preserved in Beijing, illustrated in The Complete Collection of Treasures of the Palace Museum. Porcelain of the Song Dynasty (II), Hong Kong, 1996, nos 35 and 36; and two slightly shorter vases, both covered in crackled glaze similar to ge wares and dated to the Yuan dynasty, in the National Palace Museum, Taipei, included in Precious as the Morning Star, op.cit., cat. no. IV-14, pp. 226-229, together with another enveloped in a celadon glaze but fewer crackles, probably from the Longquan kilns, attributed to the Southern Song to Yuan dynasty, cat. no. II-47.
Sotheby's. CHINA / 5000 YEARS, Hong Kong, 05 June 2020