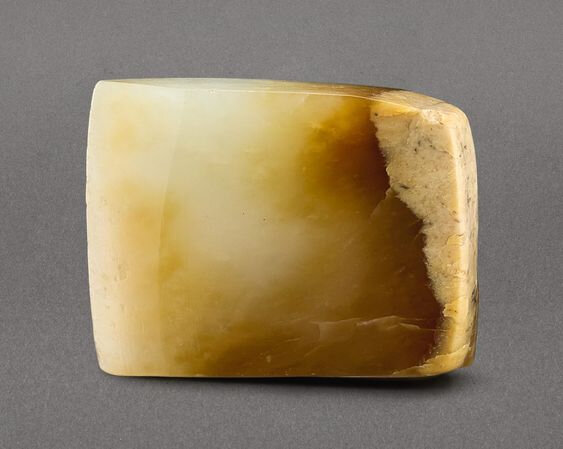 Lot 367. A small jade scraper blade, Neolithic period, Longshan culture (c. 3000-1700 BC); 3.3 cm, 1 1/4 in. Estimate 20,000 — 30,000 HKD. Lot sold 162,500 HKD (18,517 EUR). Courtesy Sotheby's.
of rectangular form, the stone of a translucent celadon tone suffused with honey-brown inclusions and calcified patches.
Property from the Peony Collection.
Exhibited: Angus Forsyth and Brian McElney, Jades from China, The Museum of East Asian Art, Bath, 1994, cat. no. 53.
Literature: Roger Keverne, Jade, London, 1991, p. 68, pl. 33.
Note: The Peony Collection of Chinese Jades spans the period in China from the Neolithic Times to the modern era of the 19th Century. Items in the Peony Collection which are featured in this sale cover the Neolithic to Qing Dynasty Periods with a rich coverage of types, forms and utility. All these pieces were exhibited in the Museum of East Asian Art in Bath, England in 2004 having been collected by Angus Forsyth in Hong Kong over the previous 20 years. In many ways the Neolithic Period of jade working is the most interesting to an inquisitive collector if only because writing in China came much later in the early Shang Period approximately 1,300 B.C. as most profusely available on the oracle bonds of cow shoulder blades. So in the absence of any written reference materials related to jades of the Neolithic Period they are open to endless speculation and conjecture as to why they were made, how they were used and what particular market demand were they satisfying. The information available to Angus Forsyth in 2004 when he wrote the captions for the exhibited Neolithic and later pieces up to the end of the Han Dynasty was very much the state of researched knowledge at that time. Considerable work has been done in China since then by a huge team of archaeologists all over the country and a great deal of post Neolithic knowledge has been greatly assisted by the findings of jades in circumstances of written dynastic records. However, for the Neolithic Period the very valuable work done by archaeologists has been based largely upon their own hypothesis all making and recording judgements informed by their own imaginative interpretation of tomb layout jade pieces which invariably follow particular precepts of custom or burial custom at each time.
Quite apart from archaeological work in China upon controlled excavation findings of Neolithic jades there are many examples which are not attributable to actual burial information and it is these which continue to be extremely interesting in that they undoubtedly exist but for reasons which are not recorded in writing, are not often clear and therefore open to interpretation by many observers both in China and abroad whose often very insightful views form an increasingly likely – if not probable – guidance to their actual use.
The keeper of the Peony Collection Hong Kong May 2020.
Sotheby's. CHINA / 5000 YEARS, Hong Kong, 05 June 2020