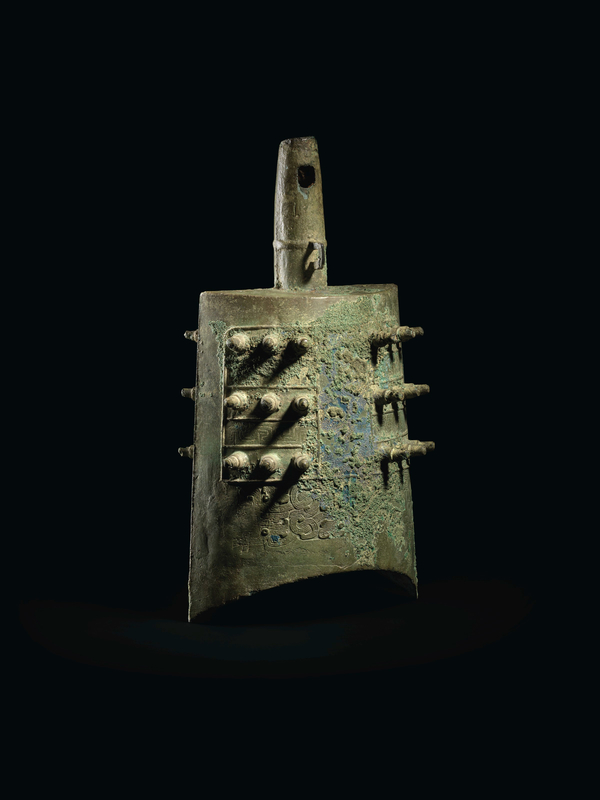 Lot 100. Grande cloche en bronze, yongzhong, Début-milieu de la dynastie des Zhou (XIème-IXème siècle avant JC). Hauteur: 45,1 cm. (17 ¾ in.). Estimate EUR 18,000 - EUR 25,000 (USD 20,472 - USD 28,433). Price realised EUR 15,000. © Christie's Image Ltd 2020.
Les deux côtés de la cloche sont sculptés de trois rangs de bosses en relief, au-dessus d'une bande sculptée en bas-relief d'animaux stylisés devant. Le bronze a une patine claire couleur vert-gris incrustée de malachite et azurite.
Provenance: Sotheby's Parke Bernet New York, 4 November 1978, lot 301.
The collection of Rafi Y. Mottahedeh (1901-1978), New York, no. 817, before 14 January 1981.
An important private European collection.
Note: In J. So (ed.), Music in the Age of Confucius, Freer Gallery of Art and Arthur M. Sackler Gallery, Washington DC, 2000, pp.35-63, R. Bagley explains that "sets of bells were both aurally and visually the most prominent instruments of musical ensembles" in ancient China, but outside of China were unknown. Bells of this type were made in graduated sizes to form a set, with each bell emitting two different tones, depending on where it was struck.
A similar yongzhong bell with a flat top, bosses, and low-relief stylised serpent band is found in the Sackler Collection, illustrated by Jessica Rawson in Western Zhou Bronzes from the Arthur M. Sackler Collections, Washington D.C., 1990, vol. II B, pp. 748-749.
See also a set of graduated bells in the Freer Gallery of Art and Arthur M. Sackler Gallery, accession no. S1987.6.
Christie's. Art d'Asie, Paris, 23 June 2020