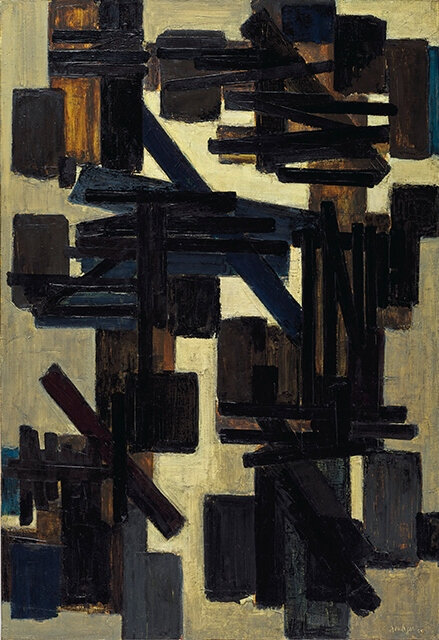 Pierre Soulages, Peinture 130 x 89 cm, 25 novembre 1950. © Christie's Images Ltd 2020
PARIS.- Christie's France will offer an important rediscovery by Pierre Soulages which will highlight the Paris leg of ONE: a Global Sale of the 20th Century on 10 July 2020. The painting, executed in 1950, has been in the same private Australian collection since being first acquired in 1953 by the present owner's father from the Galerie Louis Carré & Cie Paris, when it was included in a major exhibition that toured to Australia.

Etienne Sallon, specialist in charge of the sale: "We are very proud to offer this luminous and vibrant painting by Soulages, which has been unseen by the public since its acquisition in 1953 when it toured to Australia for the exhibition "French Painting Today". This fantastic rediscovery illustrates the artist's early career and his first uses of black bars in oil paint, giving transparency, light and dynamism to the canvas. By offering this important painting in Paris, we will pay a beautiful tribute to Pierre Soulages who just celebrated his 100th birthday last December."

The exhibition in which Peinture 130 x 89 cm, 25 novembre 1950 was displayed captivated the Australian public and proved highly influential within the history and development of twentieth century Australian art. It was the first exhibition to showcase contemporary French artists in Australia and included major examples by Picasso, Miró, Léger, Braque and Le Corbusier. The Canberra Times called it: "the provocative event of the art season", warning its readers that "a masculine antipodean palate, accustomed to a diet of realism, may find some of the paintings sophisticated to a point of being effete" ("French Paintings", The Canberra Times, February 28, 1952, p. 2). This description illustrates the powerful impact that this exhibition had on Australian audiences by, casting a spotlight on the French artistic scene. The present painting was executed when the artist's calligraphic style became gestural and at the same time very structured, reflecting his passion for Romanesque architecture. For Soulages, abstraction provides a portal for exploration. Peinture 130 x 89 cm, 25 novembre 1950 reminds us clearly of his primary uses of brou de noix that he started to use at the end of the 1940s. Even though Soulages used oil paint in this painting, the incandescent sepia colours used here illustrates his masterful use of a sophisticated palette that shifts between warm translucent tones and intense blues and solar yellows.

ONE: a Global Sale of the 20th Century: This July, Christie's will launch a revolutionary relay-style auction concept. Entitled ONE: a Global Sale of the 20th Century, this sale will present masterpiece-level works of 20th Century Art together in a curated live-online hybrid sale, blurring category boundaries and bringing clients together in an unprecedented way.

Launching in Hong Kong, the sale will then transition to auctioneers in Paris and London, concluding in New York. Each city will host a pre-sale public exhibition staged in line with the appropriate regional health advice at the time, complemented by a ground-breaking virtual exhibition and digital marketing campaign to connect with global audiences and support the auction event. Bidders will be able to participate both online, via Christie's LIVE online bidding channel, and where regional, government advice allows, clients and phone bidders will be welcomed in each saleroom location.

Public viewing: All ONE sale highlights will be available for online viewing from anywhere in the world. For New York sale highlights, Christie's welcomes clients following all public health guidelines and all necessary measures to protect our visitors and our staff in place.