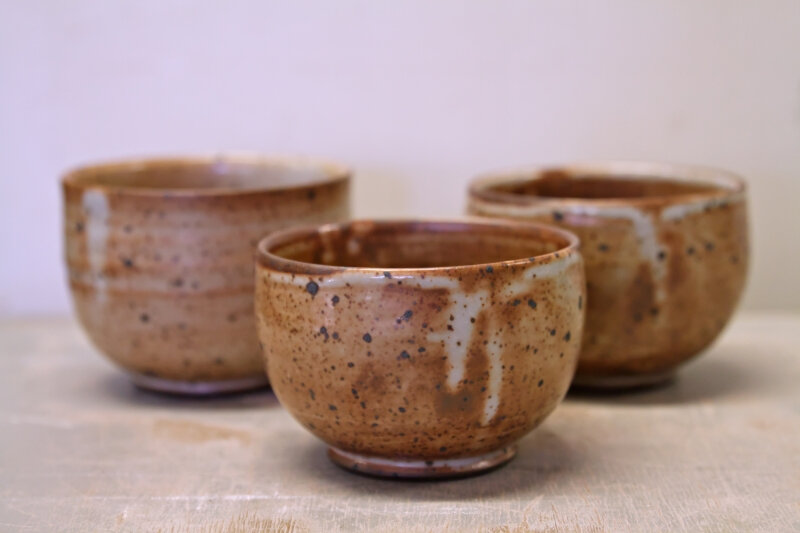 Young-Jae Lee, 3 Spinach Bowls, 2010, vitrified clay with manganese, ash feldspar glaze. © Denis Bury, Essen, Germany
COLOGNE.- Galerie Karsten Greve is presenting a second solo exhibition featuring ceramics by Korean artist Young-Jae Lee in Cologne. On display are one hundred and sixty Spinach Bowls – dining and drinking bowls created over a period of almost twenty years. The small, bulbous jars have their special aesthetic appeal due to their diverse glazes.

Born in Seoul in 1951, Young-Jae Lee moved to Germany in 1972. Following her studies of ceramics and design at Wiesbaden University of Applied Sciences from 1973 to 1978, she ran her own workshop in Sandhausen near Heidelberg. Since 1987, Young-Jae Lee has been head of the long-established Margaretenhöhe Ceramics Workshop in Essen. With Bauhaus principles serving as a guide, the ceramic artist is striving for perfection in the formal idiom and color range as used by her workshop in Essen: "I'm not at all interested in reinventing form," says Young-Jae Lee, "but in having absolute command of the existing repertoire." Featured in extensive museum exhibitions, Young-Jae Lee's ceramic pieces have attracted considerable attention: taking as her starting point the simple form of a bowl, a vase, or a mug, widely scattered over the floor in numerous variants, the artist placed 1,111 bowls in the rotunda of Munich's Pinakothek der Moderne in 2006, for instance. In 2008, Young-Jae Lee reenacted such uniqueness in sequence by arranging her so-called spindle vases in the same space. The artist first presented her Spinach Bowls – a series of works that originated from her delving into the history of the tea bowl – at Essen's Museum Folkwang in 2019.
Young-Jae Lee poses with her Spinach Bowls at Galerie Karsten Greve Cologne, 2020. © Young Jae Lee. Courtesy Galerie Karsten Greve Köln Paris St. Moritz.
Trends in Korean ceramics influenced the development of Japanese ceramics and porcelain. Examples of classical Korean ceramic wares include the Celadon ceramics from the Goryeo dynasty (918-1392) as well as the white ceramics from the Joseon dynasty (1392-1897). During the Joseon dynasty, Korean ceramic wares were considered to represent the highest quality of achievement from royal, city, and provincial kilns. These products were export articles. In the 16th century, the golden age of Korean ceramics, Korean ceramists produced their own drinking and dining bowls exclusively as tea bowls for the Japanese market, thus supporting the development of an excellent new ceramics culture. Inspired by the masters of the Joseon dynasty, Young-Jae Lee created her own aesthetically pleasing and simple pieces. She adopted the shape of the traditional Korean ceramic bowls and redefined it for her own drinking and dining bowl – the Spinach Bowl.