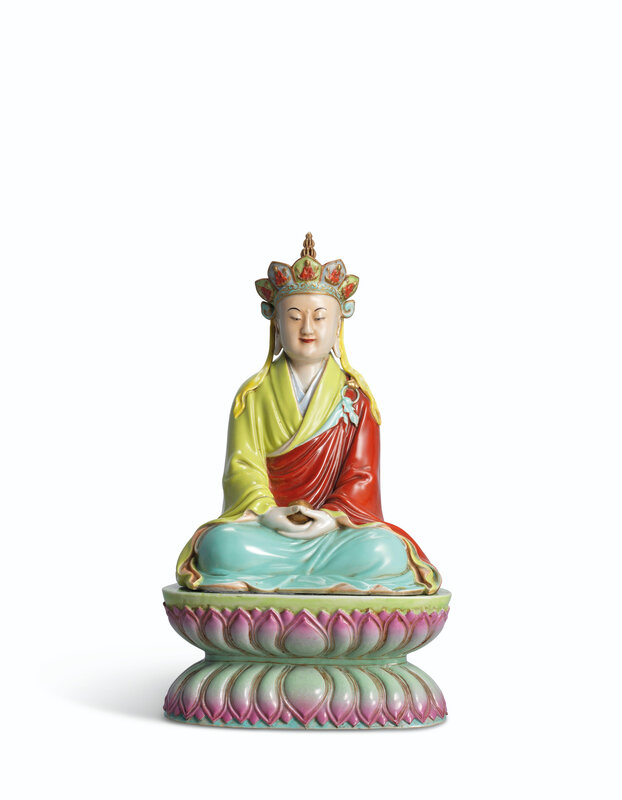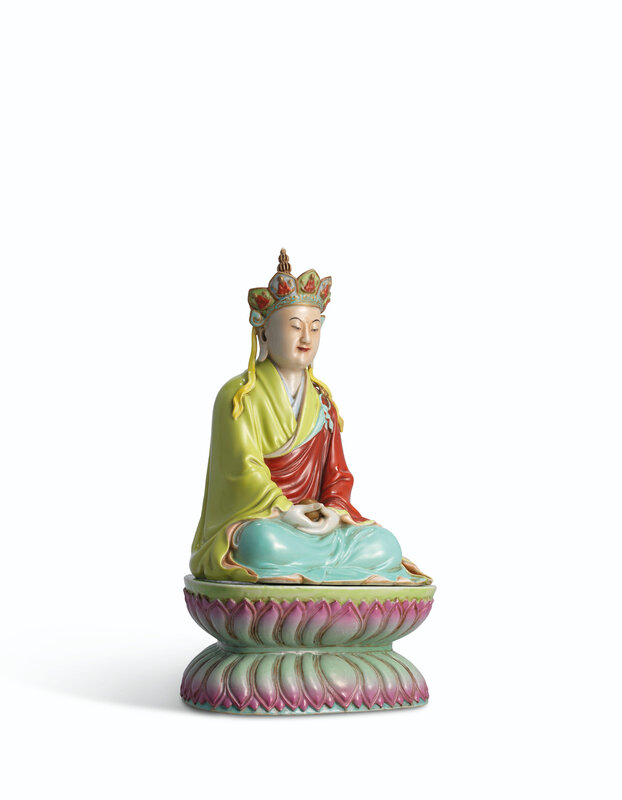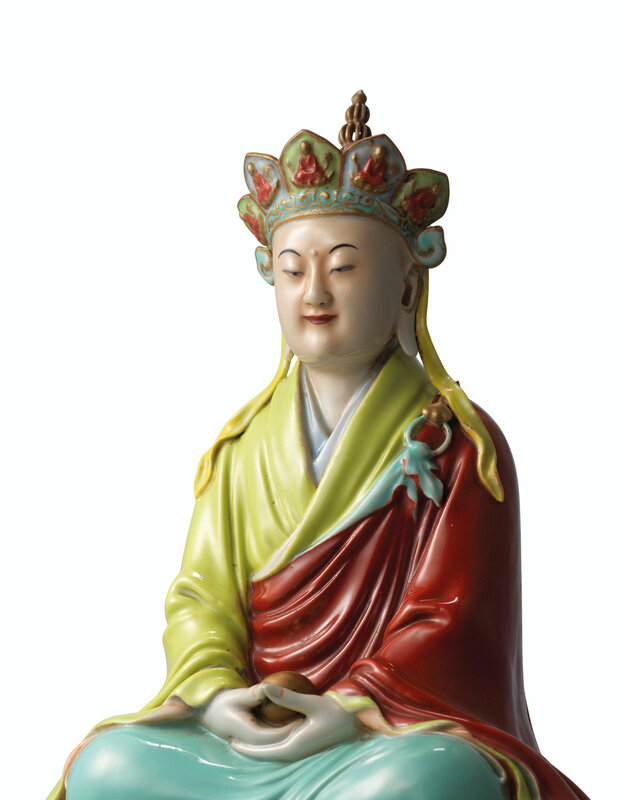 Lot 137. A Rare Famille Rose Figure of a Seated Ksitigarbha, China, Qing Dynasty, Qianlong Period (1736-1795). Hauteur totale: 35 cm. (13 7/8 in.). Estimate EUR 20,000 - EUR 30,000. Price realised EUR 156,250. © Christie's Image Ltd 2020.
Il est assis en vajrasana sur un socle lotiforme séparable. Ses deux mains soutiennent le cintamani, reposant gracieusement sur ses genoux. Il est vêtu de robes monastiques émaillées jaune, rouge et turquoise. Aux yeux mi-clos, son visage est emprunt de sérénité. Sa tête est surmonté d'un diadème à cinq pétales figurant l'Amitabha.
Note: Ceramic Buddhist sculptures of such refined quality are extremely rare, and were probably specifically commissioned for ritual display in temples situated within the imperial palace precincts, either in Beijing or Chengde.
Ksitigarbha, known in China as Dayuan Dizang Pusa and in Japan as Jizo, is a bodhisattva revered for his compassion for all beings, including those who reside in the hell-realms. While in earlier eras, he was depicted as a traditional bodhisattva, by the Song dynasty, he was usually represented as a Buddhist monk. He is often shown holding a wish-fulfilling jewel (cintamani), as he is in the present example.
Compare to an almost identical famille rose figure of Ksitigharba, dated Qianlong period, of very similar size (35.5 cm), from the Yamanaka collection, sold in Sotheby's New York, 14-16th June 1944, lot 651. See a closely related exemple of a pair of famille rose Ksitigharba (34 cm.), sold in Sotheby's New York, 15 March 2017, lot 537. Also see another similar figure sold at Nagel Auctions, Germany, 30 October 2013, lot 48.
Two Extremely Rare Famille-Rose Enameled Porcelain Figures of Ksitigarbha, Qianlong-Jiaqing Period, 34 cm, , from the collection of Joan Oestreich Kend. Sold for 492,500 USD Sotheby's New York, 15 March 2017, lot 537. Photo: Sotheby's.
Cf. my post: Sotheby's Asia Week New York sales achieve $47.9 million thus far
Compare also with enamelled ceramic Buddhist images modelled as Amitayus: the first included in the Exhibition of Chinese Arts, Messrs C. T. Loo & Co., New York, 1941-1942, no. 750; and the other sold in Christie's Hong Kong, 29 October 2001, lot 606. Smaller versions of famille rose Amitayus figures are known such as the pair illustrated in Qingdai Ciqi Shangjian, Hong Kong, 1994, no. 232 (18 cm. high); and another from the Hellene Terrien Collection, sold in Christie's Hong Kong, 31 October 2000, lot 924 (15.9 cm.).
Christie's. Art d'Asie, Paris, 23 June 2020