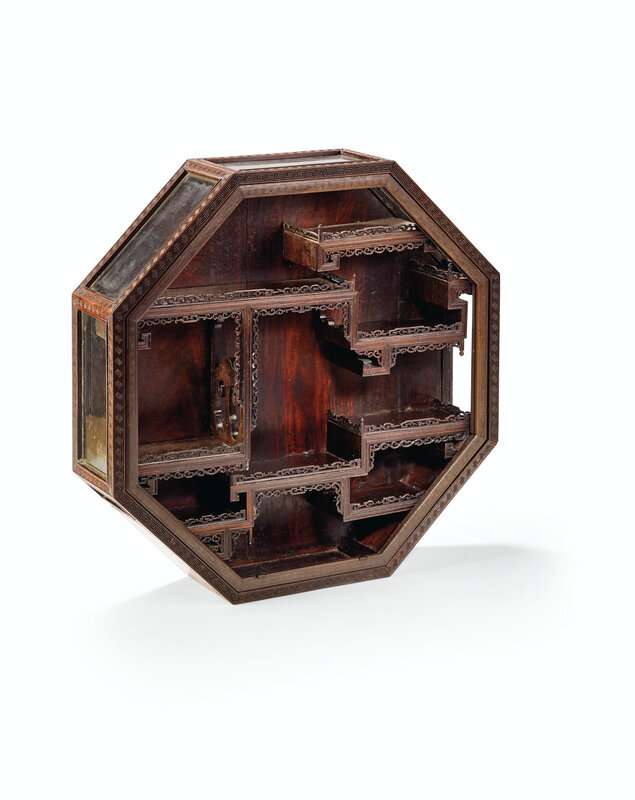 Lot 11. Rare petit cabinet en zitan et incrustations de pierres dures, duobaoge, Dynastie Qing, XVIIIème-XIXème siècle. Hauteur : 46 cm (18 1/8 in.) Largeur : 46,5 cm (18 ¼ in.) Profondeur : 11,5 cm (4 ½ in.). Estimate EUR 20,000 - EUR 30,000. Price realised EUR 60,000. © Christie's Image Ltd 2020.
De forme octogonale, le pourtour est inséré de verres et l'intérieur divisé en étagères de différentes tailles à décor de volutes stylisées et leiwen. Le dos est agrémenté d'un grand arbre de pêches de longévité aux branchages tortueux dans un jardin rocailleux et fleuri ; quelques petits manques.
Provenance: Previously in the personal collection of Vladimir Simon Semcesen (1906-1969), acquired in East Asia in the 1950-60s.
Wladimir Simon Semcesen (1906‑1969) was born in the Austro-Hungarian Empire. Educated as a civil engineer in Liege, he settled in Oslo, Norway in 1936. Like many Western intellectuals of his time, he fell in love with the art and culture of East Asia and began his personal collection of Chinese art as early as the 1950s.
Note: The display of beautiful, precious or exotic objects was a major part of the decoration in the imperial palaces during the Qing dynasty. These objects were usually displayed on stands, sometimes simply placed on top of a table or chest, but in other instances a selected group of objects was displayed in an arrangement of display niches. These arrangements of cabinets ranged in size from huge banks of display areas, like the special display shelves which cover most of the wall in the Study of Fresh Fragrance in the Forbidden City, Beijing, to the tiny treasure cabinets made for the emperors' miniature pieces.
The current small display cabinet is an excellent exemple of the way in which duogaoge could occasionnaly doubled as table screens. Also see the imperial embelised zitan openwork display cabinet from the Maeda Family Collection, dated Qianlong period, sold in Christie's Hong Kong, 31 May 2010, lot 1925.
For a extremely comparable work of hardstone inlays on zitan material, see an inlaid zitan box and cover made by the imperial workshop, dated Jiaqing period, containing a complete set of twelve jade zodiac figures and a calligraphy booklet written by the Emperor Jiaqing (fig.1), in the collection of the National Palace Museum, Taipei (inventory no.Gu-Za-000128-N000000000).