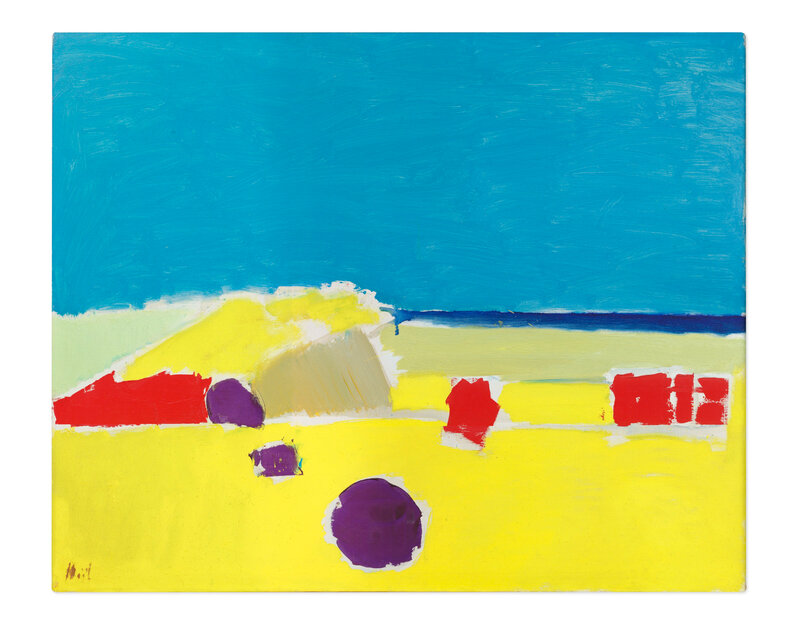 Lot 17. Nicolas de Staël (1914-1955), Plage à Agrigente,

signed 'Staël' (lower left); signed again, inscribed and post-dated 'Agrigente 1954 Staël' (on the reverse),

oil on canvas,

31 7/8 x 39 3/8 in. (81 x 100 cm).

Painted in 1953

. Estimate : EUR 3,600,000 - EUR 5,500,000 (

USD 4,061,789 - USD 6,205,511)

. © Christie's Images Ltd 2020.
PARIS.- Christie's France will present Plage à Agrigente by Nicolas de Staël which will highlight the Parisian section of ONE: a Global Sale of the 20th Century. An exquisite work from one of Nicolas de Staël's most celebrated and important series, executed in the South of France in 1953 and unveiled at Paul Rosenberg's New York gallery in 1954, one of America's leading dealers in modern American art.

Etienne Sallon, Specialist in charge of the sale: "We are pleased to present this vibrant painting which highlight the Paris leg of the sale. After the new world auction record established last October for Parc des Princes, we are glad to present such a powerful painting paying a beautiful tribute to Nicolas de Staël once again. This seminal painting from one of the most iconic series for the artist is truly fantastic. It was one of the rare paintings selected by the artist to be part of his personal show in New York at Paul Rosenberg's Gallery in 1954 and a real treasure into this Paris section of the ONE auction".

Suffused with the blazing light and color of the Mediterranean, Plage à Agrigente captures the memory of the landscape around the Ancient Greek city of Agrigento in Southern Sicily, which the artist had visited during the summer of 1953 and which made a powerful impression on his psyche. The artist will create this painting shortly after his sojourn there, which was for him the "highpoint" of his entire summer as he wrote to his friend Jacques Dubourg. Of the forty-four paintings de Staël produced based on his time in Sicily, twenty depict Agrigento, with six held in international museums' collections. Widely exhibited, and one of the finest to remain in private hands, the present work captures the very essence of the series: sand, sea and sky vibrate with near-sonorous intensity, offering a glowing symphony of colour and form. If Agrigento was a "culmination" of de Stael's travels, the resulting paintings also marked a zenith in his practice. With their sober, reductive compositions and increased chromatic charge, they took the experiences of previous years to new and daring heights, evoking the intensity and fragility with which the natural world closes in on the mind's eye.
Plage à Agrigente also bears witness to the depth and extent of de Staël's influence during this extraordinary period. "These works have helped to establish his reputation as the most significant, true and fascinating young painter who has appeared on the scene, in Europe and elsewhere, over the last twenty-five years," wrote Douglas Cooper about the artist's Agrigente paintings.

The painting has since been featured in some of de Staël's most important posthumous exhibitions, including major retrospectives at the Museum Boijmans van Beuningen, Rotterdam in 1965, the Museum of Fine Arts in Boston and the Solomon R. Guggenheim Museum in New York in 1966 and the Tobu Art Museum in Tokyo in 1997.

ONE: a Global Sale of the 20th Century: This July, Christie's will launch a revolutionary relay-style auction concept. Entitled ONE: a Global Sale of the 20th Century, this sale will present masterpiece-level works of 20th Century Art together in a curated live-online hybrid sale, blurring category boundaries and bringing clients together in an unprecedented way.

Launching in Hong Kong, the sale will then transition to auctioneers in Paris and London, concluding in New York. Each city will host a pre-sale public exhibition staged in line with the appropriate regional health advice at the time, complemented by a ground-breaking virtual exhibition and digital marketing campaign to connect with global audiences and support the auction event. Bidders will be able to participate both online, via Christie's LIVE online bidding channel, and where regional, government advice allows, clients and phone bidders will be welcomed in each saleroom location.

Public viewing: All ONE sale highlights will be available for online viewing from anywhere in the world. For Paris sale highlights, Christie's welcomes clients following all public health guidelines and all necessary measures to protect our visitors and our staff in place.