Mahmoud Mokhtar (Egypt, 1891–1934). Au Bord Du Nil, between 1923 and 1932, bronze, 119 cm height. Courtesy Sotheby's
DUBAI.- Sculpture has always featured prominently in the rich history of Egyptian material culture. Stylised human, animal and hybrid forms decorated the tombs of the Pharaonic elite, and monumental structures paid homage to their many gods and kings. Considering this remarkable heritage, much of it still extant, it is little wonder that a stylistic continuum exists in modern and contemporary Egyptian sculpture.

This aesthetic legacy can be seen in the work of the Father of modern Egyptian sculpture, Mahmoud Mokhtar (b.1891 d.1934) whose revolutionary work seamlessly combined aspects of formalised pharaonic statuary with a modern European artistic sensibility. Forming a brand-new national aesthetic, Mokhtar is best known for his statuesque figures which are simultaneously robust and elegant. Embodying the noble peasant woman (fellaha) which was adopted as the symbol of Egypt's 20th century revolutionary movement, the poised bronze figure of Au Bord Du Nil (At the Edge of the Nile) performs the venerable, lifegiving task of carrying water from the river.
Adam Henein (b.1929 d. 2020) was known for his dynamic human and animal figures featuring clean, minimal lines and features. Reflecting the artist's lifelong fascination with his county's storied past, Henein's stylised, sculptures possess elements of the funerary statuary of the protodynastic and dynastic periods. Cast in bronze in 1969, Marie Nilus is titled after the Potamoi representing the River Nile, one of the 3000 children of the river gods, Oceanus and Tethys, in Ancient Greek mythology.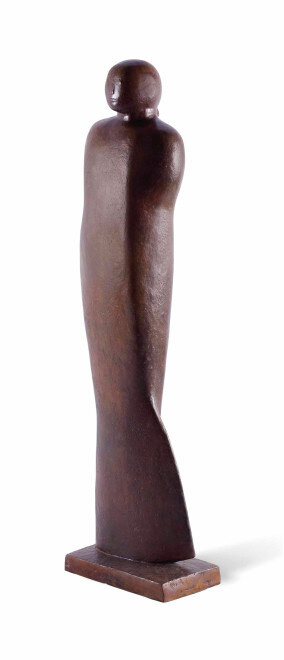 Adam Henein (b.1929 d. 2020), Marie Nilus , 1969. Bronze, 146 x 40 x 22 cm. Copyright The Artist. © 2020 MEEM GALLERY
Armen Agop's (b.1969) mysterious, abstract works, although different in nature to the mostly figurative works of his predecessors, demonstrate the same appreciation for linear form and elegant minimalism. An untitled sculpture from the Mantra series taps into the complexities of the human psyche by taking esoteric concepts and manifesting them into a tangible form. Black granite is expertly and painstakingly shaped into ultra-smooth, organic shapes, a material reminiscent of the granite used in the sculptures at Karnak or Thebes.
Armen Agop (b.1969), Untitled 146

,

2019.

Black granite, 60 x 60 x 20 cm. Unique
. Copyright The Artist
© 2020 MEEM GALLERY.