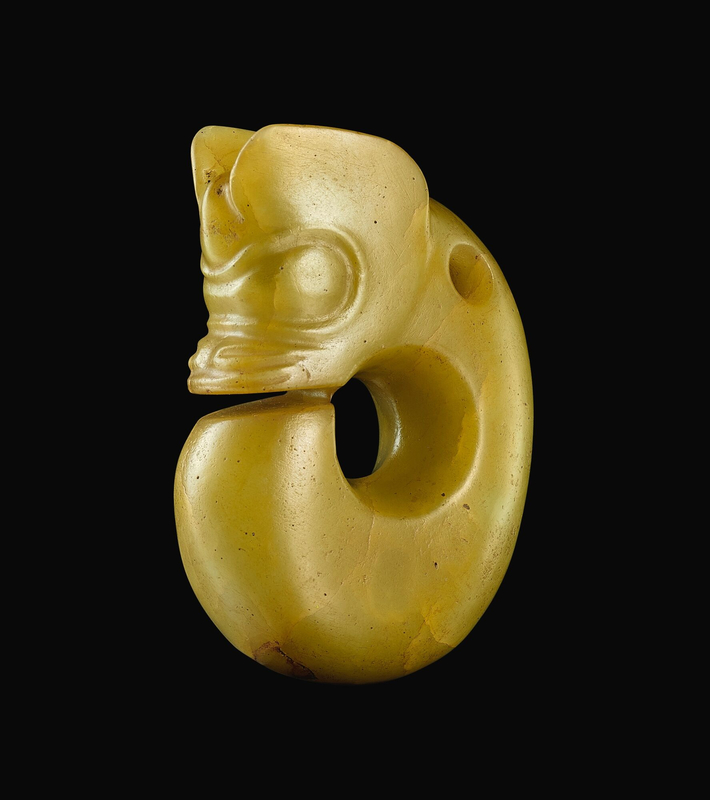 Lot 102. A rare yellow jade zhulong ('pig dragon'), Neolithic Period, Hongshan Culture (c. 3800-2700 BC); 7.2 cm, 2 3/4 in. Estimate 2,000,000 — 3,000,000 HKD. Lot sold 5,575,000 HKD. Courtesy Sotheby's.
the beast with an iconic coiled body, depicted with large bulging eyes, a wrinkled snout and slightly protruding ears, the signature slit below the sealed lips terminated before meeting the central perforation, its neck drilled for suspension, the lustrous stone of a warm yellowish-celadon colour with an attractive patina.
Provenance: Acquired in the 1970s.
Note: This superbly carved ritual ornament, skillfully worked and polished from jade of a lustrous and rich yellowish colour, is a legacy of the enigmatic Hongshan culture in the Neolithic period, at the dawn of Chinese civilisation. Zhulong, translated as 'pig dragons', have been considered as the prototype for the ornamentation of mythical dragons in later Chinese symbolic art. Modelled with a long upturned snout, prominent ears and bulging eyes, the modern term zhulong is used to describe zoomorphic slit discs with coiled bodies and pig-like snouts.
Recovered at various tomb sites in Northeast China, they are considered by archaeologists to have been used as chest ornaments. For a discussion on zhulong see Elizabeth Childs-Johnson, 'Jades of the Hongshan Culture', Arts Asiatiques, vol. XLVI, December 1991, pp. 82-95, where she identifies the territory of Liaoxi and Liaodong peninsulas and the upper and lower valleys of the Liao river as the areas where Hongshan remains originated from. She classifies zhulong as ranging from 4 to 15 cm high, sharing a central design, consisting of a C-shaped body worked all over, with U shaped ears in profile around large prominent eyes above a set of tusks, and emphasises that the eyes are always omnipresent.
A small number of Hongshan jade zhulong has been published, including one in the Tianjin Museum, illustrated in Zhongguo yuqi quanji [The complete collection of Chinese jade], vol. 1, Fuzhou, 1993, pl. 30, together with one in the Liaoning Provincial Museum, Shenyang, pl. 27; another unearthed at Ganfanyingzi, Aohanqi, in Inner Mongolia Autonomous Region, illustrated in Gu Fang, The Complete Collection of Unearthed Jades in China, Beijing, 2005, vol. 2, pl. 24, and a third, fashioned in the round, in the Tianjin Museum, illustrated in Tianjin shi yishu bowuguan cang yu [Jades in the Tianjin City Museum], Hong Kong, 1993, pl. 22. A fragment of a jade pig dragon of similar form to the current example, bequeathed to the British Museum by Brenda Zara Seligman in 1973, is illustrated in Jessica Rawson, The British Museum Book of Chinese Art, London, 1992, fig. 22.
Other published jade zhulong include one in the collection of Simon Kwan, included in the exhibition Exquisite Jade Carving, University Museum and Art Gallery, The Chinese University of Hong Kong, Hong Kong, 1996, cat. no. 45; and one from the collections of A.W. Bahr and Arthur M. Sackler, sold at Christie's New York, 1st December 1994, lot 73. See also another Hongshan jade 'pig dragon' from the Peony collection, of a celadon-green colour and with more pronounced ears, illustrated in Angus Forsyth and Brian McElney, Jades from China, The Museum of East Asian Art, Bath, 1994, cat. no. 8, and sold in these rooms, 28th/29th November 2019, lot 728. Compare also two other examples sold recently, a much larger (13 cm) example from the Florence and Herbert Irving collection, sold (undated) at Christie's New York, 21st March 2019, lot 1180, and another example from the Chang Wei-Hwa collection, illustrated in Jades of Hongshan Culture, 2007, Taipei, cat. no. 15, and sold at Christie's New York, 27th November 2019, lot 2706.
Sotheby's. Monochrome, Hong Kong, 11 July 2020