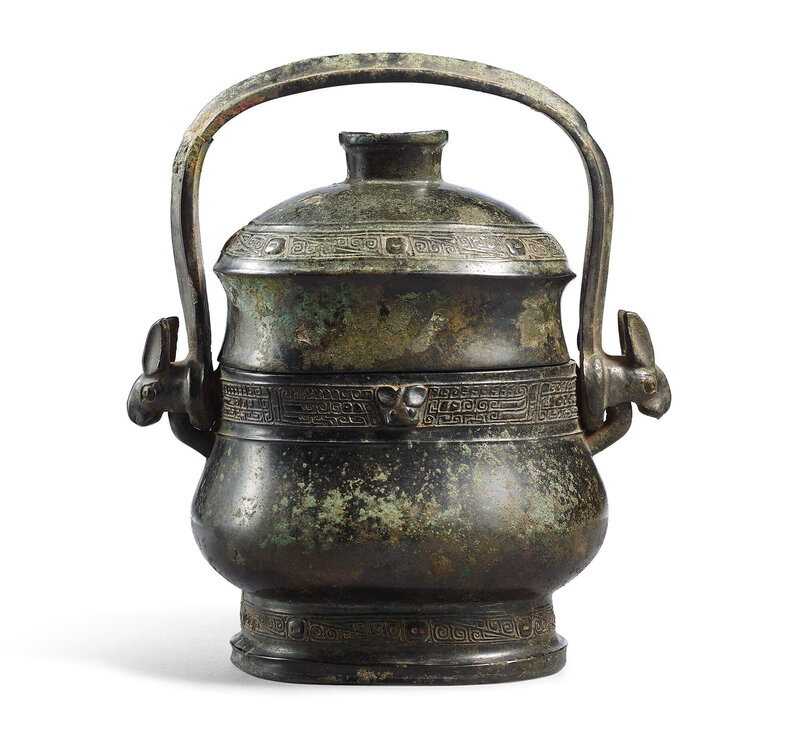 Lot 113. A rare archaic bronze 'Tapir' ritual wine vessel and cover, you, Early Western Zhou Dynasty; h. with handle upright 16.7 cm, 6 1/2 in., h. 14.7 cm, 5 3/4 in. Estimate 600,000 — 800,000 HKD. Lot sold 6,175,000 HKD. Courtesy Sotheby's.
of elliptical form, well cast with a compressed pear-shaped body resting on a splayed foot, the neck bordered with a band enclosing scrollwork and a small animal head mask on each side of the body, interrupted by two small loop handles supporting the U-shaped bail handle with a crisply cast tapir-mask terminal on each end, the cover resting on tall waisted sides, the domed upper surface decorated with a frieze enclosing similar scrollwork surrounding a hollow oval finial, the interior of the vessel and cover each with an inscription reading Xian zuo lüyi ('Xian made this lüyi vessel'), the patina of a mottled greyish-green colour with malachite encrustation, wood stand and Japanese wood box.
Provenance
:
Collection of Sadajiro Kawai, Kyoto.
Collection of Shirakawa Ichiro (1908-1994), a Japanese artist.
Literature: Wu Dacheng, Kezhai jigulu [The record of collecting antiques in the Kezhai studio], 1896, vol. 19, p. 18, pls 3-4.
Zou An, Zhoujinwen cun [Surviving writings from the Zhou dynasty], 1916, vol. 5, p. 107, figs 3-4.
Ke Changji, Weihuage jigulu bawei [Explanatory notes of inscriptions from archaic bronzes in the Weihuage studio], 1916, vol. gengshang, p. 1.
Liu Tizhi, Xiaojiaojingge jinwen taben [Rubbings of archaic bronze inscriptions in the Xiaojiaojingge Studio], 1935, vol. 4, p. 32, fig. 5.
Luo Zhenyu, Sandai jijin wencun [Surviving writings from the Xia, Shang, and Zhou dynasties], 1937, vol. 13, p. 7, figs 1-2.
Sueji Umehara, Nihon shucho Shina kodo seikwa / Selected Relics of Ancient Chinese Bronzes from Collections in Japan, Osaka, 1959-1964, vol. 1, pl. 78.
Yan Yiping, Jinwen zongji [Corpus of Bronze Inscriptions], Taipei, 1983, no. 5256.
The Institute of Archaeology, Chinese Academy of Social Sciences, Yinzhou jinwen jicheng [Compendium of Yin and Zhou Bronze Inscriptions], Beijing, 1984-1994, no. 05119.
Shang Zhou qingtongqi mingwen ji tuxiang jicheng [Compendium of inscriptions and images of bronzes from Shang and Zhou dynasties], Shanghai, 2012, vol. 24, p. 435, no. 13010.
Note: You of this stout form with an elliptical cross-section and domed cover were popular in the early Western Zhou period, both in the relatively austerely decorated type as seen in the present piece and in highly-decorated vessels, often embellished with flanges. The animal mask handles were each uniquely cast and those on the present vessel are particularly notable for their naturalistic modelling. It is also unusual to find examples of this miniature size.
Despite the rarity of the design, a line drawing of a similarly modelled you vessel is included in Xiqing gujian [Catalogue of Chinese ritual bronzes in the collection of the Qianlong Emperor], an illustrated catalogue of the over 1,500 bronzes in the imperial collection compiled from the 14th year (1749) and completed in the 20th year of the Qianlong reign (1755). The vessel in the catalogue is titled Zhou leiwen you ('you vessel with leiwen pattern from the Zhou dynasty') and its measurements are listed; see vol. 17: you vessels, p. 7 (fig. 1).
fig. 1. Xijing gujian [Catalogue of Chinese ritual bronzes in the collection of the Qianlong Emperor], vol. 17, p. 7.
You of related type and decoration, the cover also surmounted by an oval finial, but of larger size, include one in the Freer Gallery of Art, Smithsonian Institution, Washington D.C., included in Jessica Rawson, Western Zhou Ritual Bronzes from the Arthur M. Sackler Collections, vol. IIB, Washington, 1987, p. 499, fig. 68.6; and another sold in our New York rooms, 23rd September 1995, lot 316.
Vessels of this category are more commonly known with bud finials on the cover and two horizontal ribs encircling the foot; for example see one from the Arthur Sackler collection, sold at Christie's New York, 14th September 2009, lot 10, and published in Jessica Rawson, op.cit., pl. 68, together with another, pl. 69.
Sotheby's. Monochrome, Hong Kong, 11 July 2020