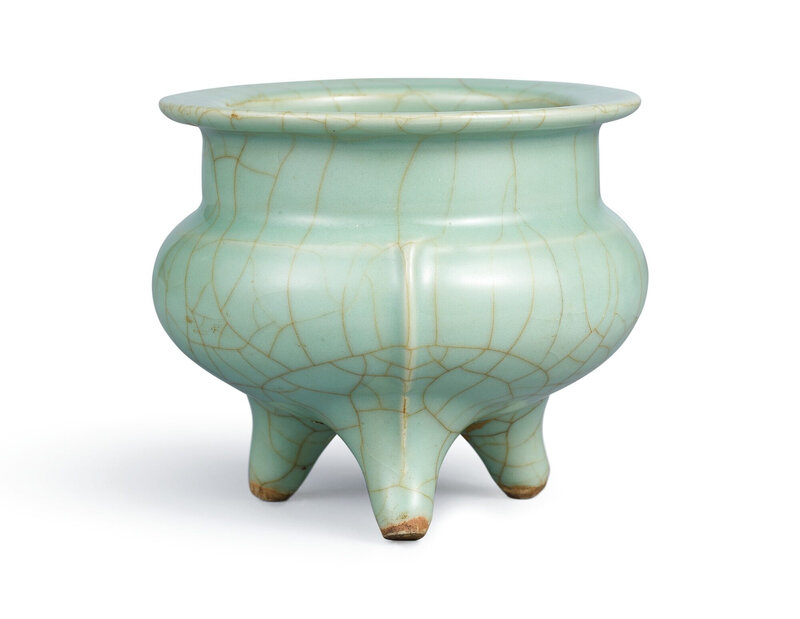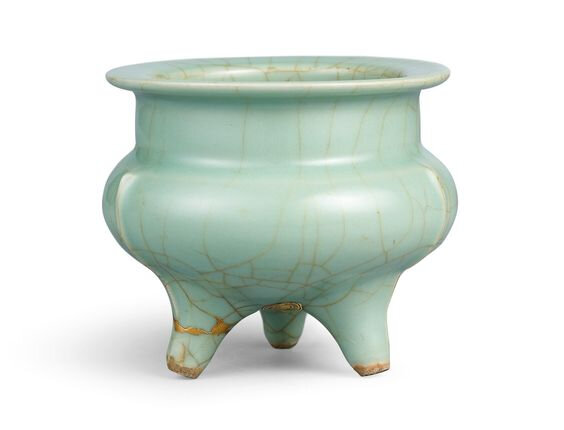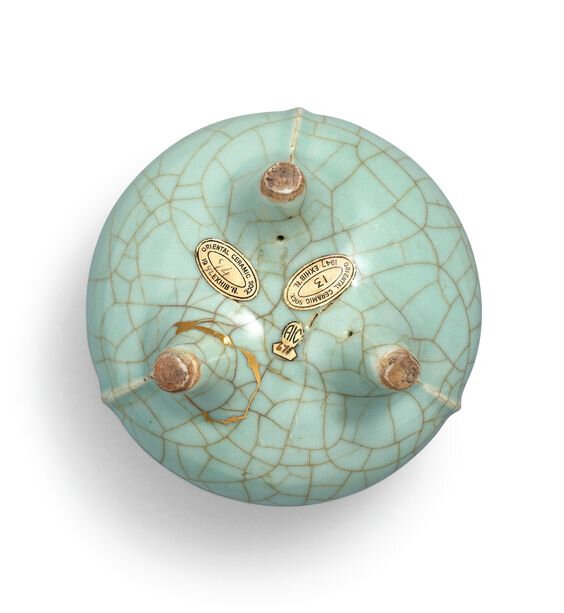 Lot 117. An extremely rare Longquan 'Guan' tripod incense burner, Southern Song dynasty (1127-1279); 13.5 cm, 5 1/4 in. Estimate HKD 6,000,000 — 8,000,000. Price realised HKD 6,775,000 . Courtesy Sotheby's.
with a compressed globular body rising to a constricted cylindrical neck and flat everted rim, all supported on three slightly splayed tapering legs, the rounded exterior with three evenly spaced ridges extending from the shoulder to the centre of each leg, superbly covered with a soft bluish-green glaze suffused with a delicate network of golden-brown crackles stopping short of the tips of the legs and exposing the pale grey bodyx.
Provenance: Collection of Mr and Mrs Alfred Clark.
Sotheby's London, 25th March 1975, lot 58.
Collection of Robert Barron.
Christie's New York, 30th March 2005, lot 321.
Exhibited: Celadon Wares, Oriental Ceramic Society, London, 1947, no. 13, pl. 9.
The Oriental Ceramic Society Exhibition of Ju and Kuan Wares: Imperial Wares of the Sung Dynasty, Related Wares and Derivatives of Later Date, London, 1952, cat. no. 94.
Art of China and Japan, Huntsville Museum of Art, Huntsville, 1977, p. 26, no. 46.
Ceramics: The Chinese Legacy, The Dixon Gallery and Gardens, Memphis, 1984, p. 15, cat. no. 10.
Heaven and Earth Seen Within: Song Ceramics from the Robert Barron Collection, New Orleans Museum of Art, New Orleans, 2000, cat. no. 57.
Literature: B. Gray, 'Chinese Porcelain and Pottery: Some Pieces in the Collection of Mrs. Alfred Clarke [sic]', The Connoisseur, April 1953, p. 21:X.
Note: This censer exudes a sense of refined elegance through its pleasing form and dazzling crackled glaze. Well-rooted in the aesthetic ideals of the Southern Song dynasty, it testifies to the exceptional quality achieved at the Longquan kilns.
As the Jurchen Jin began advancing towards the Song dynasty capital, Kaifeng in Henan province, the Song court fled to the south and in 1135 founded a new capital in Hangzhou, Zhejiang province. This move gave rise to a flourishing time not only for the arts but also for Chinese culture in general. The establishment of the court in Hangzhou gave an unprecedented boost to the ceramic manufactories in Southern China, including the Longquan kilns. Centred around Dayao in Longquan county, these kilns were able to adapt their wares to the demands o the ruling scholar-official class and the court. The focus was to achieve perfection in material, design and craftsmanship; thus the Longquan craftsmen focused on improving the technical aspects of ceramic production, from the preparation of the material, the precision in potting, glazing and firing to produce the coveted jade-like glaze seen on this censer.
The Longquan kilns were very active in this period and produced glazes that feature a wide variety of celadon hues, including the striking crackled glaze seen on this censer. This thick, semi-opaque bluish glaze was most likely inspired by the iconic guan (official) wares made for the imperial court at the Jiaotanxia kilns near Hangzhou. Zhu Baoqian in Celadons from Longquan Kilns, Taipei, 1998, pp. 37-39, suggests that these crackled wares began to be produced around 1200, and fragments of crackled wares have been recovered at various Longquan kilns active in this period, including the Xinting and Aodi kilns in Daoyao county, and the Wayaoqing, Kulouwan and Lijiashan kilns in Xikou county (Special Exhibition of Sung Dynasty Kuan Ware, National Palace Museum, Taipei, 1989, p. 30). Zhu Baoqian, further explains that two distinct types of crackled wares were made at Longquan: those with a light-coloured body such as the present piece, and those with a dark body.
Ceramic wares of the Song dynasty, including this incense burner, were adapted to the taste of the court and the scholar-official class and stylistically moved away from the baroque tendencies of the Tang period (618-907), to a 'purification' of style that culminated in the Southern Song period. Wares were often devoid of ornamentation and their qualities were meant to be visible only to the trained eye. Craftsmen concentrated to create clean and well-balanced lines that were seemingly modest in appearance, and were often adapted from archaic jades and bronzes, including this piece. This censer was modelled after archaic bronze liding, which in the Shang (16th century-c.1050 BC) and Zhou (c.1050-221 BC) dynasties, were used during ritual ceremonies for boiling millet.
While Longquan censers of this form were produced in large quantities, those with a crackled glaze are unusual. See a Longquan censer of this form covered in a beige glaze suffused with crackles, from the Sekido family collection, sold at Christie's New York, 18th/19th September 2014, lot 745.
Compare also a censer of this form, identified as guanyao, in the National Palace Museum, Taipei, illustrated in Porcelain of the National Palace Museum. Guan Ware of the Sung Dynasty, Hong Kong, 1962, pl. 19; and a reconstructed censer unearthed at Jiaotanxia, illustrated in Nan Song guannyao [Southern Song dynasty official ware], Beijing, 1996, pl. XX, no. 2.