NEW YORK, NY.- Summer Redux: Asia Week New York 2020, featuring 38 galleries and three auction houses, will open with a virtual exhibition from July 17th to 31st. The week-long celebration of Asian art and culture, held annually in March for the past 11years, was interrupted by Covid-19 with many galleries from abroad unable to travel to New York and those who were here closing early.
Says Katherine Martin, chairman of Asia Week New York: "We are delighted to provide a digital platform for our international galleries to present examples of their spectacular works, not to mention our fascinating panel discussion, Seen and Unseen, three museum shows that were postponed or unviewed."

According to Martin, the Zoom presentation, which takes place on Thursday, July 23 at 5:00 p.m. PST/ 2:00 p.m. PST, covers Chinese Painting and Calligraphy Up Close, The Metropolitan Museum of Art, with Joseph Scheier-Dolberg, Oscar Tang and Agnes Hsu-Tang Associate Curator of Chinese Painting; The Cloth That Changed the World: India's Painted and Printed Cottons, at The Royal Ontario Museum, with Dr. Sarah Fee, Senior Curator, Global Fashion & Textiles and Lost Luxuries: Ancient Chinese Gold at Middlebury College Museum of Art, with Sarah Laursen, Alan J. Dworsky Associate Curator of Chinese Art, at the Harvard Art Museum. To register for the discussion, go here.

As always, the Asia Week New York galleries will present a spectacular array of treasures featuring the rarest and finest examples of Asian porcelain, jewelry, textiles, paintings, ceramics, sculpture, bronzes, and prints from every quarter of and period in Asia. Organized by category here is the roster of the participating galleries:

Indian, Himalayan, and Southeast Asian Art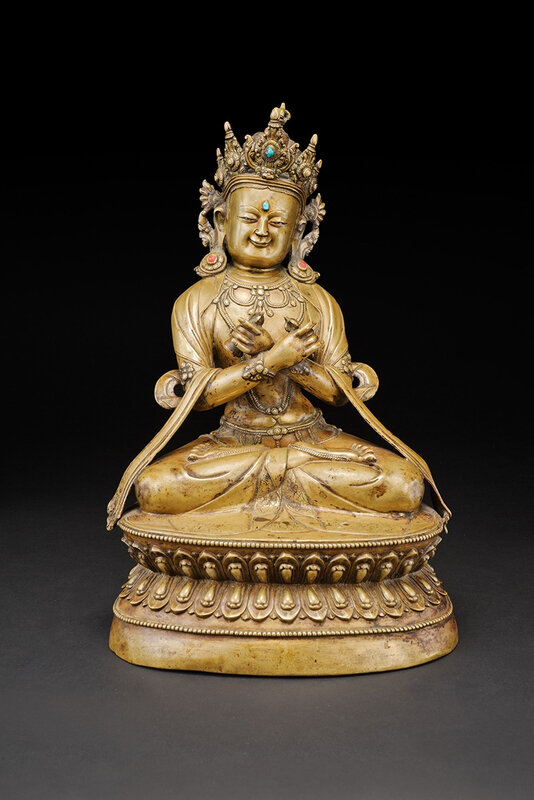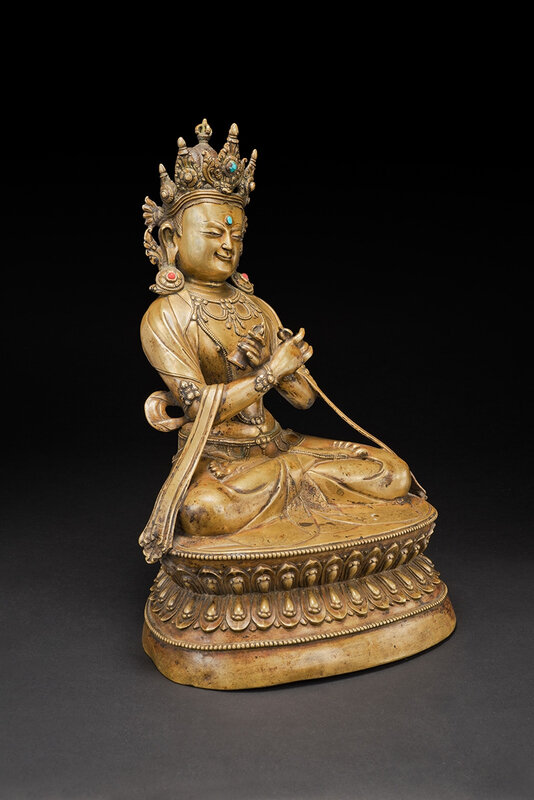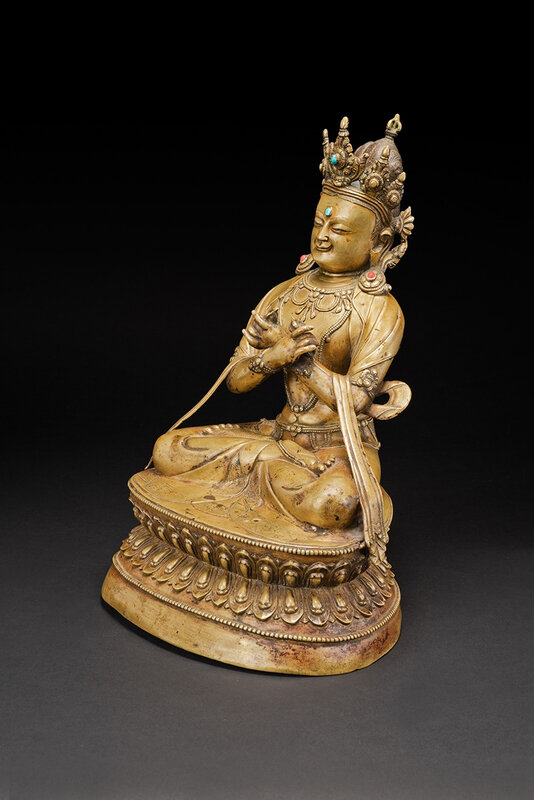 Vajradhara, Tsang, Tibet, 15th Century, 28.5 cm (11.25 in). Copper alloy with silver inlay and coral insets. Asking price: $68,000. Walter Arader (United States).
Published in Spink and Son, The Mirror of Mind, Art of Vajrayana Buddhism, 1995, p. 16, cat. no . 9.
Himalayan Art Resources # 30586.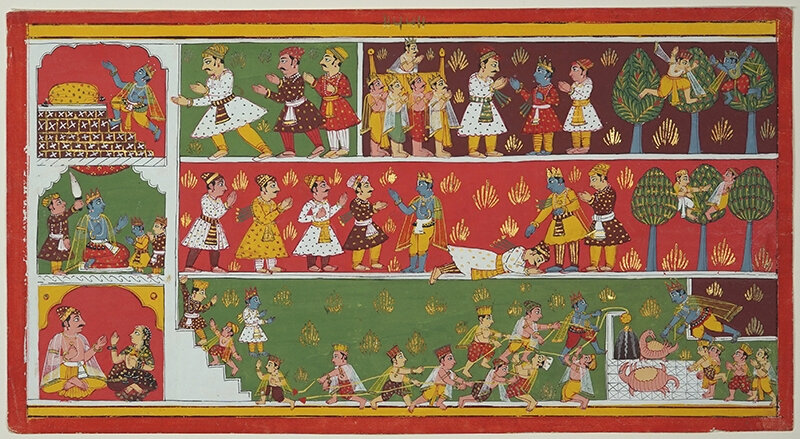 The Liberation of King Nriga, from a Bhagavata Purana series, Madhya Pradesh, Malwa, ca. 1700. Ink, opaque watercolor and gold on paper. Painting 8 x 14 1/2 in (20.3 x 37 cm). Asking price: $11,000. Art Passages (United States).
In the past King Nriga had accidentally given a cow to two different Brahmanas and one of them cursed him. He was turned into some sort of lizard or chameleon and would only recover his real appearance once he was touched by Krishna. Years later, the gopas or cow-herder friends of Krishna were playing and found a well. Wanting a drink they discovered the well was dry and had entrapped poor Nriga. They tried to lift him with ropes as seen at the bottom right of the painting, but couldn't manage to lift him. Once they alerted Krishna he was able to effortlessly lift up the poor creature. Here he is depicted as a rather strangely shaped animal, part crab and lizard-like. In the central register Nriga regains his original form and lies down in thanks touching Krishna's feet. In the top register he folds his hands in reverence and then ascends to heaven in a celestial vehicle or vimana.
As is usual in so many of the paintings from these Bhagavata Purana paintings from Malwa, the action often does not go in a straight line. Basically the action goes from the bottom up, but the two scenes of the gopas trying to lift the animal and the later one of Krishna arriving and saving the animal happen simultaneously in the painting.
Many folios from this manuscript are scattered in public and private collections. They are easily recognizable because of the sprays of gold lines that enliven the backgrounds.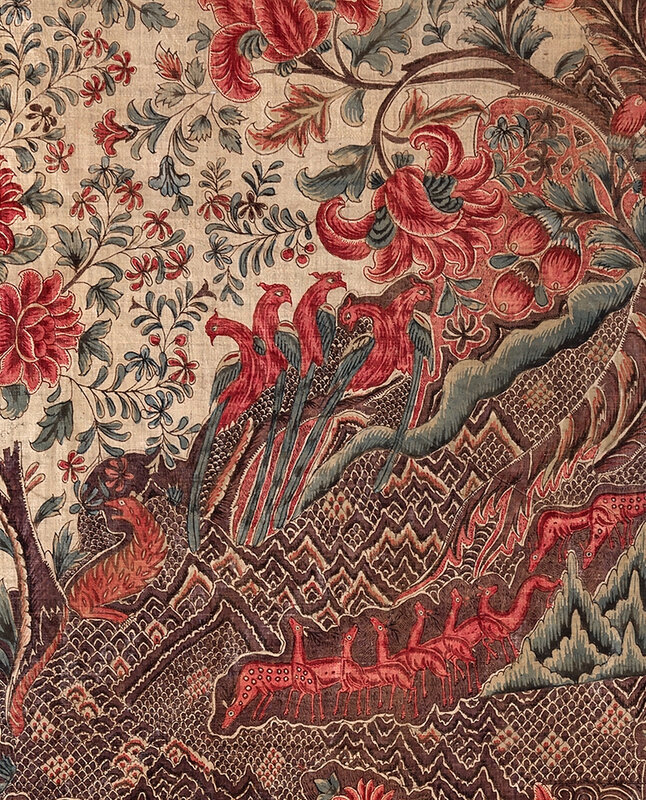 Tree of Life Palampore, Northern Coromandel coast, Circa 1730-50. Painted and resist dyed cotton, 318 x 212 cm. Asking price: $11,000. Prahlad Bubbar (England).
The undulating branches with exotic oversized flowers, multitude of leaves, fantastical birds, succulent fruit, all capture the otherworldly mood of the Deccan and its mystical inclinations in a hypnotic wave and envelop the viewer.
A rich display of foliage, beautifully drawn and vivid delicate decoration in exquisite coloured dyes show the skill and ability of the master craftsmen and artists of the region. The earth mound at the foot of tree is a tour de force of life, exuberance, designs and patterns. Leopards chasing deer, clusters of exotic birds, zig-zagging hills, frolicking rabbits, hunters, all form a cornucopia of plenty and depict the cycle of life. The tree trunk and branches have also been beautifully rendered with stylised internal decoration leaving no part unembellished or overlooked on the picture plane. A wide border with elegant variations frames the piece.
This is a classic museum quality tree of life Palampore of the type quite rare to come across now. While made for the export market to Europe, where such textiles were highly coveted and fashionable in the 18th century, our piece retains a strong Indian sensibility informed by the aesthetic traditions of the Deccan. The Northern part of the Coromandel Coast was part of the erstwhile Golconda dominions, where we believe our textile originates. Pieces from the mid 18th century onwards display a strong Chinese influence and a sparser aesthetic.
The current piece will be exhibited in the forthcoming show: The Botanical Mind: Art, Mysticism and The Cosmic Tree. Camden Arts Centre, London. Exhibition launching in the galleries on Thursday, 24 September.
Provenance: Christie's London, 1977.
Private collection UK, 1977-2018.
Prahlad Bubbar collection, 2018.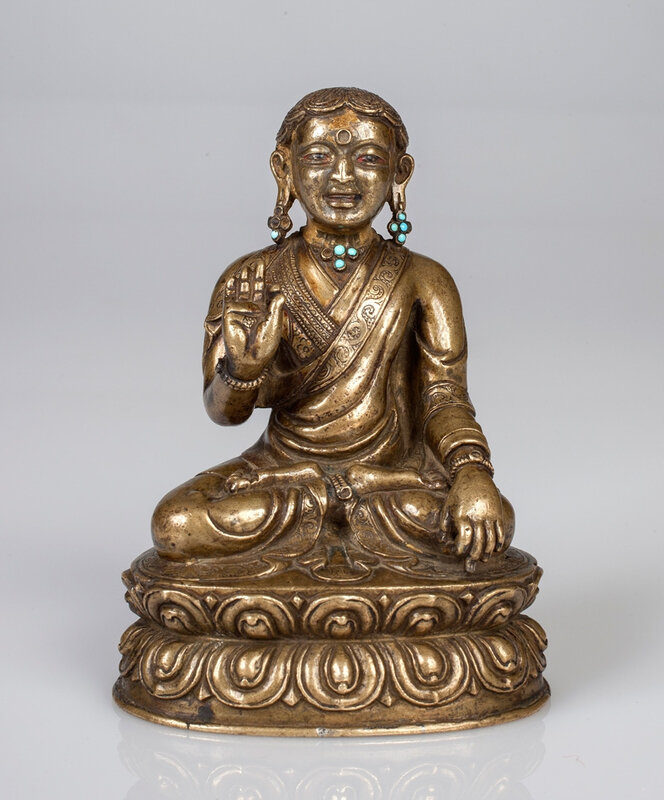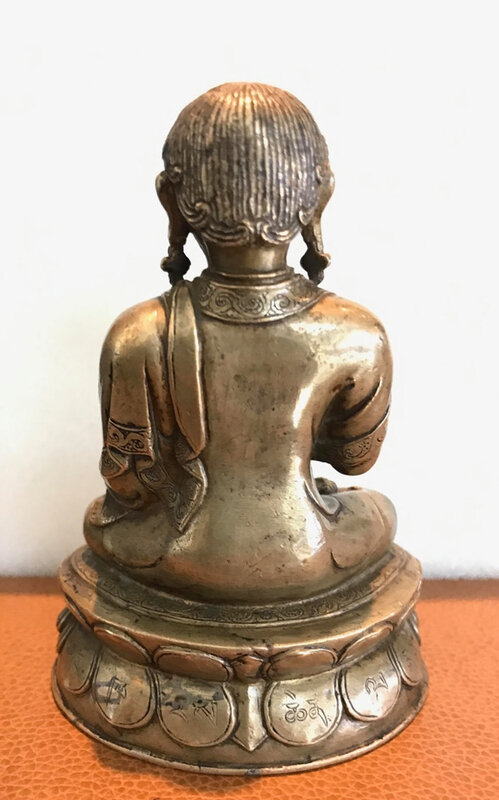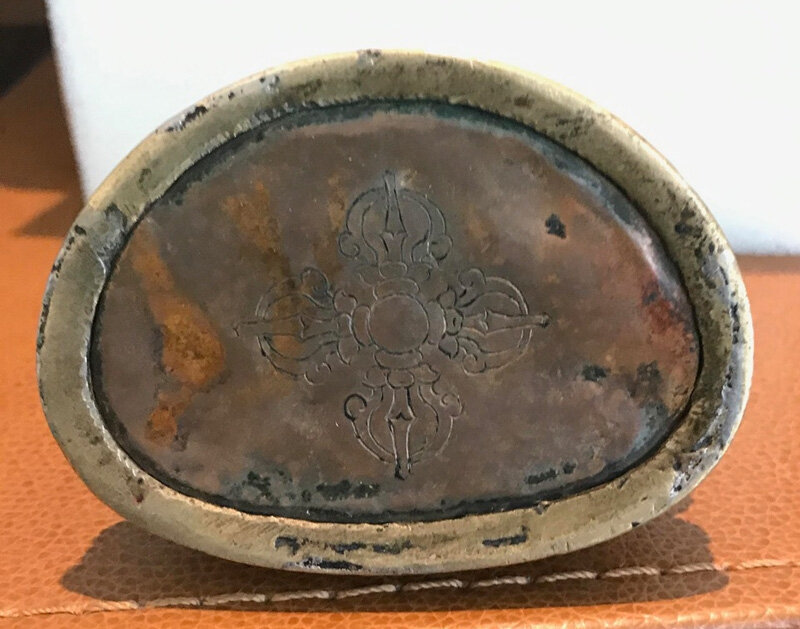 Portrait of Lama Sharka Rechen. Copper alloy, semiprecious stones, Tibet, 15th-16th c., 4 ¼ in. ( 10.8 cm.). Asking price: $75,000 (shipping included, duties not included). Carlo Cristi – Asian Arts Company (Italy).
Provenance: ex Nyingjei Lam Collection
Fine portrait of Lama Sharka with accurate details, bottom originally sealed, name incised on the lotus base, at the back.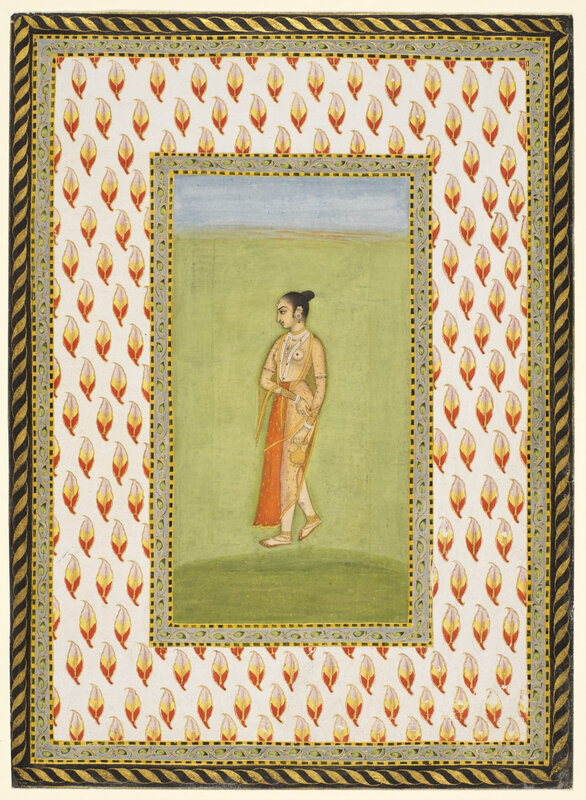 A Hindu lady walking to a shrine, Attributed to Ghulam Reza, Avadh, Northern India, circa 1770. Opaque pigment and gold on paper, 7 1/5 by 3 ¼ in.; 18 by 9.3 cm. painting, 12 ¼ by 9 in.; 31.3 by 23 cm. folio. Asking price: $35,000. Oliver Forge & Brendan Lynch Ltd (England)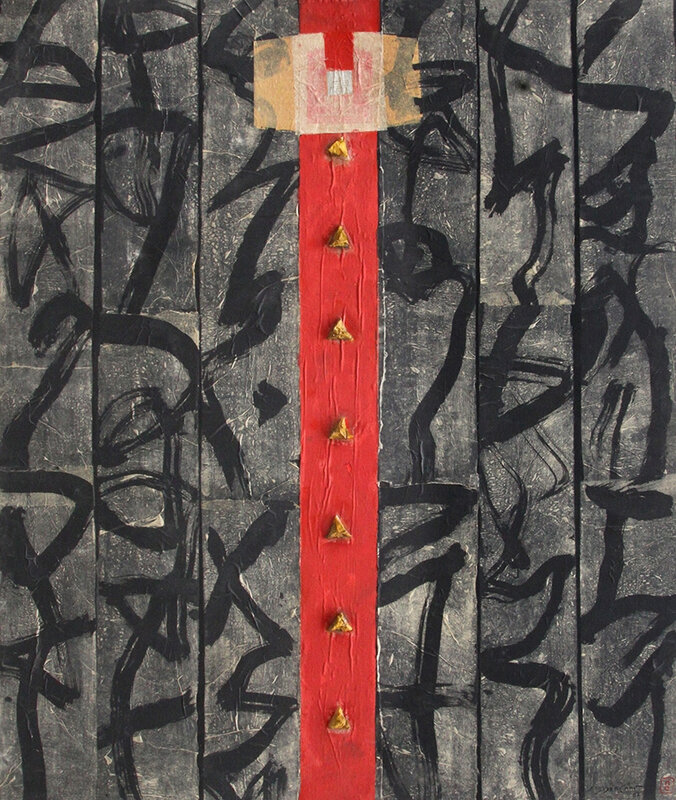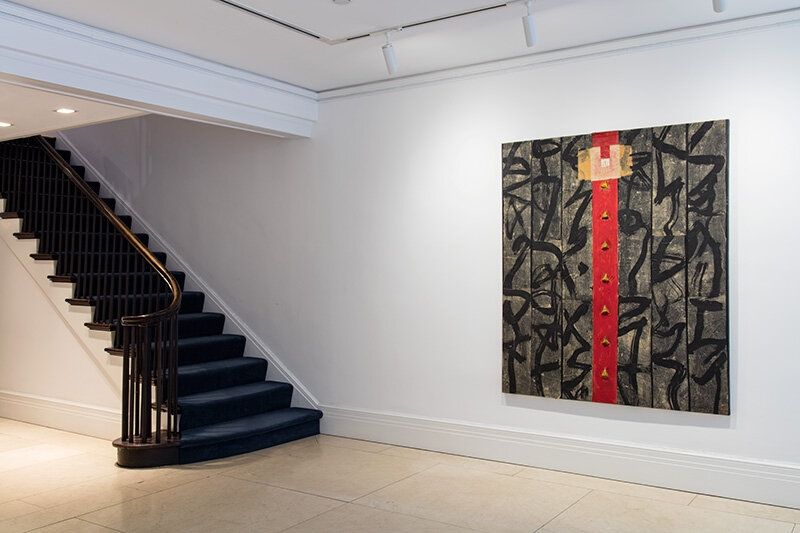 Nguyen Cam, Wandering Souls-III, 2007. Votive papers, acrylic, Dó paper, and tea bags on canvas, 65 x 55 in. (165 x 140 cm). Asking price: $20,000. Rosenberg & Co. (United States).
Ancient and/or Contemporary Chinese Art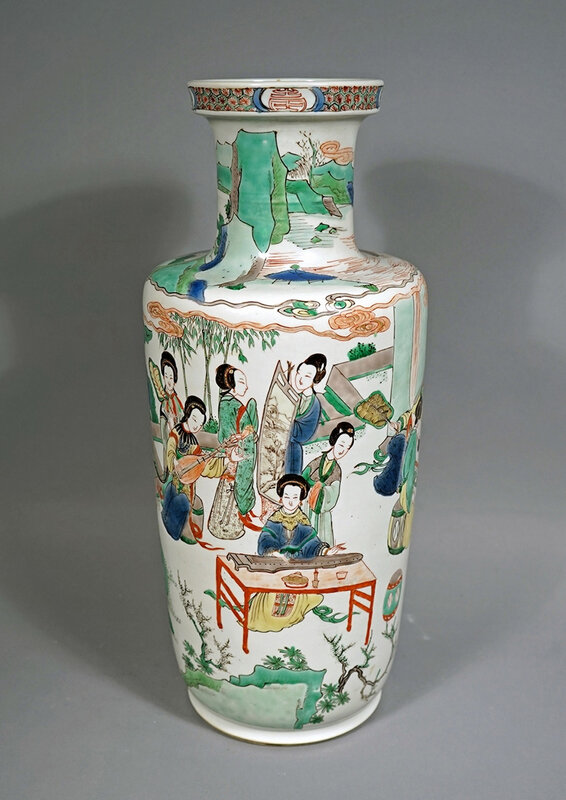 Fine Chinese famille verte porcelain rouleau vase, Kangxi period, AD 1662-1722. Height: 18 inches (46 cm). Asking price: $68,000. Ralph M. Chait Galleries, Inc. (United States).
Decorated with a continuous scene of Court Ladies situated in a palace garden engaged in the Four Accomplishments: painting, calligraphy, music, and weiqi. The scene is an interesting variant of the Eighteen Scholars of the Tang that depicts notable scholars of the period whom a Tang associated with. His devotion to classical studies and music made him a worthy successor to the throne. Perhaps this subject was a counterpart for educated women at the Court (such as the Empress).
Note: An almost identical vase (perhaps the pair to this vase) was in the Collection of Leonard Gow, Glasgow and is illustrated in color in the catalogue of the collection.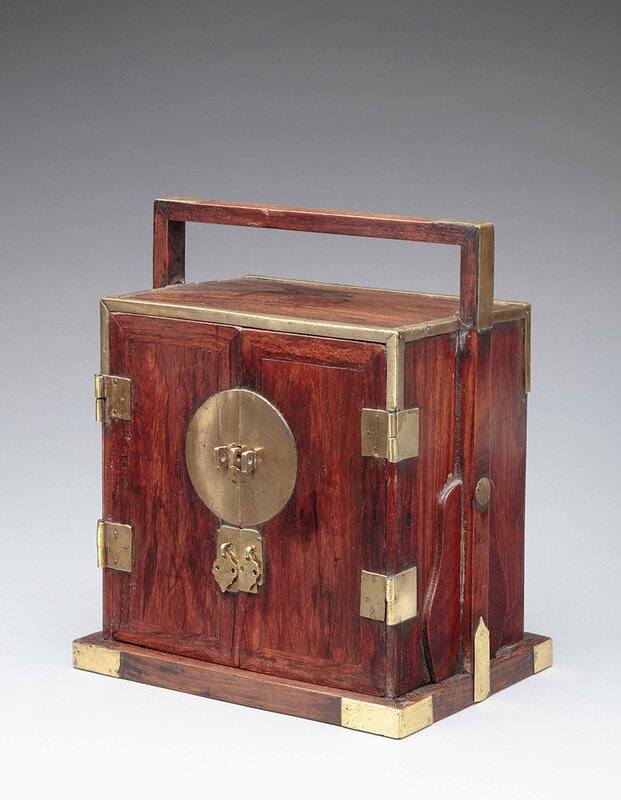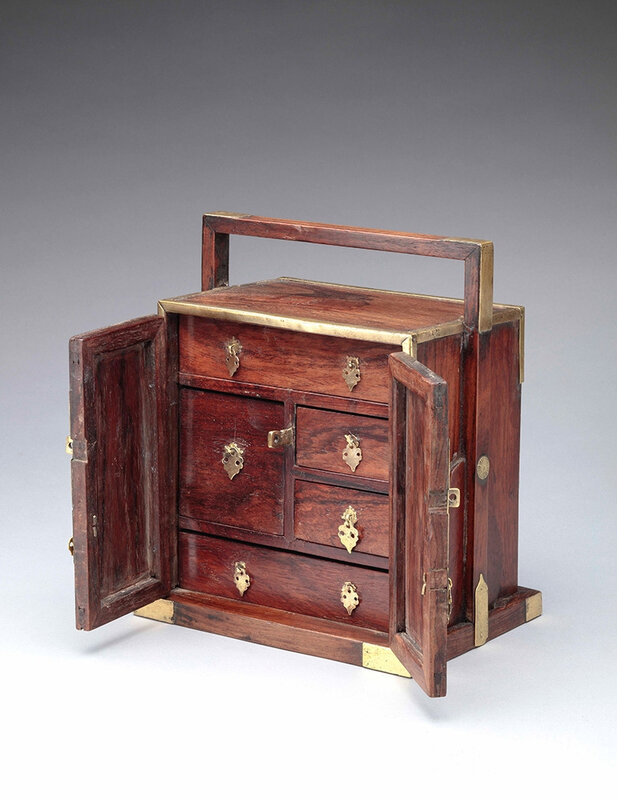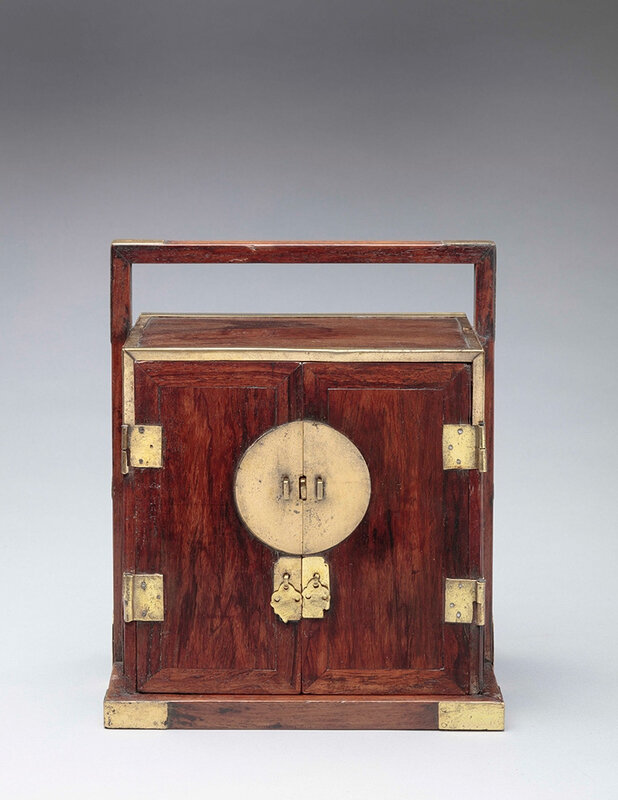 A huanghuali small table cabinet, Qing dynasty, 18th century;height 21.8 cm / 8 1/2 in width 18.8 cm / 7 3/8 in depth 13.4 cm / 5 1/4 in. Asking price: $20,000. Nicholas Grindley LLC (United States)
of upright rectangular shape with two doors of typical mitred, mortice and tenon construction with single flush floating panels, the top sides and back boards unframed panels. Each door is mounted with two rectangular hinges, unusually pinned rather than retained by split pins, as is the circular lock-plate mounted with two square bosses, pierced to conform to the fixed boss mounted to the interior frame. Beneath the lock-plate are two drop handles retained by split pins. The top edges of the box are re-inforced with simple brass strap-work, much of which has been replaced. A plain rectangular carrying handle is through tenoned into the square plinth and has shaped spandrels to each side where it joins the plinth. Each corner joint is also re-inforced with brass strap-work. The interior with two long drawers, two short drawers and one deep drawer all with softwood drawer linings and mounted with brass drop handles with foliate back-plates retained by split pins.
Note: A similar table cabinet is illustrated in Chinese Art from the Scholar's Studio, J.J. Lally & Co, Spring 2015, no. 59.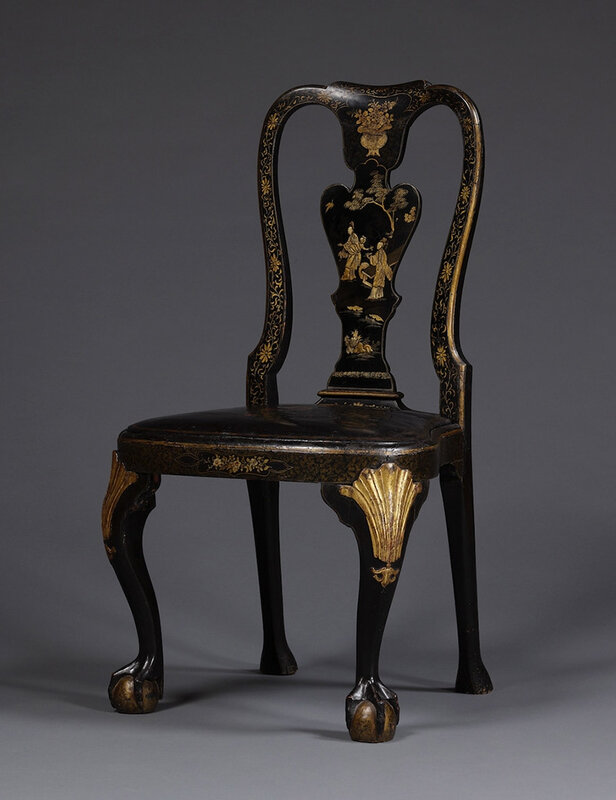 A rare pair of Chinese export side chairs made in the English 'Queen Anne' taste retaining their original painted and gilded leather seats, Second quarter of 18th century. Asking price: $86,000. Carlton Hobbs LLC (United States).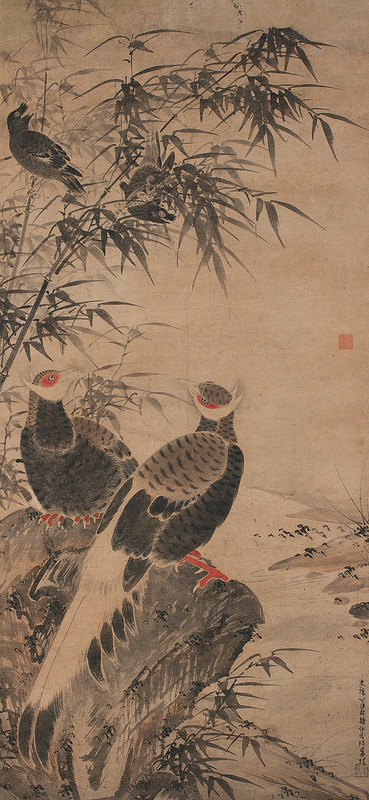 Anonymous Chinese (later 15th-16th century), Two Pheasants on Rock by Bamboo and Stream. Hanging scroll, ink and color on paper, 136.0 x 63.3 cm. (53 5/8 x 24 7/8 in.). Seal: Yiyue xingqing ('Taking pleasure by natural temperament'). Japanese colophon: 'During rin-sho (the sixth lunar month) of the fourth year of the Bunroku reign-era (1595), Churyo presented this in service.' Seal: Chu. Asking price: $25,000. Kaikodo LLC (United States).
Accentuated by their red feet and faces, two pheasants perch on a rock overlooking a stream and below several sprays of bamboo that provide cover for two mynahs. The brushstrokes on especially the rock were applied swiftly and with more interest in calligraphic flourish than pure verisimilitude. The strongly diagonal composition provides visual kinetic energy while the postures and attitudes of the birds create narrative interest. Close parallels can be drawn between this painting and those by Lin Liang (ca. 1430-ca. 1490) (fig.1), and these suggest an approximate date if not artist for 'Two Pheasants on Rock by Bamboo and Stream.'
The colophon here was written in the year 1595, so the painting was in Japan by that date. Since this was the period of Hideyoshi's invasion of Korea, some have suggested that it was among the plunder in goods and people brought back then to Japan, and even that the painting itself is Korean. However, we believe the work to be Chinese, and to have entered Japan by less dramatic means, and then to have been presented by Churyo to his daimyo lord.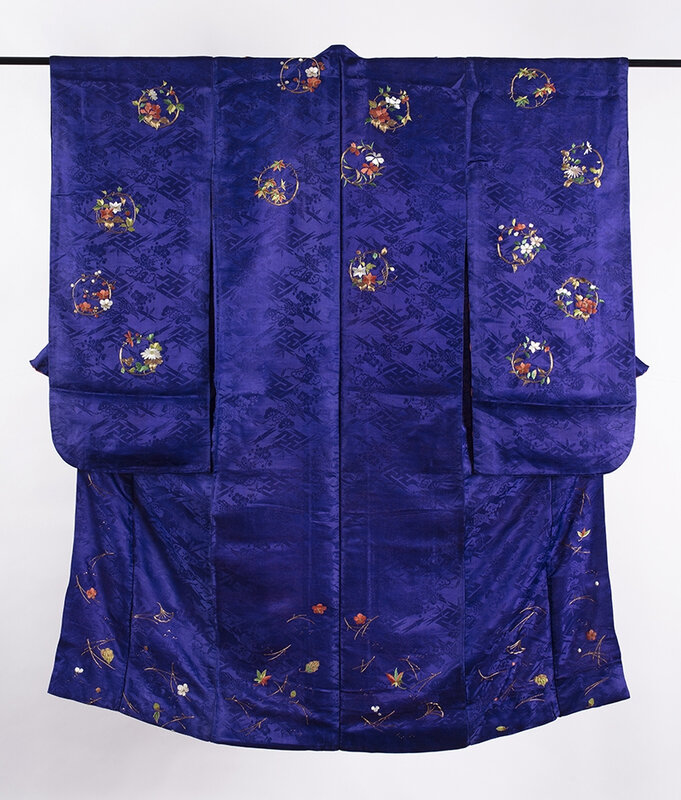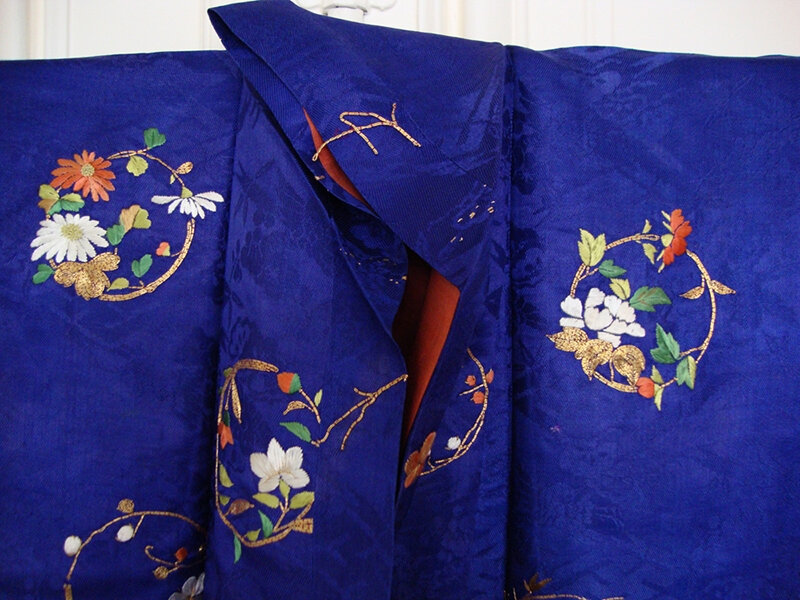 Japanese furisode for a young girl. Silk and gold threads, embroidery on a damask-weave silk, decorated with roundels including various flowers and leaves,Meiji period (1868-1912), formerly in the collection of the Kawasaki family, Kochi Prefecture. Asking price: $6,500. Alan Kennedy (United States).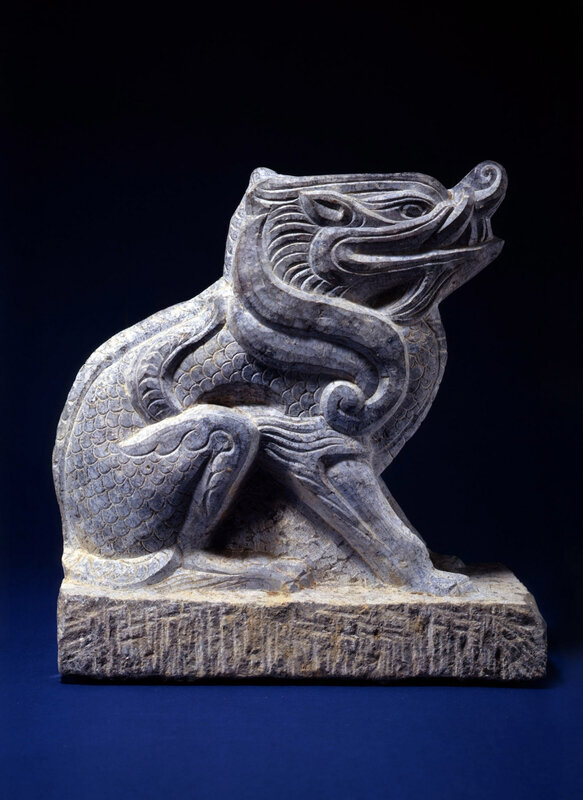 A Gray Limestone Guardian Beast (Lu Duan), Song Dynasty (960-1279). Height 10 1/4 inches (26 cm). Asking price: $6,500. J.J. Lally & Co. (United States).
Boldly carved in the round but flattened on both sides, the fantastic feline beast shown seated with clawed feet firmly set on an integral rectangular plinth, with eyes fixed in a steady gaze, the head with curled snout framed by long fangs and a short beard below the pointed chin, the body incised with scales all over and a thick mane swept back between a pair of wings rising from the shoulders, the arched back with a ridged backbone ending in a long segmented tail curled around one leg.
The lu duan (甪端) is a mythical beast with magical power, able to traverse mountains and seas, covering up to eighteen thousand li in one day, fluent in all foreign languages and able to distinguish between good and evil, thus serving to protect the emperor.
Compare the massive stone figure of a lu duan on the spirit road at the tomb of the Northern Song emperor Zhao Xu (d. 1085, reign name Shenzong) at Yong Yuling, similarly modeled with stylized wings on its shoulders, curled snout, long fangs and short beard, illustrated by Paludan, The Chinese Spirit Road, New Haven, 1991, p. 149, fig. 191 referred to by the author as a jiao duan, due to a misreading of the first character.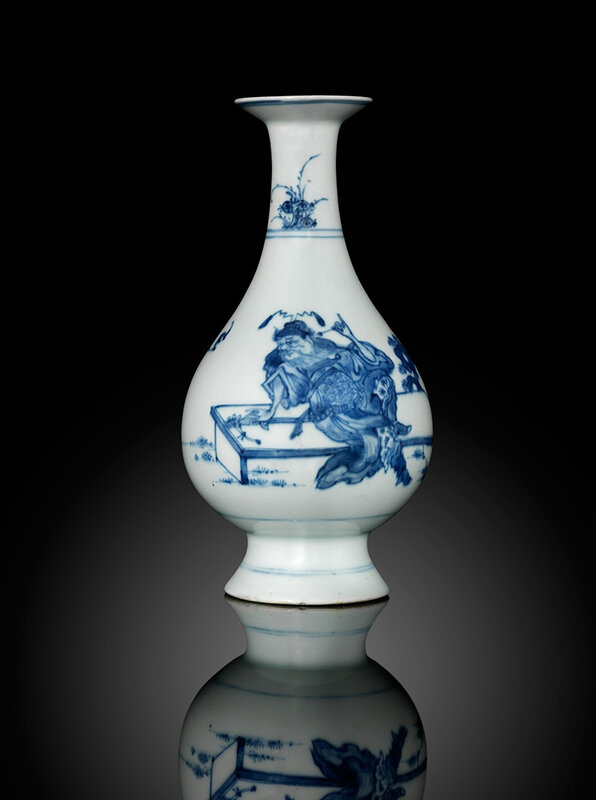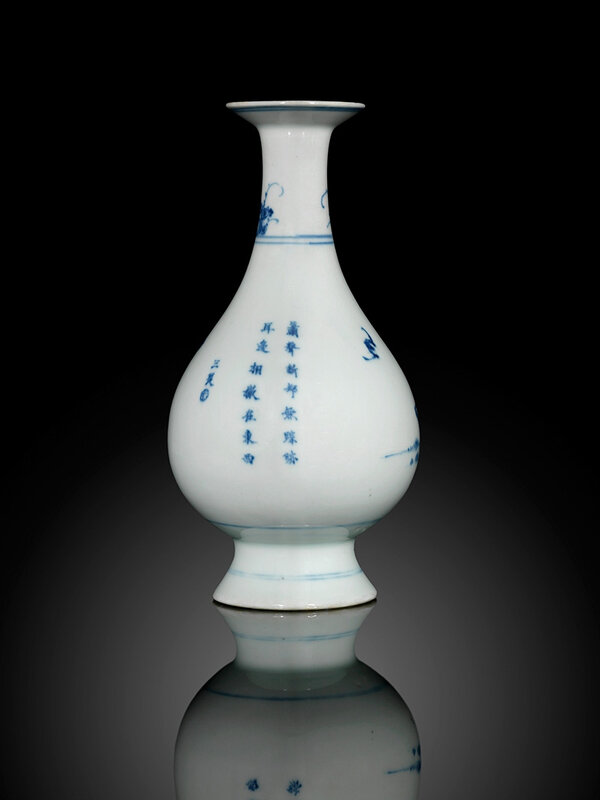 A blue and white 'sage' bottle vase with imperial poem, Yongzheng four-character mark and period, 1723-1735; 19.5 cm high. Asking price: $45,000. Littleton & Hennessy Asian Art (England)
Provenance: A private English collection.
Yongzheng sage vase's poem:
蕭聲斷却無踪跡
耳邊相撤在東西
- 三畏
The sound of Xiao stops, leaving no trace.
Dissipates, in the air.
- San Wei
Xiao is a type of Chinese flute, there is no actual English translation of this music instrument. "San Wei " (三畏) , the last two Chinese characters on the left hand side of the poem refer to a Hall Name, one of the imperial clans of Yongzheng. They were stationed in Jiangning (now Nanjing, Anhui and Shanghai), with the family name of 'Lu'(陆). "San Wei"(三畏) means "Three Fear" in English. Lu Wen 陆韫 - the first generation of Three Fear Hall defined the virtues of the entire family, namely: fear the dignity of heaven, fear the anger of earth, fear the truth of heart. Lu Wen 陆韫 was the first ranking official (the picture of him shows he wears a ruby finial).
Compare a prunus vase with a similar painting style and mark in the Palace Museum, Beijing (no. 5250 - 20464)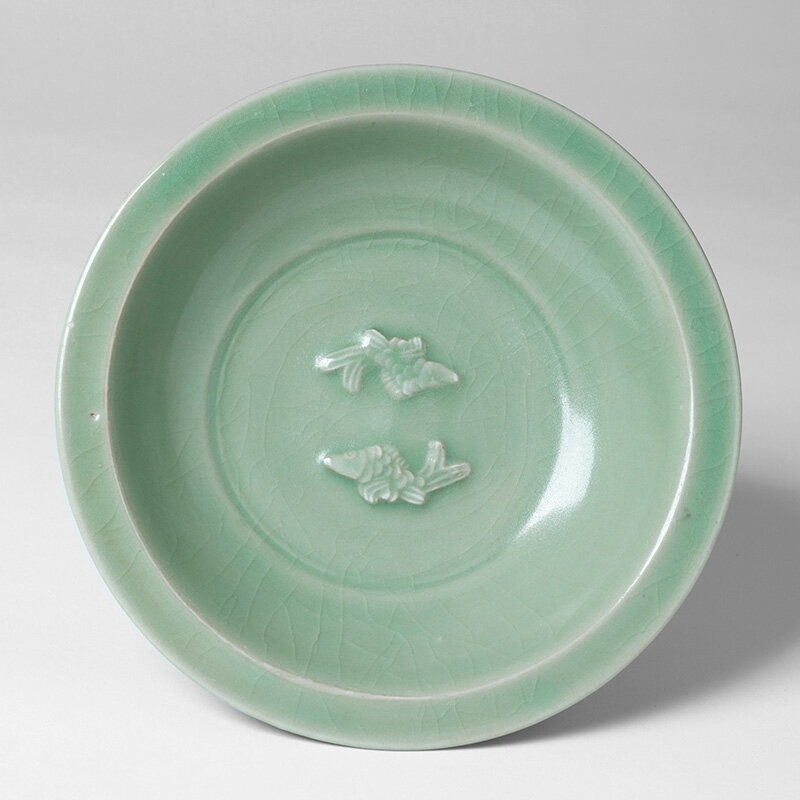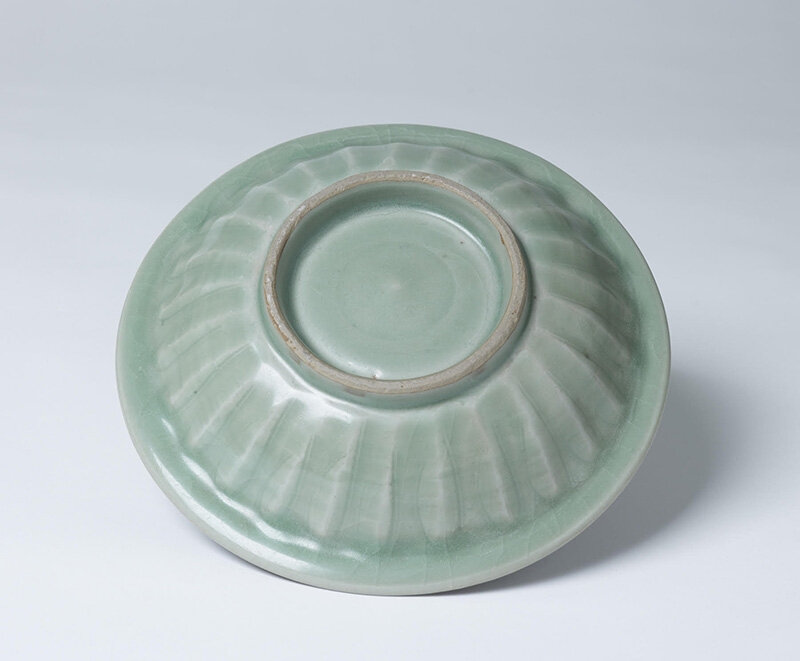 Large Longquan Celadon Bowl with Twin Fish Appliques, B 1211, Southern Song - Yuan Dynasty, 13th - 14th century A.D., China. Diameter: 19.5cm. Asking price: $38,000. Zetterquist Galleries (United States).
A large shallow bowl (often considered brushwashers) with flattened rim, steep cavetto and broad flattened bottom, decorated with finely molded appliques of two fish swimming around each other, a Chinese symbol of marital bliss. The outside walls carved with overlapping lotus petals. The entire piece is covered with a translucent crackled Longquan celadon glaze (some areas of surface scratching). The bottom of the foot rim is unglazed, revealing a dense stoneware body of pale gray color.
Two identical pieces can be found in "Heavenly Blue; Southern Song Celadons," Nezu Museum, 2012. pl. 42 and 43.
Ancient and/or Contemporary Japanese Art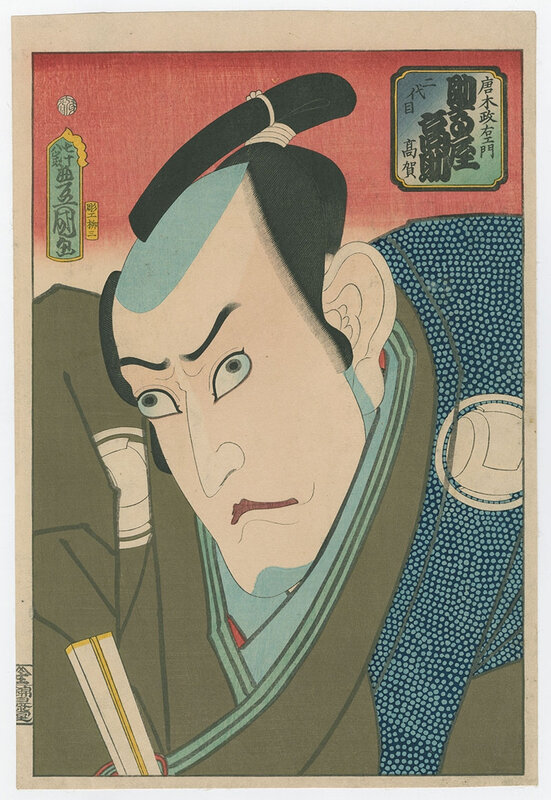 Kunisada, Signed Toyokuni III (1786 - 1865), Famous Actors, Past and Present, Suketakaya Takasuke as Karaki Masaemon, 1863. Publisher Kinshodo. Deluxe edition, Fine impression, color and condition, Inventory #05175713. Asking price: $5,950. The Art of Japan (United States).
Just a little over two years before his death in 1865, Kunisada, in collaboration with the publisher Kinshodo, produced a series of highly expressive large actor portraits using the finest materials available. The prints were created using the "atsu bosh zuri" technique, which is basically surimono style printing, using blind printing, metalic pigments and precisely polished surfaces. The series, Famous Actors Past and Present, also came to be commonly known by its publisher's name, Kinshodo. Kinshodo prints are highly sought after by collectors as they are not only stunning examples of the printerís art, but they also show Kunisadaís mature style in an Okubi-e (large head) format.
The Kabuki play is possibly "Keisei Homare no Sukedachi."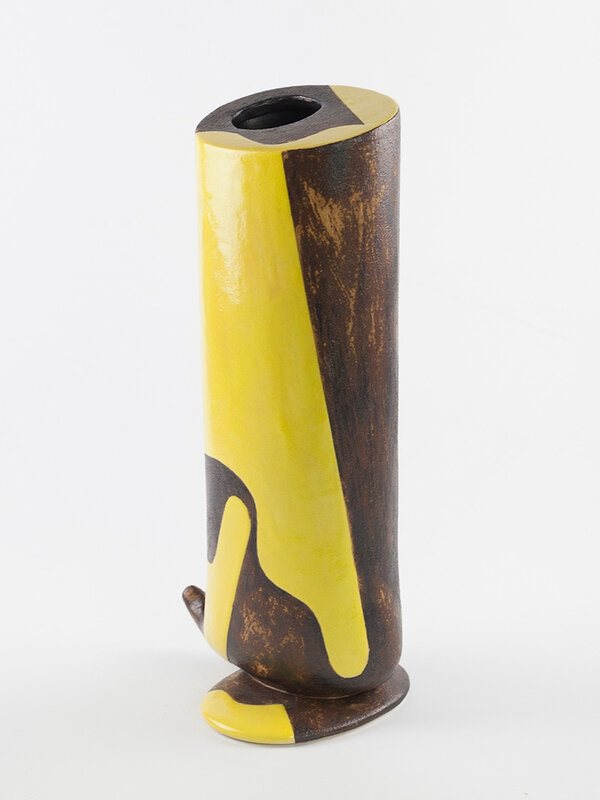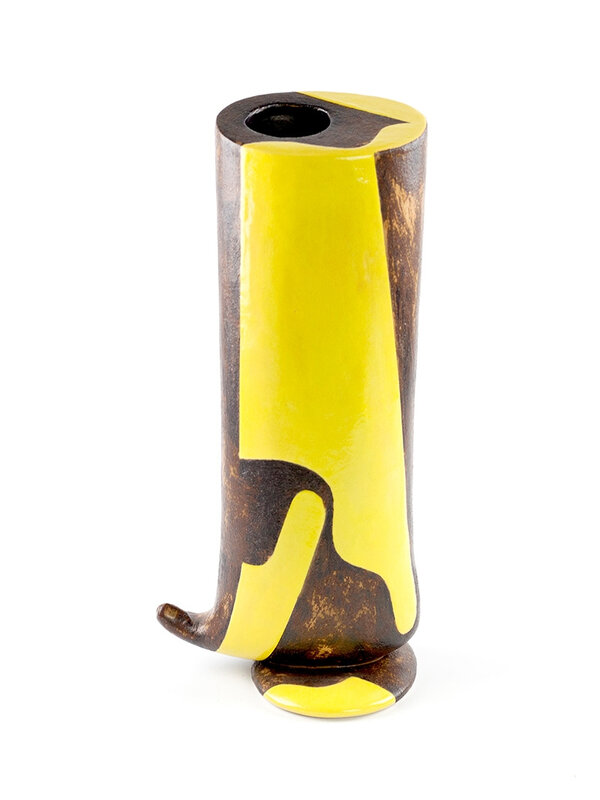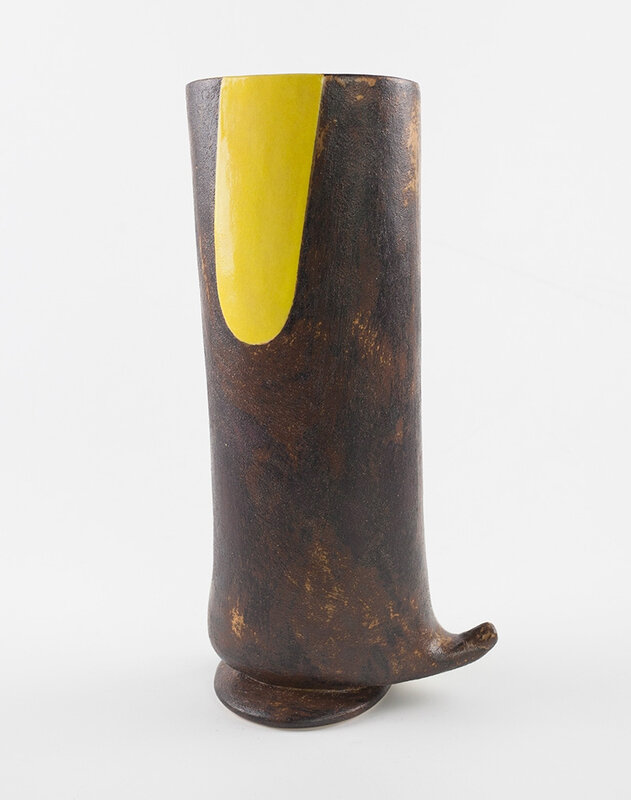 YANAGIHARA Mutsuo 柳原睦夫 (1934-), Yellow Oribe Flower Vase, キオリベ長筒花瓶, 1992. H14.5" x W6.7" x D5.6". H36.8 x W17.2 x D14.2cm. Stoneware Signed Mutsu 睦 at the bottom With Signed Wood Box. Asking price: $6,200. Dai Ichi Arts, Ltd. (United States).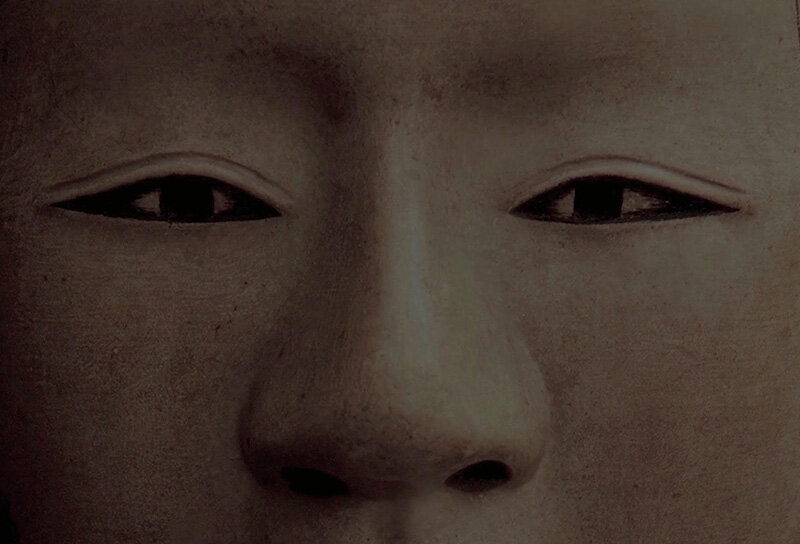 NOH MASK OF ZO-ONNA, early 18th century, Japan. Gesso and pigments on wood, 8.5 in. high. Asking price: $9,500. Carole Davenport (United States).
A sensitive portrayal of a female of 30 to 40 years old used in three specific plays, Ema, Tatsuta, and Hagoromo. Female masks are among the most beautiful and number about a dozen types. They can often be identified by the hair style, in this case, both Zo-onna and Waka-onna have the same hairstyle, but Zo is a bit older than Waka-onna.
Ito Shinsui (1898-1972), Applying Makeup (Kesho), from the series Twelve Forms of New Beauties (Shin bijin juni sugata), 1922. Asking price: $22,000. Egenolf Gallery Japanese Prints (United States).
A beauty has lowered her dressing robe to apply powder to her neck, her gaze thoughtful and contemplative. The outlines of her body suggest volume, with soft pink applied to the creamy skin to give depth to the face and hands. The background has been printed with the technique known as baren sujizuri which shows the traces of the edges of the round printer's baren and contrasts the smoothness of the skin. This series (1922-3) was the most important produced by the young Shinsui for Watanabe before the 1923 earthquake and fire, which destroyed the blocks and existing stocks of prints. This design was chosen as the cover image for the book Seven Masters: 20th Century Japanese Woodblock Prints from the Wells Collection (Minneapolis Institute of Arts, 2015). This work is from a recently acquired collection of 20th century beauty prints that Egenolf Gallery will be posting on our website in the coming months.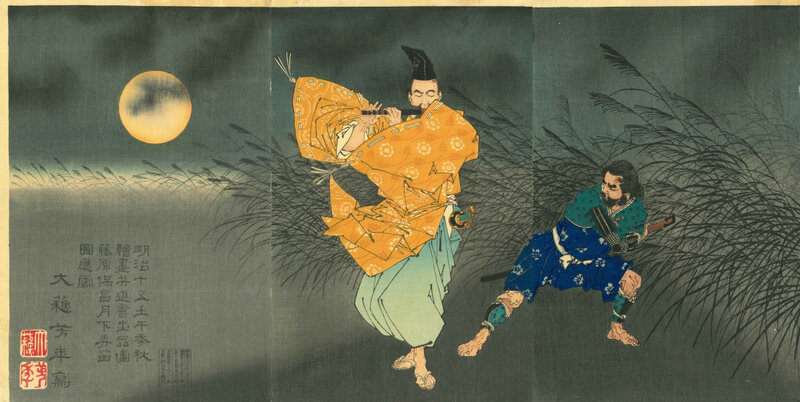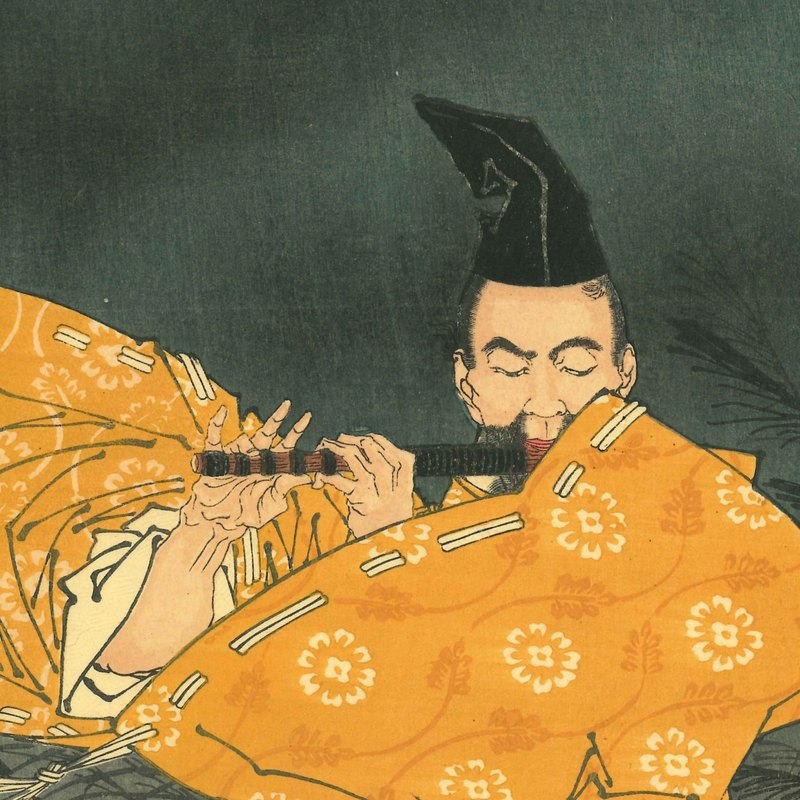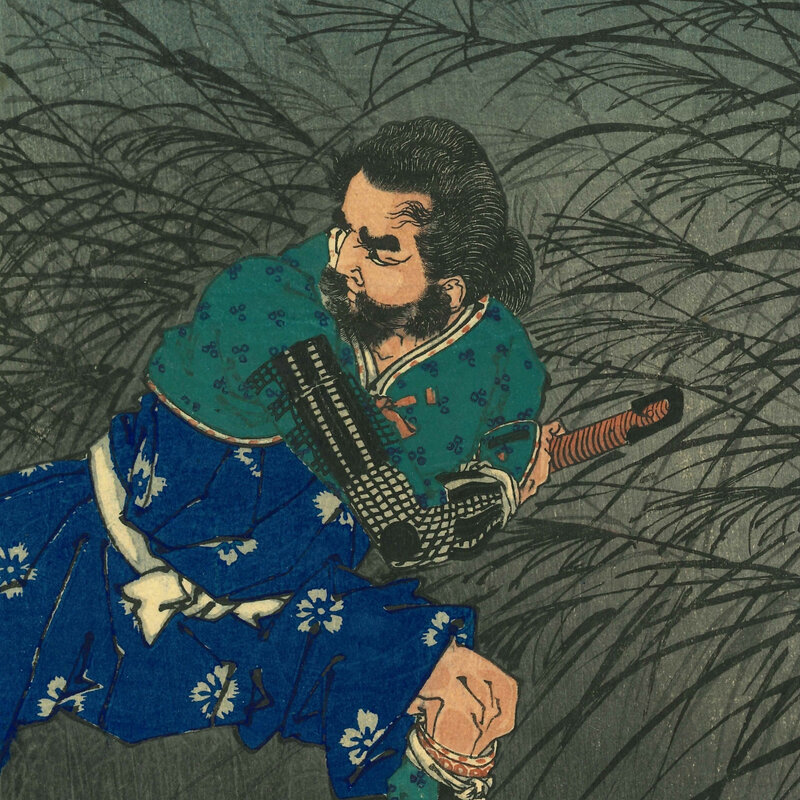 YOSHITOSHI, Fujiwara no Yasumasa playing the flute by moonlight (Fujiwara no Yasumasa gekka roteki zu) triptych, Japan, 1883. Polychrome woodblock print. Asking price: $23,500. Hara Shobo (Japan).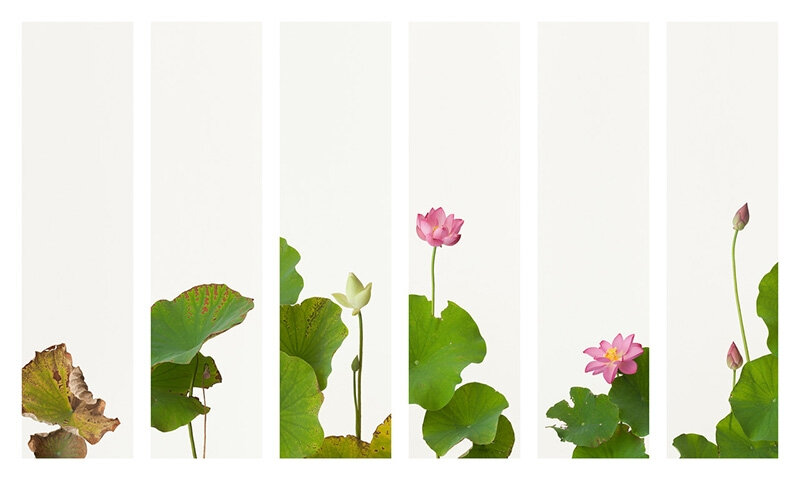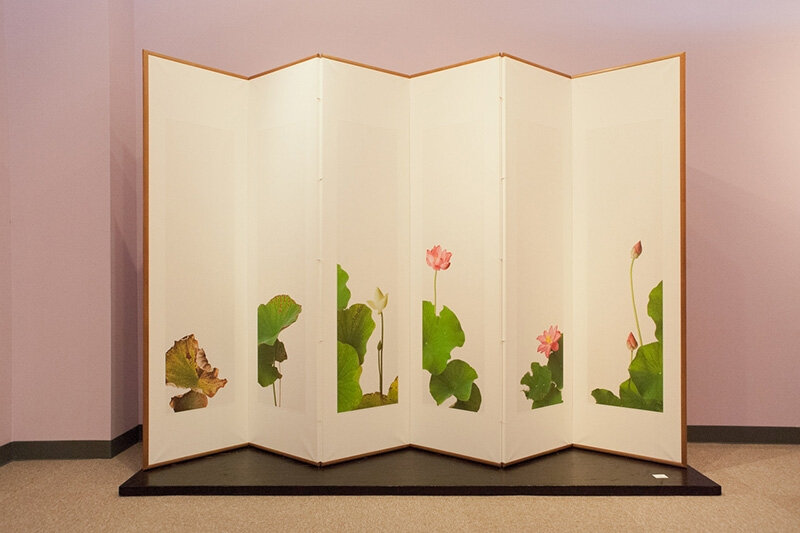 Takashi Tomo-oka, Lotus Byobu Screen, 2013. Photograph on Screen, H11 x W43 1/8 in, H28 x W109 3/5 cm. Asking price: $15,000. Ippodo Gallery (United States).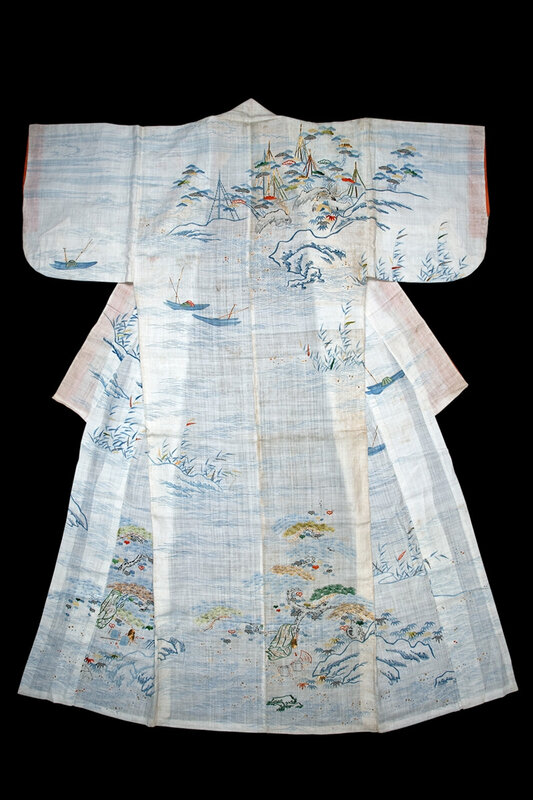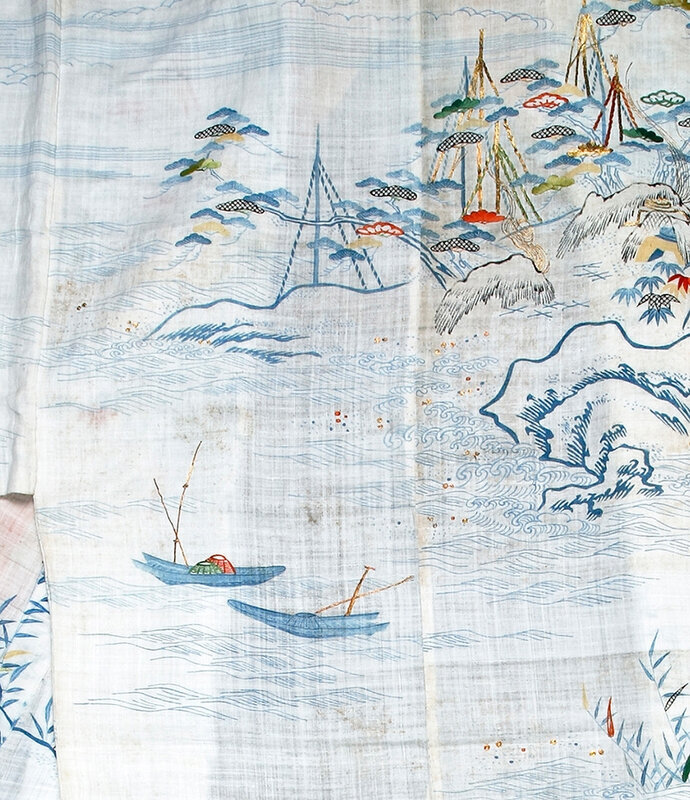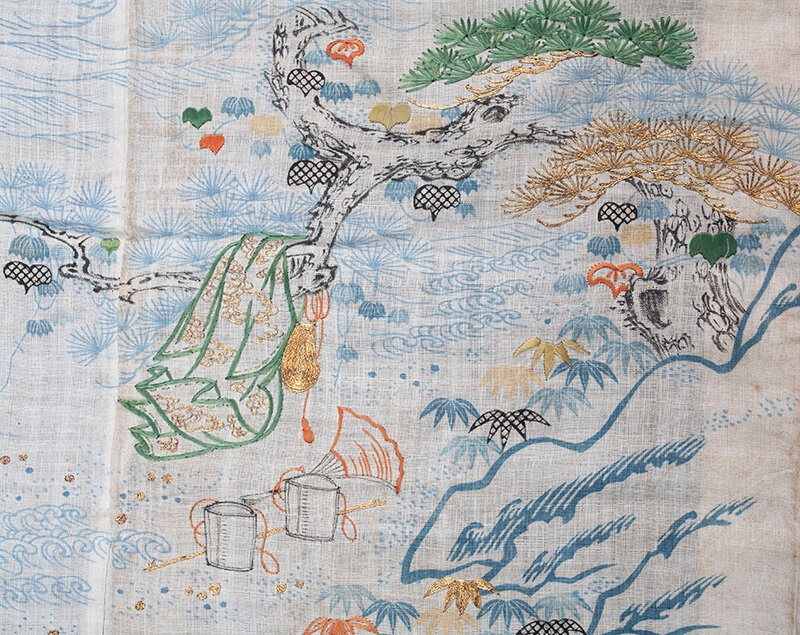 Katabira in White Linen with Landscape Design, Edo period, the latter half of the 18th century. W123cm L173cm. Asking price: $18,000. Mika Gallery/Shouun Oriental Art (Japan).
This off-white linen ground is decorated with indigo and yellow brush dye, hikizome dye work and embroidery. The upper back of this garment is decorated with a salt kiln while the lower back shows a feathered garment. Both images are thought to have literary meaning, with the feathered garment, or hagoromo, suggesting the Noh play, Hagoromo. The salt kiln is a set phrase from poetry, shiogamaura, meaning salt kiln inlet. The only traces of re-stitching can be found in a resizing of the sleeve length. Otherwise the garment retains its original form. Staining can be found only on the right back of the garment body. The black color has faded in the embroidery. (Description written by Dr. Iwao Nagasaki)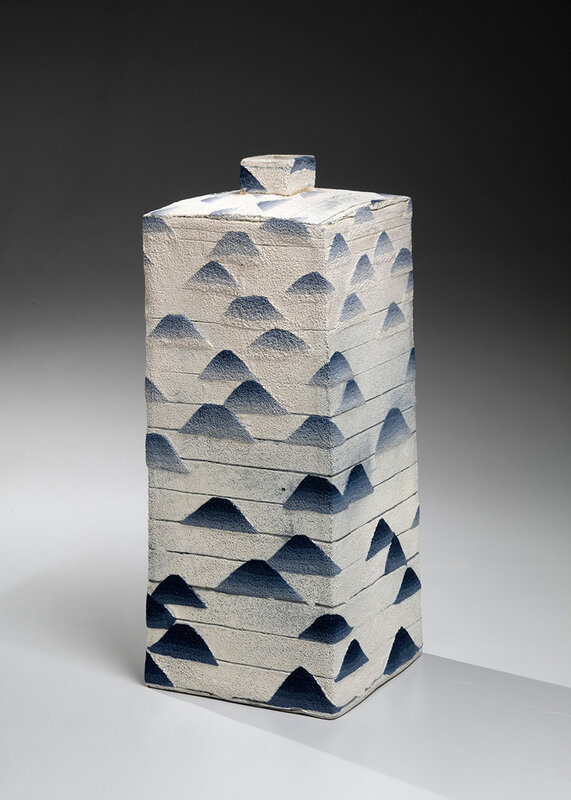 Matsui Kōsei, Tree-top patterned, blue and white marbleized tall rectangular vessel from the series titled Keirin or Beautiful Forests from 1983, 16 x 6 1/2 x 6 7/8 in. Asking price: $24,000. Photography by Richard Goodbody. Image courtesy of Joan B Mirviss LTD (United States).
Matsui Kōsei (1927-2003) was the leading figure in the twentieth century in the revival of neriage, marbleized colored-clay, mosaic-like ceramics. His influence continues even to this day. As a priest at Gessō-ji Temple in Kasama, Ibaraki Prefecture, Matsui was able to study numerous examples of ancient Chinese ceramics, allowing him to perfect his personal neriage technique. Far surpassing these historic precedents, Matsui created original abstract and geometric surface patterns, often with a rough-hewn texture, using a variety of techniques. His research in this difficult process culminated in worldwide recognition for his tradition-steeped vessels, so much so that he was designated a Living National Treasure in 1993, the first to be so honored for this ancient process. Similar but equally rare vessels from his Keirin series are illustrated in two seminal publications on his work from 1984 and 2005. There are important works by Matsui in the permanent collections of numerous prominent art museums, including the Art Institute of Chicago, Metropolitan Museum of Art, Victoria & Albert Museum, and both the Tokyo and Kyoto National Museums of Modern Art.
"Vibrantly colored layered clays are used to such an extent…that the conventional, narrow view of neriage has been shattered."
-Hasebe Mitsuhiko, former curator of National Museum of Modern Art, Tokyo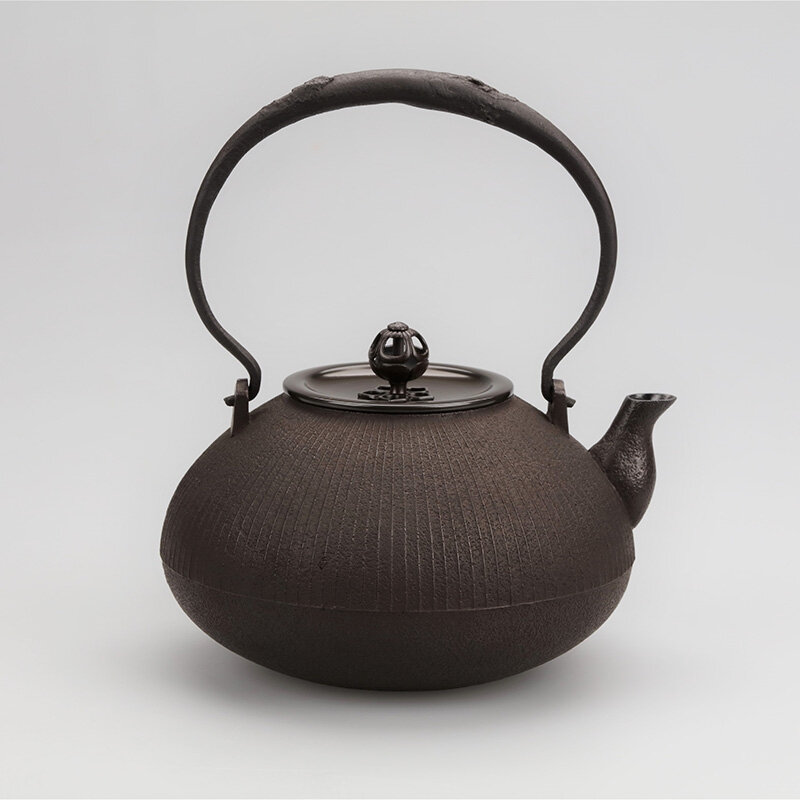 HATA Shunsai III (b. 1974), Tetsubin Daruma, 2020. Iron and copper, h. 8 5/8 x dia. 6 1/4 in. (22 x 16 cm). Asking price: $3,700. Onishi Gallery (United States).
Hata Shunsai III (b. 1976) is a metal artist whose family has been rooted in Kanaya-machi for generations - a district in Takaoka, a city in Toyama Prefecture well-known for centuries of exceptional metal crafts. Hata has carried on his family's tradition of making iron tea kettles for the tea ceremony. His unique works incorporate contemporary elements while maintaining time-honored traditions. The artist is a full member of the Japan Kogei Association, devoted to the protection and preservation of cultural tradition. Among his many awards, he has received the NHK Chairman's Award at the 60th Japan Traditional Art Crafts Exhibition in 2013. His work resides in the permanent collection of the Metropolitan Museum of Art and Tokyo's Museum of Modern Art. Featured at Onishi Gallery are his tetsubin, tea kettles used during the traditional Japanese Tea Ceremony.
The cast iron tea kettle, Tetsubin, is a traditionally crafted vessel to be used for serving tea to guests. It is not only beautiful but functional, and may be used to heat water on an electric stove. The artist recommends the usage of tetsubin in the modern home, as both artwork and tradition shared with guests.
"I create designs giving an impression of transparency so that the viewer becomes unaware of the underlying iron; I make it a policy to create works unique to myself, by incorporating contemporary elements while maintaining time-honored traditions." - Hata Shunsai III.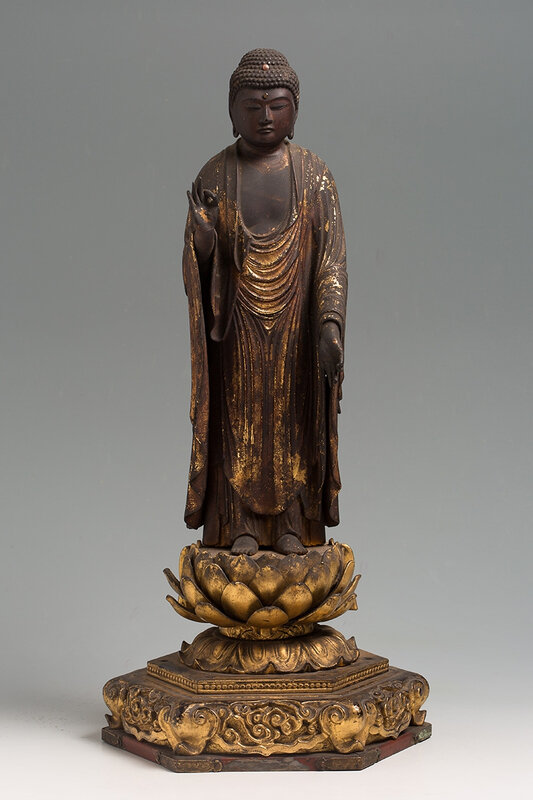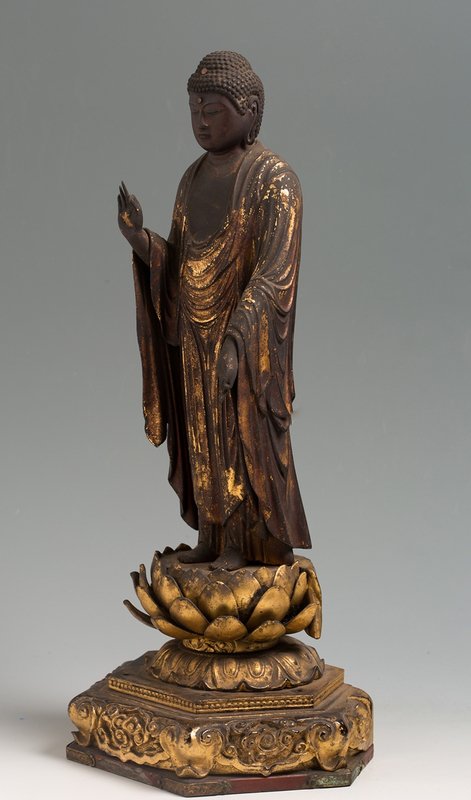 Amida Nyorai. A standing figure of Amida Buddha, Early Muromachi Period (1392-1568), mid 16th century. Wood with gold-leaf. Total Height 41 cm. Figure Height 29.8 cm. Asking price: $30,000. Giuseppe Piva (Italy).
The Amitabha (Amida in Japanese) Buddha is shown standing with his hands forming the Amida raigo-in mudra. The face has a serene expression, with closed eyes under delicately arched brows and a severe face. The hair is arranged in rows of coils that also cover the ushnisha, the protuberance on the head. The drapery is folded in elegant pleats falling from the shoulders to the feet. The antique sculpture is placed on a lotus flower which is located on a richly decorated base. Faith in Amida Buddha remained largely confined to a small segment of the Japanese population until the Kamakura Era (1185-1333) when it was popularized by new Pure Land sects committed to bringing Buddhism to the illiterate commoner. These sects expressed concern for the salvation of the ordinary person and stressed pure and simple faith over complicated rites and doctrines. Amida Nyorai presides over the Great Western Paradise and when a devotee dies, it is believed that Amida himself descends from his paradise to lead the faithful back to the Pure Land. This sculpture's hands gesture (mudra) symbolizes Amida welcoming the spirits of dead devotees.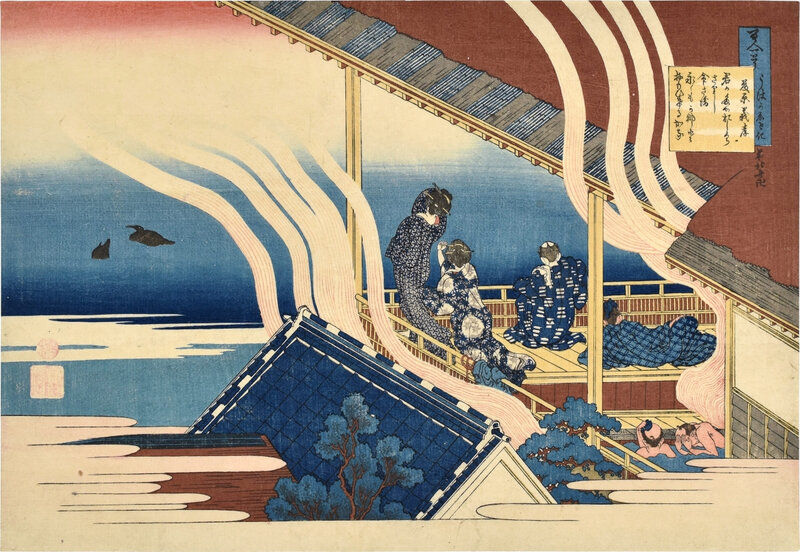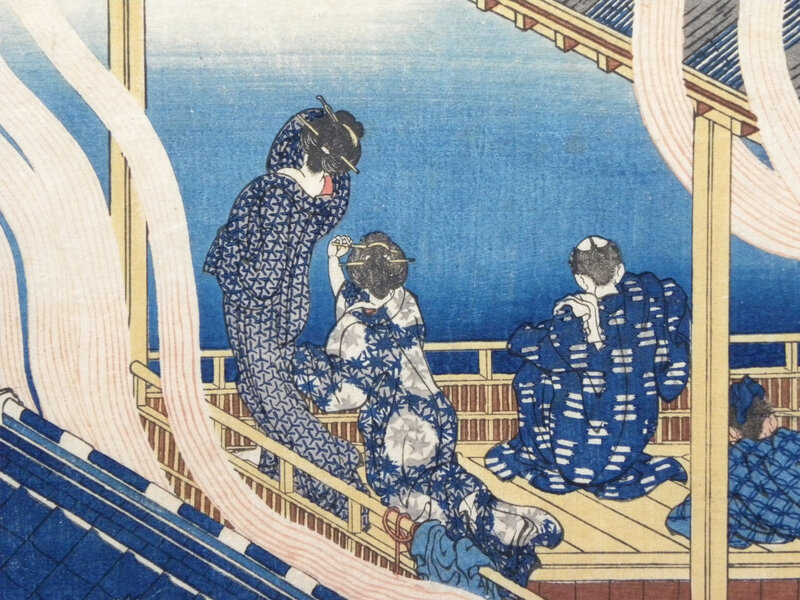 Katsushika Hokusai (1760-1849), The Hundred Poems as Told by the Nurse: Fujiwara no Yoshitaka. Woodblock print, signed zen Hokusai Manji, with publisher's seal of Iseya Sanjiro and censor's kiwame seal, ca. 1835-6, oban yoko-e 9 7/8 by 14 3/8 in., 25.2 by 36.6 cm. Asking price: 27,000$. Scholten Japanese Art (United States).
Bands of hot steam waft up from a bath house, two men at the lower right corner are seen enjoying the hot bath, while two women and two men clad in cotton yukata enjoy the view from a verandah.

The poem is by the Heian Period (794-1185) court poet Fujiwara no Yoshitaka (951-974):
For thy precious sake,
Once my eager life itself
Was not dear to me.
But 'tis now my heart's desire
It may long, long years endure.

Yoshitaka was a captain in the Imperial Guard and his work is included in the classic 13th century anthology Hyakunin Isshu (One Hundred Poems by One Hundred Poets).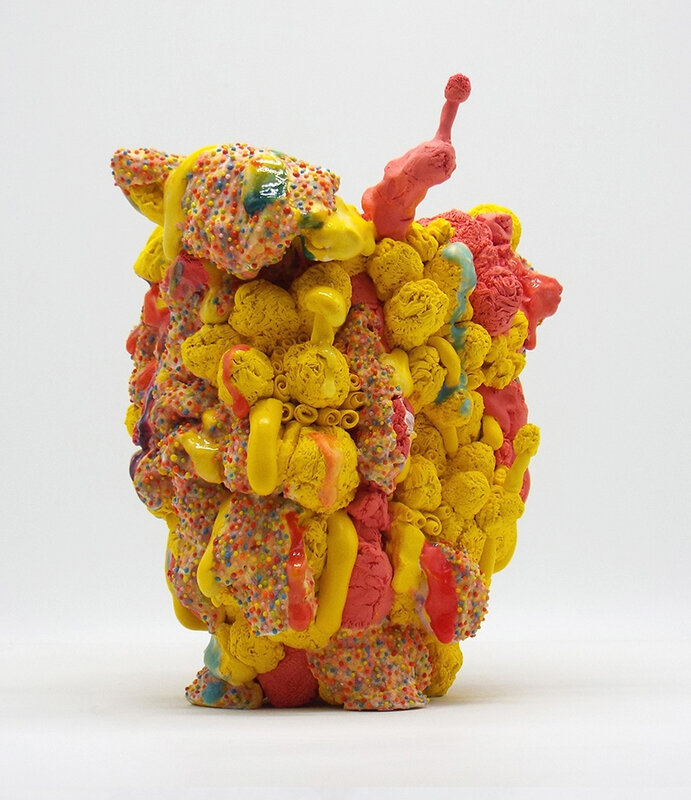 Kazuhito Kawai, i mall, 2019. Ceramic, 10.2 x W7.8 x D7.8 inches, H26×W20×D20 cm. Asking price: $3,100 (excluding tax). Sokyo Gallery (Japan).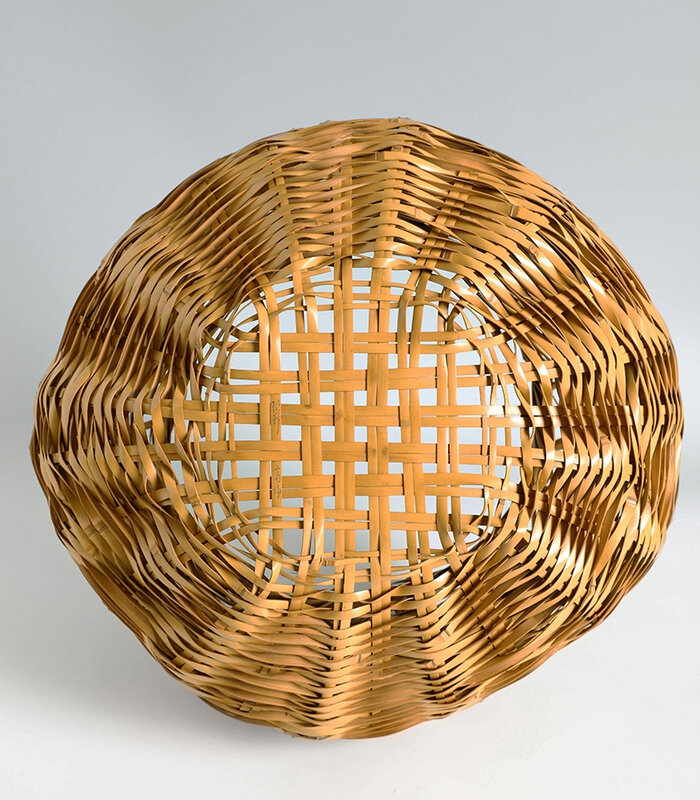 izuka Rokansai (1890-1958), "Fisherman" Flower Basket, Madake bamboo, Showa era (1926-89), ca 1927-30, Japan. Size 10 x 15 x 14 inches (25.2 x 38 x 35.6 cm). Asking price: $24,000. Thomsen Gallery (United States).
Bamboo basket for the ikebana flower arrangement, made by Iizuka Rōkansai, the most important Japanese basket maker of the 20th century. Using Madake bamboo, Rōkansai plaited the base with square plaiting and the sides with free-style twining around double verticals and wrapping. Incised signature on the bottom reads Rōkansai saku (Made by Rōkansai).
The basket comes with the original lacquered bamboo otoshi (water container) and with the original fitted sugi-wood tomobako storage box inscribed outside Hanakago (Flower basket) and inscribed and signed on the inside Mei Gyofu (Named: "Fisherman") and Rōkansai saku (Made by Rōkansai) with interlinked seals reading Rō, Kan and Sai.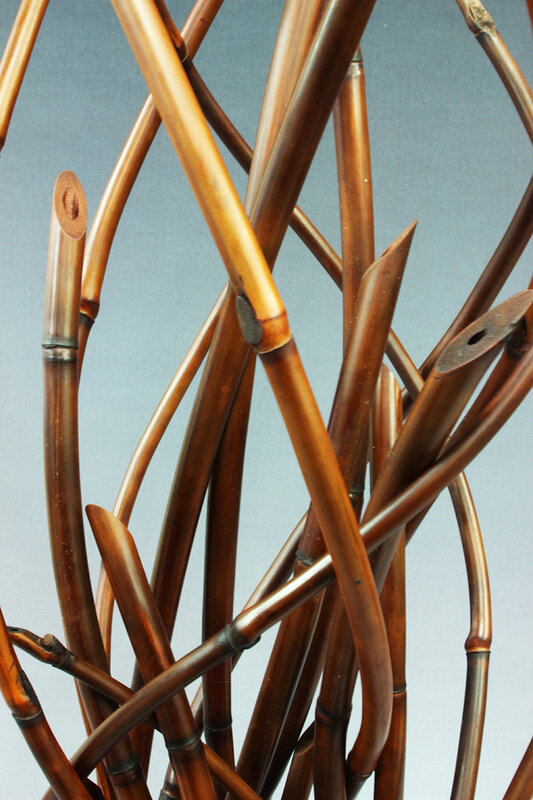 Fujitsuka Shosei, Fire, 2018, nemagari bamboo, 45 x 10.5 x 10 inches. Asking price: $6,000. TAI Modern (United States).
Fujitsuka Shosei created Fire by heating nemagari bamboo over an open fire and painstakingly bending the bamboo culm into expressive lines reminiscent of a dancing flame. Fujitsuka is one of the few bamboo artists who has achieved success for both his vessels in the Japanese craft arts tradition and his purely sculptural works. Since he began his apprenticeship in 1972, the artist has received numerous honors including the Purple Ribbon for lifetime achievement in the arts, which was awarded to him by the Emperor of Japan in 2012.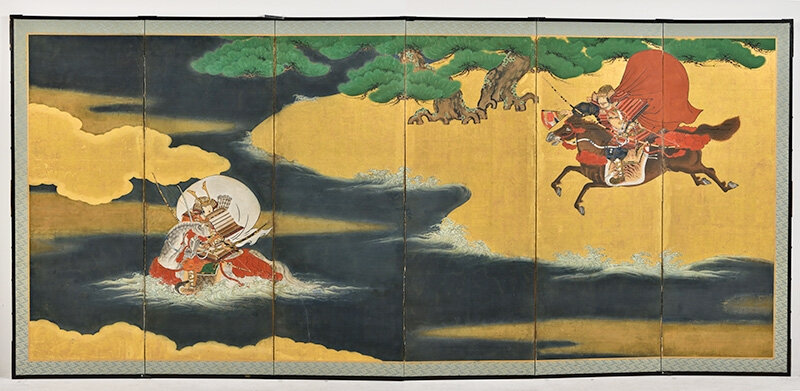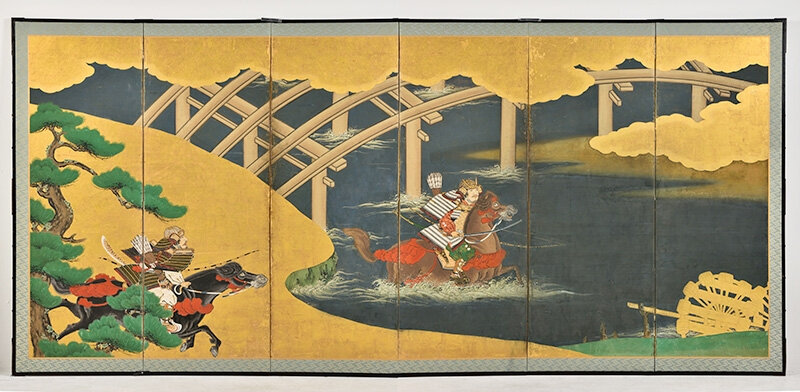 Tale of the Heike, Japan, mid-17th century. Pair of six-panel folding screens, ink, color, and gold on paper, 376 x 173 cm (height). Asking price: $70,000. Hiroshi Yanagi Oriental Art (Japan).
The screen pairs an image of the Battle of Uji on the left screen with a scene from the Battle of Dannoura on the right.
The left screen shows Uji Bridge that is stripped of its planks, in addition to the water wheels that are characteristic of the town, Uji. We find Sasaki Takatsuna and Kajiwara Kaketoki, who are fighting on the side of Minamoto no Yoshitsune. They are riding into battle on famous horses given by Minamoto no Yoritomo. This scene is part of the established canon of depictions of the Tale of the Heike.

On the other screen depicting the Battle of Dannoura, the young warrior lingering in the water is Taira no Atsumori, while the man riding towards him from the shore is Kumagai Naozane. In the moments following this scene, Naozane slays the young Atsumori. But Naozane is so struck by the act that he comes to understand the impermanence of life. The story became the subject of a famous puppet theater play.

The color of the gold leaf and the shape of the golden clouds suggest that this pair of screens was made in the mid-17th century. It may have been painted by Kaihō Yūsetsu.
(Appraisal: Kanō Hiroyuki, professor at the Faculty of Culture and Information Science, Dōshisha University, Kyoto, and former head of the Painting Department and the Research Center for the Culture of Kyoto at the Kyoto National Museum.)
Ancient and Contemporary Korean Art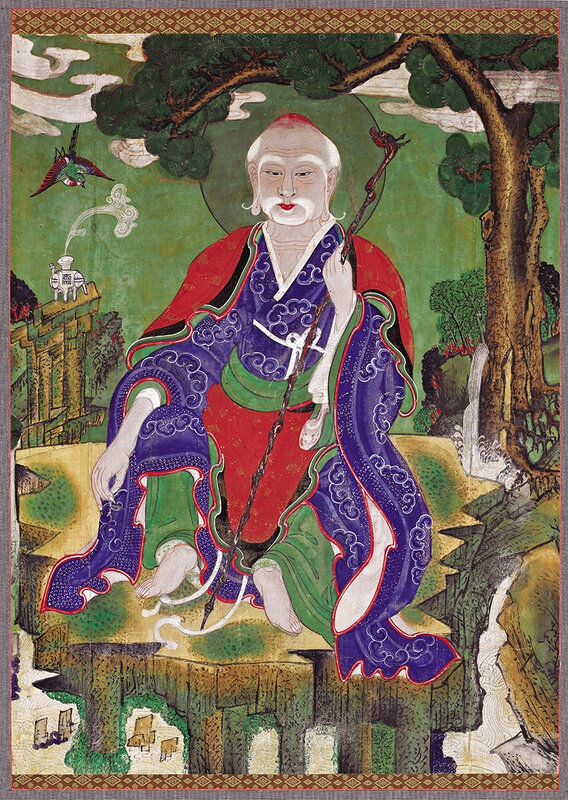 Anonymous, Lonely Saint, Late 18th-early 19th century, ink and mineral colors on silk, painting: 29 x 21 1/2 in (73.5 x 54.5 cm), framed: 39 1/2 x 29 1/2 in (100 x 75 cm). Asking price: $27,50. Kang Collection Korean Art (United States).
Dok-Seong paintings are a genre of portrait painting unique to Korea. Since ancient times, these depictions of Dok-Seong, a Taoist saint that was absorbed into Korean Shamanism and Buddhism, show him in elaborate solitary landscapes as he seeks self-cultivation. Epitomizing the Taoist ideals of striving for spiritual perfection, longevity, and immortality, hermit paintings were typically hung in the Dok-Seong Gak, the side shrine dedicated to him in a Buddhist temple.
Here, Dok-Seong is surrounded by a lavish rendition of his hermitage in nature. Surrounded by traditional symbols of longevity and immortality (the pine, sun, clouds, and rock) in a fantastical landscape, the hermit saint holds a scepter in one hand and a pulocho (mushroom of immortality) in the other. Several famous examples of hermit paintings are in the collection of the Tong Do Sa Temple in Kyungsang Province, Korea.
Geejo Lee (b. 1959), Square Vase, 2018. White porcelain,14in. (35.5cm.) high. Asking price: $7,500. HK Art & Antiques LLC (United States)
Hyun Ae Kang, Words Trilogy. Mixed-media on canvas, 2019. Triptych, 60 x 144 in. Asking price: $70,000. Boccara Art (United States).
Hyun Ae Kang represents the 2nd generation of Korean Dansaekhwa - "a fusion of Korean sensibility and fearless abstraction."
Dansaekhwa – "monochrome painting" – is a style of abstract painting that arose during the second half of the 1970s, combining Korean aesthetics and Far Eastern philosophy with Western modernist practice. Dansaekhwa artists used the ideas of ancient eastern philosophical schools, in particular Buddhism and Taoism, to explain their work, which was, rather, an artistic act.
If you look closely at the details of the paintings of artists of this movement, you can see that the surface is composed of numerous small textures of the material, made by countless repeated application and removal of strokes. Such a repeated, long act of creation reminds the long and very painful meditation of a Buddhist monk in an attempt to achieve nirvana. This incomplete process of searching for the deepest truths of oriental philosophical teachings by "talking" the artist with the material and creating a "silent" picture is the main goal of this artistic movement.
Dansaekhwa is a movement that focuses on the exploration of monochromic colors, and explores how those colors induce a meditative state within an individual. Being a deeply religious person, Hyun spends a lot of time in prayers before starting work. She continues the dialogue with the sacred: "All the touches and strokes I use are inscriptions of the dialogues with the sacred. These inscriptions are based on Korean alphabet characters and glyphs. When I create my reliefs onto the canvases, I think of myself as a scribe that is carving messages from the heavenly force into the worldly materials of stones and pumice. And with these inscriptions, I hope viewers will be able to reflect upon them and gain insights they could have not achieved beforehand."
Rounding out the event are online auctions at Bonhams, Christie's and Doyle, which are running concurrently