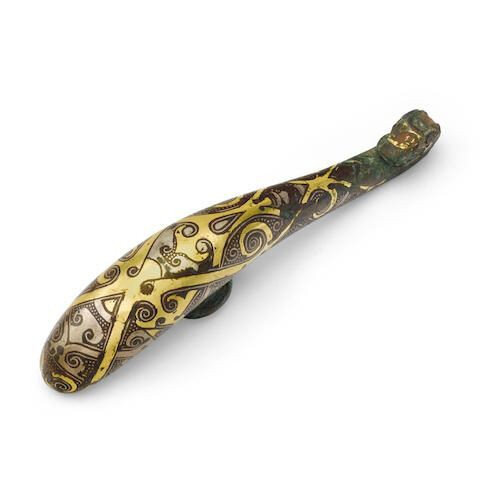 Lot 310. A gold inlaid bronze belt hook, Han dynasty; 4 1/2in (11.5cm) long. Estimate US$ 2,000 - 3,000 (1,700 - 2,500). © Bonhams 2001-2020
The tapered shaft finely inlaid in gold and silver in a geometric pattern of interlocking spirals and banded lozenges extending the length of the crest to the dragon-head hook, the underside showing traces of inlay on the large button for attachment.
Note: Belt hooks with this elegant and fluid geometric design can be found on Warring States and Western Han lacquer and painting. For a discussion of this, see a related example published in Julia M. White and Emma C. Bunker, Adornment for Eternity (Denver, Denver Art Museum, 1994), catalog no. 27, page 108. Compare also a similar example from the Kempe collection, sold at Sotheby's London, 14 May 2008, lot 24, and published in Bo Gyllensvard, Chinese Gold and Silver in the Carl Kempe Collection (Stockholm, 1953), cat. no 78, and another published and exhibited in Ancient Chinese and Ordos Bronzes (Hong Kong Museum of Art, Hong Kong 1990), cat. no 134.
Bonhams. Featuring the RenLu Collection, 21 Sep 2020, 10:00 EDT, New York.