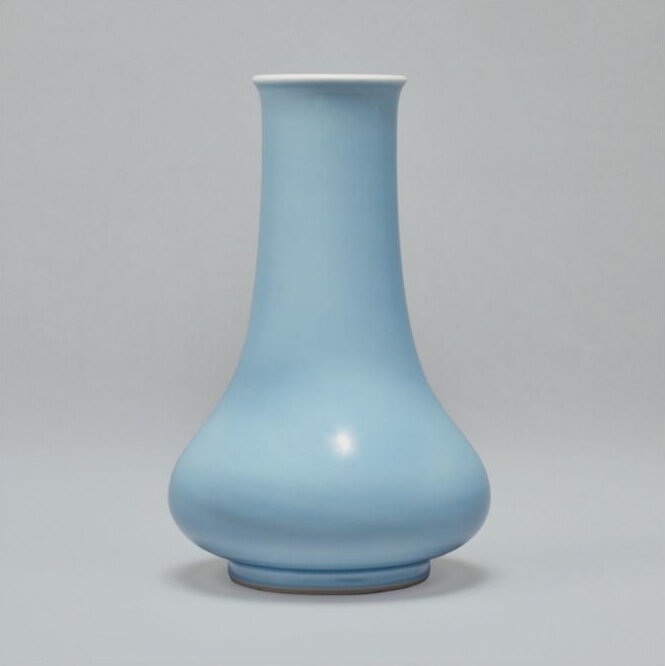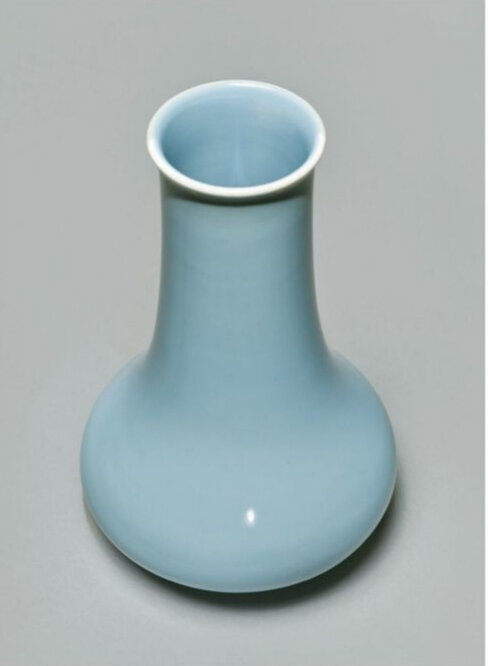 Lot 105. A clair-de-lune-glazed hu-form vase, Kangxi mark and period (1662-1722); Height 7¼ in., 18.3 cm. Estimate: 200,000 - 300,000 USD. (C) 2020 Sotheby's
finely potted, the compressed pear-shaped body supported on a straight foot, tapering to a wide columnar neck with an everted rim, the interior and exterior evenly glazed in a pale cornflower-blue thinning to white at the rim, the recessed base glazed white and inscribed with a six-character mark in underglaze blue in three vertical columns.
Provenance: Collection of Edson Bradley (1852-1935).
Christie's London, 6th March 1934, lot 86.
Sydney L. Moss Ltd., London.
Collection of Enid and Francis Brodie (1880-1967) Lodge, coll. no. M.41.
Sotheby's London, 11th July 1978, lot 205.
Exhibited: Monochrome Porcelain of the Ming and Manchu Dynasties, Oriental Ceramic Society, London, 1948, cat. no. 133.
Exhibition of Ancient Chinese Ceramics from the Collection of the Kau Chi Society of Chinese Art, Art Gallery, The Chinese University of Hong Kong, Hong Kong, 1981, cat. no. 130.
Zhongguo mingtao riben xunhui zhan. Gangtai mingjia shoucang taoci jingpin [Exhibition of Famous Chinese Ceramics Touring Japan. Fine Ceramics from Private Hong Kong and Taiwanese Collections], Nihonbashi Takashimaya, Tokyo, 1992, p. 160.
Note: Vessels of this elegant form and luminous clair-de-lune glaze are an example of the diverse monochrome glazes developed during the early Qing period. This high-fired glaze, with a cobalt content of about 1%, was first produced by the imperial kilns in Jingdezhen during the Kangxi Emperor's reign. Known in the West by the nineteenth-century French connoisseurs' term clair-de-lune ('moon light'), and in China as tianlan ('sky blue'), it was one of the most successful monochrome glazes created in Jingdezhen during the Kangxi period and was reserved exclusively for imperial porcelains. The color remained popular throughout the Qing dynasty, but lost its delicate soft hue in the nineteenth century. Vessels covered in this glaze are often very finely potted, an indication that they were probably made in the latter years of the Kangxi reign, as suggested by Suzanne G. Valenstein, A Handbook of Chinese Ceramics, New York, 1989, p. 241.
A similar vase in the Baur Collection is illustrated in John Ayers, Chinese Ceramics in the Baur Collection, vol. 2, Geneva, 1999, pl. 177; and a slightly more globular example in the Palace Museum, Beijing, is illustrated in The Complete Collection of Treasures of the Palace Museum. Monochrome Porcelain, Hong Kong, 1999, pl. 88. See also a vase sold in our Hong Kong rooms, 7th October 2015, lot 3614; and a slightly larger example, from the collection of David A. Berg, sold at Christie's New York, 21st September 2000, lot 373, in our Hong Kong rooms, 11th April 2008, lot 2992, and again in these rooms, 15th March 2017, lot 510.
The elegant silhouette of this vase is based on Song dynasty prototypes, such as a celadon-glazed vase in the Metropolitan Museum of Art, New York, illustrated in Oriental Ceramics. The World's Great Collections, vol. 12, Tokyo, 1977, pl. 52.
Sotheby's. Kangxi Porcelain - A Private Collection. Live Auction: 22 September 2020 • 3:00 PM CEST • New York.