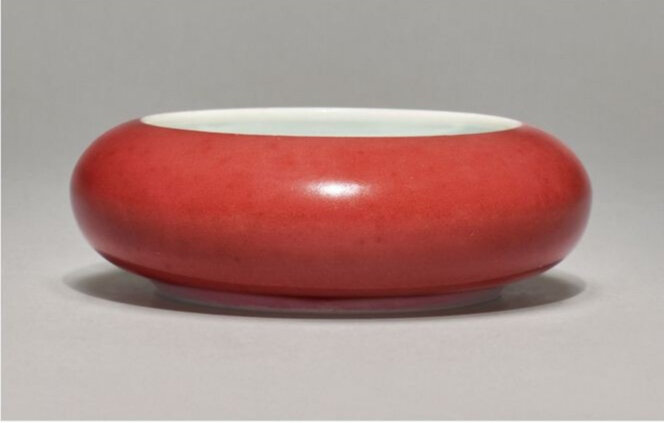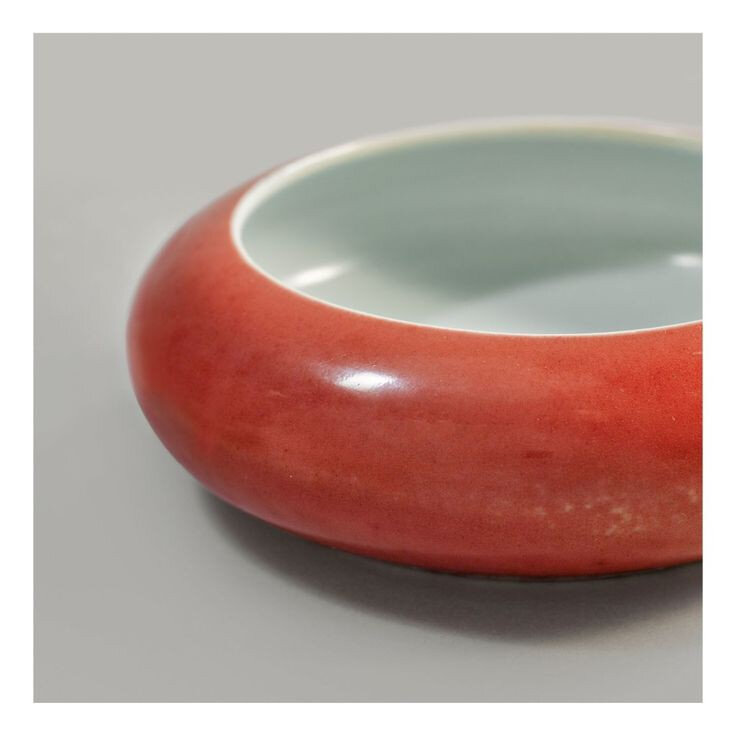 Lot 113. A fine peachblop-glazed brush washer, Kangxi mark and period (1662-1722); Diameter 4¾ in., 12.1 cm. Estimate: 120,000 - 150,000 USD. (C) 2020 Sotheby's
delicately potted, the low rounded sides incurved at the mouth and supported on a short tapering foot, the exterior glazed in a vibrant crimson red mottled with darker flecks and a patch of pale beige to one side, thinning to pink around the foot, the interior, lip and recessed base white-glazed, the character wen inscribed in underglaze blue by the footrim and the base with a three-column six-character mark in underglaze blue.
V: Exhibition of Ancient Chinese Ceramics from the Collection of the Kau Chi Society of Chinese Art, Art Gallery, The Chinese University of Hong Kong, Hong Kong, 1981, cat. no. 128.
Note: Covered in a vibrant copper-red glaze flecked with attractive dark red and pale green mottles, this washer is particularly special for the additional character inscribed on the foot. Known by the descriptive term tangluo xi, this piece represents one of the most well-known forms among peachbloom wares, although examples with the character wen are rare. Wen signifies culture and education, and is therefore highly appropriate for this type of vessel.
The academic narrative regarding peachbloom wares has until recently been dominated by the influential essay by Ralph M. Chait, The Eight Prescribed Peachbloom Shapes bearing K'ang Hsi Marks, Oriental Art, vol. III, no. 4, Winter 1957, pp 130-137. Chait claimed that the peachbloom glaze was used only on vessels of eight 'prescribed' forms for the scholar's desk. Known as ba da ma (Eight Great Numbers), Chait identifies in this set four flower vases, two small jars or waterpots, a brushwasher and a seal-paste box. However, leading scholars have recently questioned this interpretation, noting that the peachbloom group is repetitive therefore unlikely to have been conceived as a set. John Ayers, who discovered a ninth form, even questions whether peachbloom vessels were intended to be used at all and suggests that they were instead meant as precious gifts for members of the imperial court (John Ayers, 'The 'Peachbloom' Wares of the Kangxi Period (1662-1722)', Transactions of the Oriental Ceramic Society, 1999-2000, vol. 64, pp 31-50).
A washer of this type, also inscribed with the character wen by the foot rim, was included in the exhibition Chinese Porcelain from the 15th to the 18th Century, Eskenazi, London, 2006, cat. no. 8; another from the collection of Edward T. Chow, sold in our Hong Kong rooms 25th November 1980, lot 68, again in our London rooms, 17th November 1999, lot 784, and most recently in our Hong Kong rooms, 8th April 2009, lot 1657; a third was sold at Christie's Hong Kong, 31st May 2010, lot 1864.
Tangluo xi lacking the wen character are more commonly known: a washer in the Palace Museum, Beijing, is illustrated Kangxi, Yongzheng, Qianlong. Qing Porcelain from the Palace Museum Collection, Hong Kong, 1989, p. 140, pl. 123; two from the collection of Peter A.B. Widener, in the National Gallery of Art, Washington D.C., are published in Virginia Bower et al., The Collections of the National Gallery of Art. Systematic Catalogue: Decorative Arts, Part I, Washington, 1998, pp 72-3; one in the Baur Collection is illustrated in John Ayers, op. cit., pl. 15 (right); and a further example, from the Sir Percival David Collection and now in the British Museum, London, is included in Rosemary Scott, Illustrated Catalogue of Ming and Ch'ing Monochrome in the Percival David Foundation of Chinese Art, London, 1989, no. B582.
Sotheby's. Kangxi Porcelain - A Private Collection. Live Auction: 22 September 2020 • 3:00 PM CEST • New York.