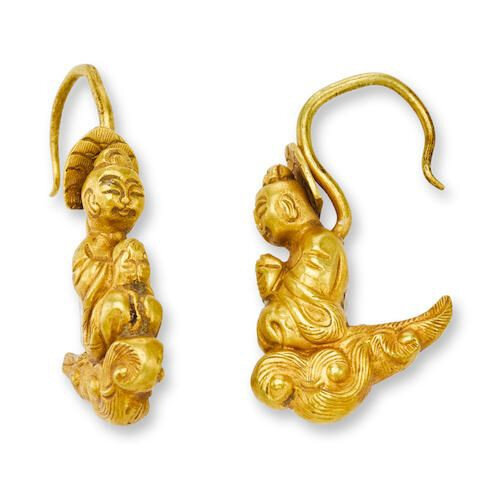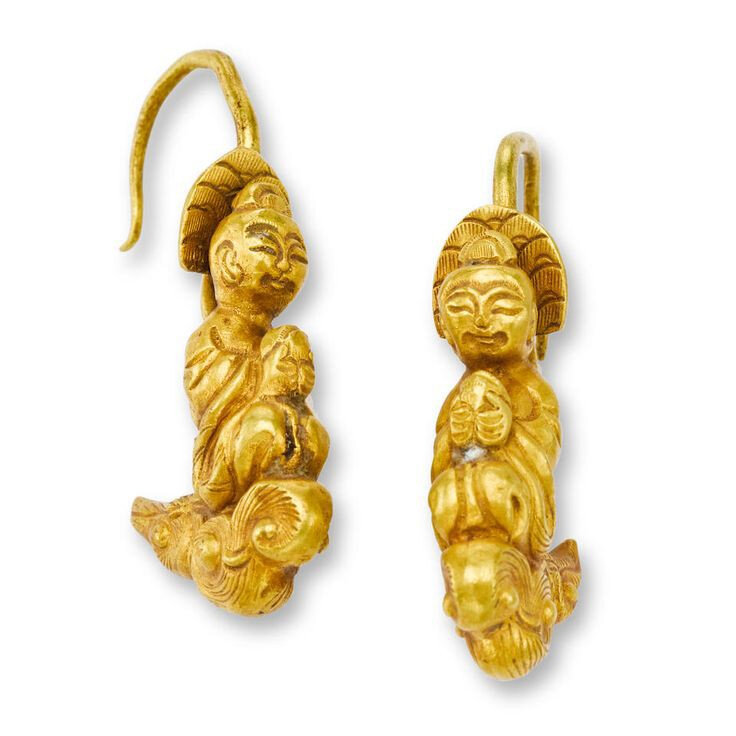 Lot 317. Two gold 'celestial deity' earrings, erhuan, 10th-14th century; 1 3/8in (3.5cm) long excluding pin (2). Estimate US$ 4,000 - 6,000 (€ 3,400 - 5,000). © Bonhams 2001-2020.
Each decorated with a deity seated on floating clouds holding a fruit-like offering in two hands, the figure's head surmounted with a crown, framed by a halo with incised lines, the curving pin thinning towards its tip.
Note : In Zhongguo Gudai Jinyin Shoushi (Beijing: Gugong, 2014), Yang Zhishui states that earrings carrying the images of young boys or celestial figures were favored during the Song and Yuan dynasties. The popularity of such themes continued into the Ming dynasty (vol. 2, p. 614). In his book Yang refers to two pairs of earrings, both featuring a figurine design, excavated from the same Ming burial site in Daqiangmen, Wuxi.One pair was made in gold, the other in gold inset with jade (p. 615, pl. 6.19.1 & 6.19.2).
Refer to a set of eight small gold ornaments depicting the Eight Daoist Immortals, originally applied to a gold headband that belonged to a Ming dynasty princess. The figurines were unearthed in Jiangxi Province and published in Chinese Gold Ornaments, Simon Kwan and Sun Ji (Hong Kong: Muwen Tang Fine Art Publication Ltd., 2003), pp. 470-471, pl. 311. Deity images were often utilized during the Ming dynasty to ornament gold jewelries. Compare also lot 318 in this sale, a pair of Ming dynasty gold 'figural' earring pendants. The figures are depicted in a lively and yet austere fashion, exhibiting some similarities with the style of the present earrings.
Bonhams. Elegant Embellishments Featuring the RenLu Collection, 21 Sep 2020, 10:00 EDT, New York.