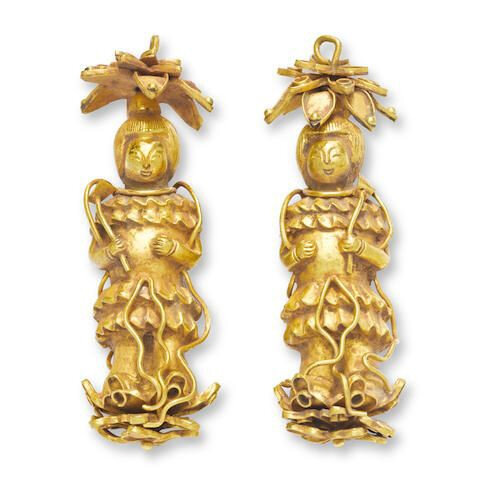 Lot 317. A pair of gold 'figural' earrings, erzhui, Ming dynasty; 2in (5.1cm) high overall (2). Estimate US$ 8,000 - 10,000 (€6,700 - 8,400). © Bonhams 2001-2020
Each rendered as a female figure in layered leaf-form robes standing on a flower pedestal and carrying a basket on her back containing a lingzhi branch, identified either as the Deity of Medicine yaoshen or as Maonu, her rounded face framed by thick hair and surmounted with a large lotus blossom with a wire loop in the center for attaching a pin.
Note : A virtually identical pair of earrings was recovered from a Ming (Yongle period) burial in the Xu Da Family cemetery near Nanjing in the 1970s. The figure decorating the earrings is identified as the Yaoshen (Deity of Medicine) in Jin yu Yu (金與玉,2004). The earrings are also published and illustrated in Zhongguo Gudai Jinyin Shoushi (Beijing: Gugong, 2014), vol. 2, p. 623, pl. 6.24. Yang Zhishui, author of the book, states that the depicted figure is in fact called Yujiang, known as Maonu (hairy girl) – an immortal known after the collapse of the Qin dynasty. The information related to Maonu is recorded in the Han dynasty book Liexian Zhuan (Biographies of Immortals).
Compare also another example of an almost identical figure appearing on a hairpin, excavated from a Ming tomb in Qizhou County, Hubei Province, illustrated in The Golden China, Gold Artifacts of Ancient China, (Nanjing: Nanjing Museum, 2013), pp. 342-343.
It is believed that there were inlaid beads on each of the flower petals above the figure's head, now missing.
Bonhams. Elegant Embellishments Featuring the RenLu Collection, 21 Sep 2020, 10:00 EDT, New York.