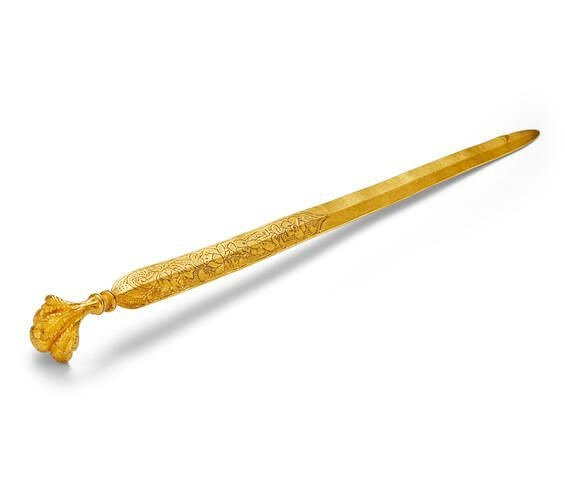 Lot 319. A gold flower hairpin, zan, Ming dynasty; 5 3/4in (14.7cm) long. Estimate US$ 2,500 - 3,500 (€ 2,100 - 2,900). © Bonhams 2001-2020.
The tapering shaft with subtly beveled top and decorated with incised lotuses to the upper section, supporting a slightly tilted neck encircled by thin rings below an angled flower head and three sensitively rendered leaves.
Note : There are many different terms for hairpins in Chinese depending on the design, and how and where they are used for. Broadly, hairpins can be classified as zan (one-tined hairpins) and chai. (two-tined hairpins). zan can be found in use by both men and women, while chai is mostly reserved for women.
In Chinese Gold Ornaments (Hong Kong: Muwen Tang Fine Art Publication Ltd., 2003), Simon Kwan and Sun Ji point out that the zan was more popular than chai during the Ming dynasty, when there exist a greater variety of shape and design on the shaft of the zan style hairpins (p. 100), such as featuring two beveled sides sloping from the central raised ridge as shown in the present example. Other zan hairpins with alike shaped shafts are illustrated on page. 101, pl. 213.
Bonhams. Elegant Embellishments Featuring the RenLu Collection, 21 Sep 2020, 10:00 EDT, New York.