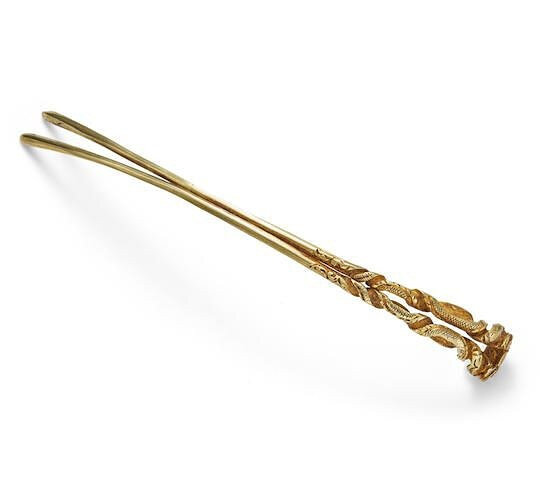 Lot 320. A gold 'dragon' hairpin, chai, Yuan dynasty; 6 1/2in (16.5cm) long. Estimate 3,000 - 5,000 (€ 2,500 - 4,200). © Bonhams 2001-2020.
The two-tined hairpin gently curved, cast and chased to the upper portions with two confronting dragons joined by a flower head, the prongs rendered thin and flat.
Note : In Chinese Gold Ornaments (Hong Kong: Muwen Tang Fine Art Publication Ltd., 2003), Simon Kwan and Sun Ji discuss the curving finishing seen on hairpins during the Yuan and early Ming dynasties, as well as the gold hairpins with coiled dragon design which is peculiar to the Yuan dynasty (pp. 458-460, pl. 299 and 300). In addition, a set of seven gold head ornaments, included a similarly decorated gold hairpin, excavated from a Yuan dynasty burial at Zhoujiatian in Huangpi, Hubei province, are illustrated in Ancient Chinese Cultures of Gold Jewellery and Ornamentation by Yang Boda (Arts of Asia, March-April 2008), vol. 38, no. 2, pl.58.
Compare also similar examples in Radiant Legacy; Ancient Chinese Gold from the Mengdiexuan Collection by Jenny F. So (Hong Kong: The Chinese University, 2013), Part II, pp. 112–113, no. 3, and in Chinese Gold and Silver in the Carl Kempe Collection by Bo Gyllensvärd, (Stockholm, 1953), p. 121, pl. 63.
Bonhams. Elegant Embellishments Featuring the RenLu Collection, 21 Sep 2020, 10:00 EDT, New York.