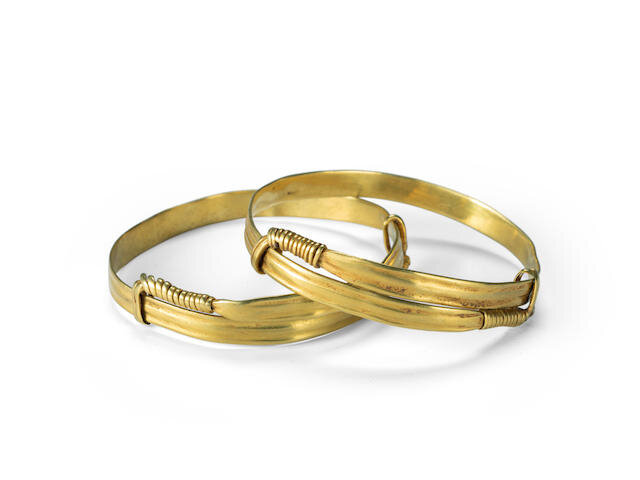 Lot 324. A pair of gold bracelets, tiaotuo, Song-Yuan dynasty; 2 3/4in (7cm) diameter (2). Estimate US$ 8,000 - 12,000 (€ 6,700 - 10,000). © Bonhams 2001-2020
Of circular form, each made from a long strip of gold sheet, one side hammered with two parallel grooves, the narrower ends wrapped with spiraled wire, terminating in loops surrounding the body of the bracelet to create a spring-like effect for expansion.
Note : In Zhongguo Gudai Jinyin Shoushi (Beijing: Gugong, 2014), Yang Zineng mentions of a pair of related silver bracelets from the Song dynasty excavated from a site in Jiangxi (p. 327). He suggests that bracelets during this period could be divided into looser types versus tighter types. Aspects of the present lot suggest that it is one of the 'looser' types as he describes it.
In Chinese Gold Ornaments (Hong Kong: Muwen Tang Fine Art Publication Ltd., 2003), Simon Kwan and Sun Ji make note of a gold bracelet (tiaotuo), found in a Song dynasty burial site in Luoyang, which is nearly identical to the present pair, illustrated on p. 84, no. 161.
Compare another related example in Celestial Creations, Art of the Chinese Goldsmith, The Cheng Xun Tang Collection Part 1 (Art Museum. The Institute for Chinese Studies, The Chinese University Hong Kong, 2007), pp. 220-221, no. D23,
Bonhams. Elegant Embellishments Featuring the RenLu Collection, 21 Sep 2020, 10:00 EDT, New York