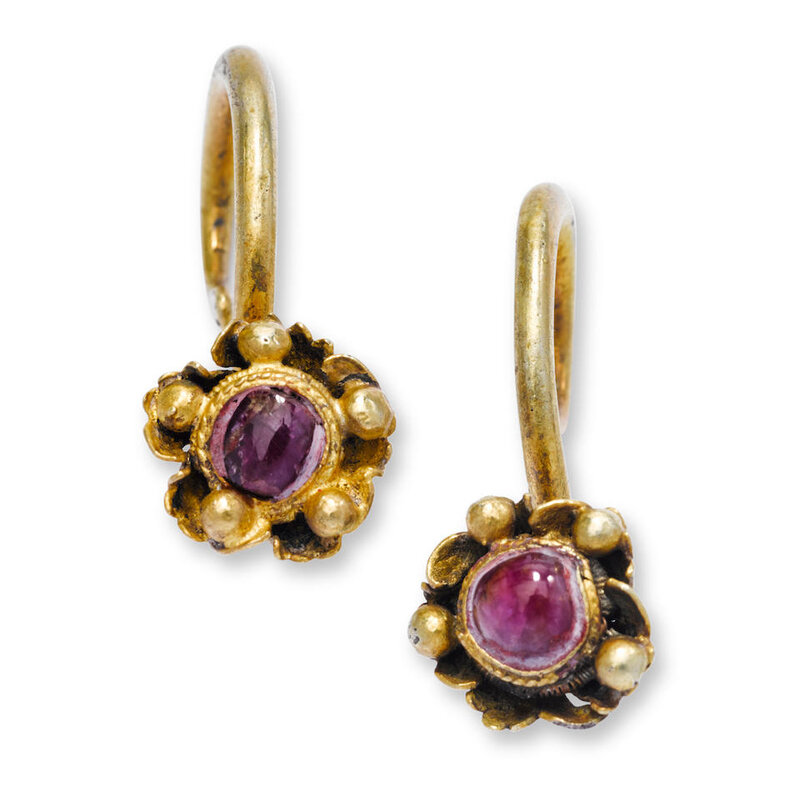 Lot 325. A pair of gilt silver and ruby earrings, erhuan, Ming-early Qing dynasty; 1/2in (1.3cm) diameter of pendant (2). Estimate US$ 2,000 - 3,000 (€ 1,700 - 2,500). © Bonhams 2001-2020
The pendant of each earring modeled as a single flower head with a central ruby cabochon set within a roped collar surrounded by realistically rendered flower petals housing granulated balls, the curving flower stem issuing from behind served as the pin.
Note : For additional gold 'flower head' earrings with inlaid precious stones, refer to Adornment for the Body and Soul, Ancient Chinese Ornaments from the Mengdiexuan Collection, Emma C. Bunker and Julia M. White with Jenny F. So (Hong Kong, the University of Hong Kong Museum Society, 1999), p. 301, pl. 145, and The Art of the Chinese Goldsmith, The Cheng Xun Tang Collection (Hong Kong: Art Museum, Institute of Chinese Studies, The Chinese University Hong Kong, 2007), Part II, pp. 462-463, no. G65.

Gold earrings with inset gemstone decoration are seen in both the Ming and Qing dynasties. But generally, the earring pins from the Qing dynasty tend to be thinner and more delicate than the bolder and thicker pins shown in the present pair of earrings.
Bonhams. Elegant Embellishments Featuring the RenLu Collection, 21 Sep 2020, 10:00 EDT, New York