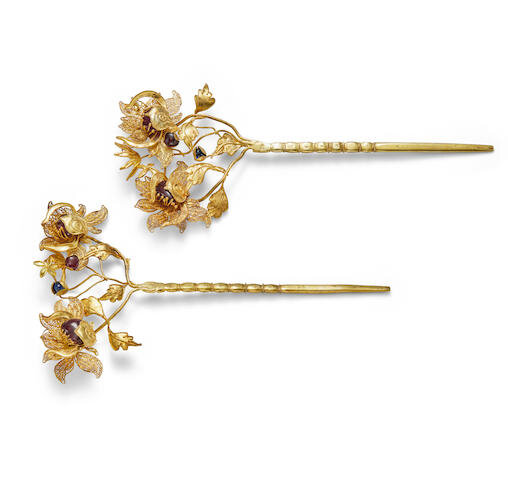 Lot 327. A pair of gemstone-inlaid gold earrings, zan, Late Ming-early Qing dynasty; 5 1/2in (14cm) long (2). Estimate US$ 6,000 - 8,000 (€ 5,100 - 6,800). © Bonhams 2001-2020
Each single-tined hairpin decorated with bamboo stalk pattern to the flattened shaft, branching into large filigree lotus blossoms and buds inset with red cabochon rubies and sapphires interspersed with lively leaves.
Note : Gold hairpins with branched flowers and embellished with inset gemstones were fashionable in the Ming and Qing dynasties. For more examples, refer to Zhongguo Gudai Jinyin Shoushi, Yang Zhishui (Beijing: Gugong, 2014), vol. 3, pp 812-818, and The Golden China, Gold Artifacts of Ancient China, (Nanjing: Nanjing Museum, 2013), p. 350, p. 360, and p. 362. Similar pair of earrings is also published and illustrated in Art of the Chinese Goldsmith, The Cheng Xun Tang Collection (Hong Kong: Art Museum, The Institute of Chinese Studies, The Chinese University Hong Kong, 2007), Part II, pp. 568-569, no. H27.
Bonhams. Elegant Embellishments Featuring the RenLu Collection, 21 Sep 2020, 10:00 EDT, New York