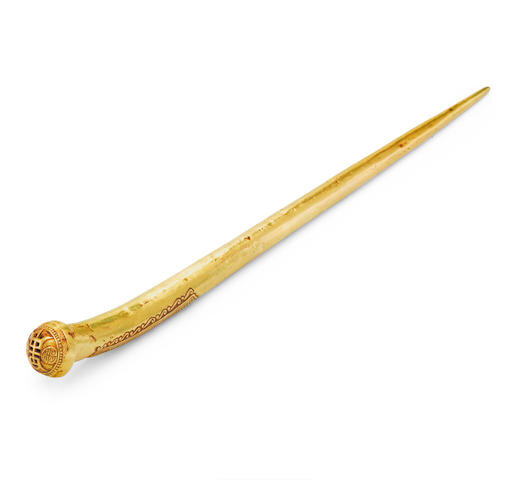 Lot 328. An impressive gold 'longevity' hairpin, tongzan, Late Ming dynasty; 9in (22.9cm) long. Estimate US$ 8,000 - 12,000 (€ 6,800 - 10,000). © Bonhams 2001-2020
Made by rolling a beaten gold sheet into a tapering shaft with an openwork lotus reserve between repoussé bands, the shaft slightly curved toward the top and terminated in a mushroom head with a pierced shou character between two additional shou roundels.
Note : According to Yang Zhishui, the distinctive shape of this hairpin, characterized by its long conical shaft gently angled toward a mushroom-form head, was fashionable during the Ming dynasty. This type of hairpins was generally used by men and was also made in other materials, including jade, agate, and amber. Compare a pair of gold hairpins of this type, unearthed from the Xu Da Family cemetery of the Ming dynasty in Nanjing, measuring 11.5cm, published and illustrated in Zhongguo Gudai Jinyin Shoushi (Beijing: Gugong, 2014), vol. 2, pp. 438-439, pl. 5.43. The present example is distinctive for its unusually large size.

See also a similar gold hairpin in Celestial Creations. Art of the Chinese Goldsmith, The Cheng Xun Tang Collection (Art Museum, The Institute for Chinese Studies, The Chinese University, Hong Kong 2007), Part II, pp. 396-397, no. G28.
Bonhams. Elegant Embellishments Featuring the RenLu Collection, 21 Sep 2020, 10:00 EDT, New York