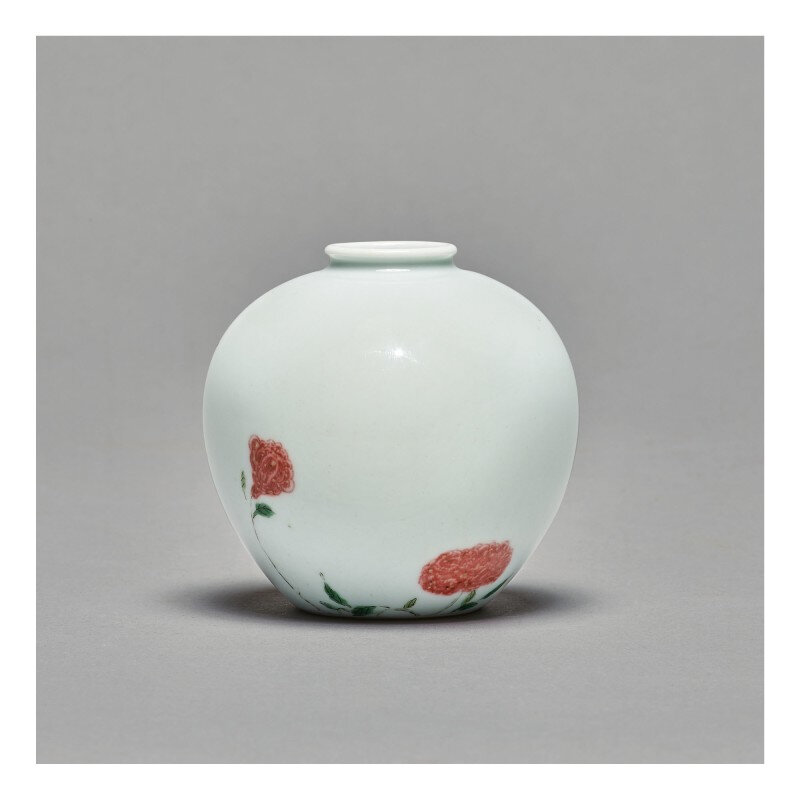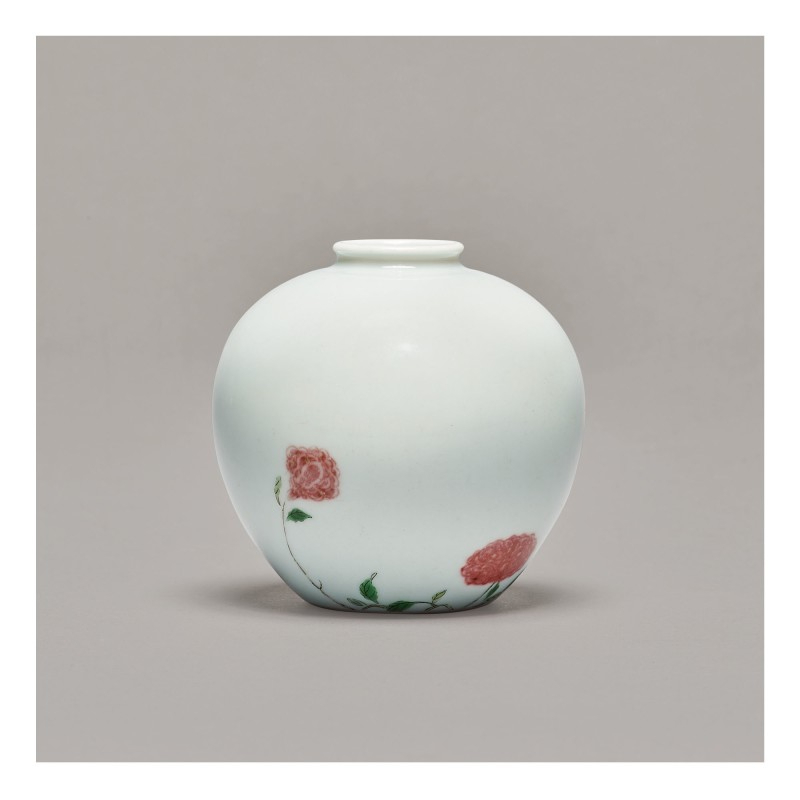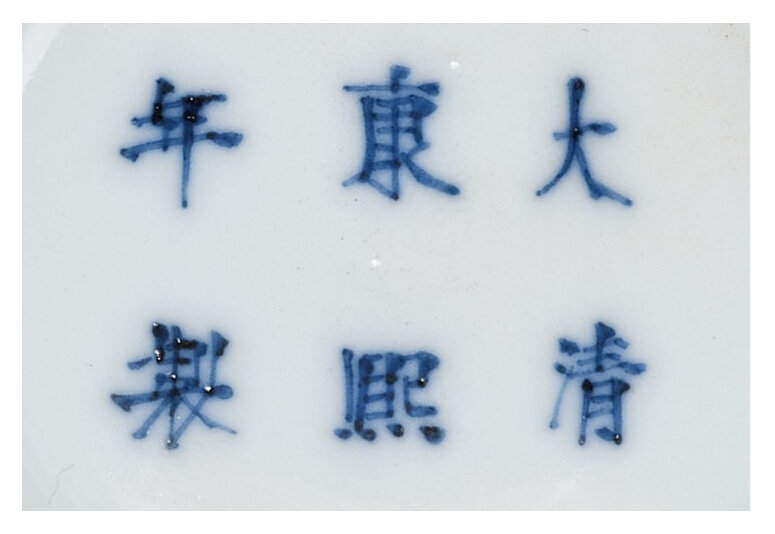 Lot 114. A rare and exceptional underglaze-red and famille-verte 'rose' vase, Kangxi mark and period (1662-1722); Height 3½ in., 8.9 cm. Estimate: 300,000 - 400,000 USD. © 2020 Sotheby's
finely potted, the globular body rising to a short waisted neck and lipped rim, delicately painted with a pair of lush flowering rose branches rising from the base, each bearing two copper-red blossoms in rich strawberry-red tones, one partially open and the other in full bloom, the aubergine stems and leaves of varying green elegantly outlined in black, the recessed base inscribed in underglaze blue with a six-character mark in three columns.
Note: Exquisitely potted and sparingly painted with a serene design of two rose sprays, this rare vase highlights the technical progress achieved by craftsmen under the visionary Kangxi Emperor (r. 1662-1722), one of China's greatest rulers. Despite coming to the throne at a young age, he realized that to gain and retain the respect necessary to rule over a predominantly Han-Chinese elite, he had to be exemplary in his knowledge as well as his deeds. Thus, he devoted himself to learning and understanding China's history, culture and achievements in the natural sciences. In doing so, he revived industries and workshops that had laid stagnant for nearly sixty years with traditional and innovative technologies. The emperor's principal aim appears to have been to regain standards of quality that had long been lost, and to employ ancient techniques in a new way.
The imperial kilns at Jingdezhen were one of the first workshops the Kangxi Emperor restored, and one of the techniques revisited in particular was the use of copper-red pigment. Notoriously difficult to control, the pigment had hardly been used since the outstanding results achieved in the Xuande period (r. 1426-35). The present piece displays the level of skill that was gained in the masterfully controlled pencil lines and shading of the roses.
The tasteful restraint of the present design suggests that it is a product of Liu Yuan (c. 1638-c. 1685), a gifted painter the Kangxi Emperor engaged to create new porcelain designs. This approach of involving a designer was highly unusual at the time and resulted in a new departure for porcelain decoration, with the designs drawing on both ancient and modern forms. One innovation was the predominant use of blank white space, which is reminiscent of album-leaf paintings. The combination of soft copper red with the minimal use of overglaze black and green emphasize the delicacy of the subject in a manner that would have appealed to the elite.
The present design is known in two similar versions, with the bud to the left or right of the main bloom. A very similar design also exclusively appears on one form of waterpot, where the buds or blooms can be painted in overglaze iron-red and occasionally other enamels. A closely related vase in the Palace Museum, Beijing, is published together with a matching waterpot in Kangxi. Yongzheng. Qianlong. Qing Porcelain from the Palace Museum Collection, Hong Kong, 1989, pls 24-25; and another set is illustrated in John Ayers, Chinese Ceramics in the Baur Collection, Geneva, 1999, vol. 2, pls 148 and 149.
Vases of this type are also in the Sir Percival David Collection, now in the British Museum, London, published in the Illustrated Catalogue of Ming and Ming Style Polychrome Wares in the Percival David Foundation of Chinese Art, London, 2006, pl. B 702; and in the Asian Art Museum of San Francisco, included in He Li, Chinese Ceramics. A New Standard Guide, London, 1996, pl. 579. See also a similar vase, from the Meiyintang Collection and published in Regina Krahl, Chinese Ceramics from the Meiyintang Collection, vol. 2, London, 1994, pl. 737, sold in our Hong Kong rooms, 7th April 2011, lot 2; and another from the Edward T. Chow Collection, sold twice in our Hong Kong rooms, 18th May 1981, lot 539, and again 28th April 1992, lot 158.
Sotheby's. Kangxi Porcelain - A Private Collection. Live Auction: 22 September 2020 • 3:00 PM CEST • New York