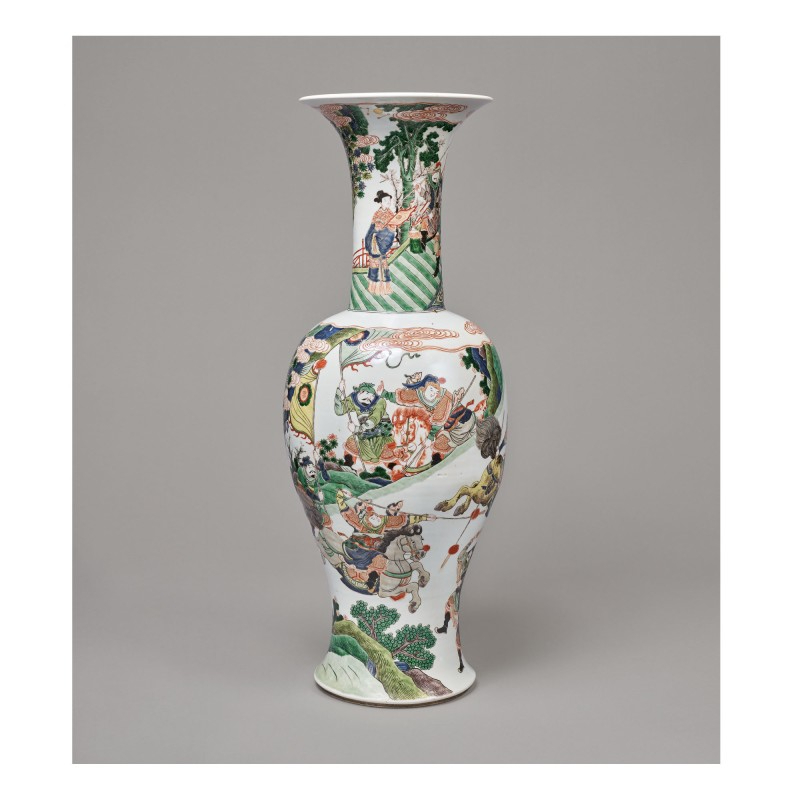 Lot 127. A large famille verte 'Romance of the Three Kingdoms' yenyen vase, Qing dynasty, Kangxi period (1662-1722); Height 30 in., 76 cm. Estimate: 8,000 - 12,000 USD. © 2020 Sotheby's
the baluster-form body tapering to a splayed foot and surmounted by a tall trumpet neck rising to an everted rim, the body brightly enameled with a continuous scene of spirited combat from the historic drama Sanguo yanyi (Romance of the Three Kingdoms), possibly the Battle of Hulao Pass, depicting the famous warrior Lü Bu, in retreat, wearing his distinctive helmet with two long feathers, wielding a halberd, astride a galloping horse being pursued by soldiers amid a green, hilly landscape, the neck with further warriors carrying weapons in a balustraded garden pavilion with a female attendant.
Provenance:Sotheby's Hong Kong, 23rd May 1978, lot 161.
Sotheby's London, 11th December 1990, lot 400.
Note: The present scene is from the famous Ming dynasty novel Sanguo Yanyi (The Romance of the Three Kingdoms), a 14th-century novel attributed to Luo Guanzhong. Informed by historical events, the story takes place in the third century during the turbulent years at the end of the Han Dynasty. The part-factual, part-legendary, and part-mythical story chronicles the lives of feudal lords and their retainers, who vied for the mandate to rule and reunify the country.
Themes of a kingdom divided and of conquest strategy would have had a wide appeal in the early Qing dynasty. The Manchus in particular gravitated to martial subject matter. In fact, the first commissioned translation of the novel into Manchu was in 1650, with reprints in 1721 and 1767; and an illustrated version in 1769. For further discussion, see Nicholas Pearce and Jason Steuber, Original Intentions, Gainesville, 2012, pp. 146-147.
The elegant baluster form with its boldly flaring rim and the brilliant enamel palette of greens, yellows, blues and iron red with details picked out or outlined in black were both innovations of the Kangxi period. The present vase represents the largest size produced, a notable technical feat at the time. A similar yenyen was included in the Exhibition Chinesische Keramik, Kunstmuseum, Düsseldorf, 1965, pl. 164. Compare also two vases from the Leonard Gow Collection, one of which features similar subject matter, illustrated by R. L. Hobson, The Later Ceramic Wares of China, New York, 1925, col. pl. XIII.
Sotheby's. Kangxi Porcelain - A Private Collection. Live Auction: 22 September 2020 • 3:00 PM CEST • New York