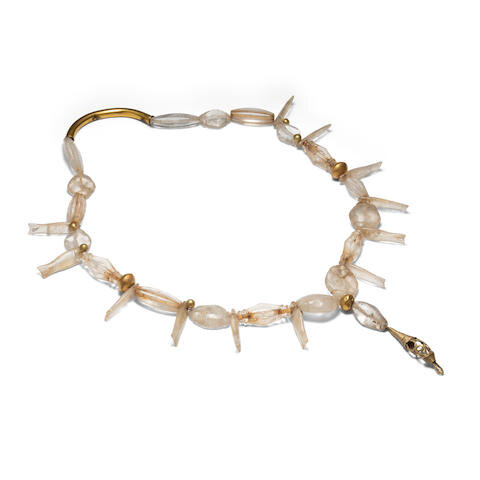 Lot 329. A crystal and gold bead necklace. The crystal: Liao dynasty or later; 14 5/8in (37cm) long. Estimate US$ 10,000 - 15,000 (€ 8,500 - 13,000). © Bonhams 2001-2020
The bead crystals carved as flattened ovals, melon shape,or fish-form set between hollow gold beads of various sizes linked to a cylindrical neck piece, wrapped gilt wire chain for suspension.
Note : Emma Bunker cites in Adornment for the Body and Soul: Ancient Chinese Ornaments from the Mengdiexuan Collection (Hong Kong: The Univ. Museum and Art Gallery, 1999), that a Liao example of a rock crystal necklace with amber plaques found intact at Yemaotai (p. 155 and 163).

Another Liao necklace with tubular gold spacers and rock crystal beads was sold at Sotheby's London, 10 November 2010, lot 161. A set of rock crystal belt fittings dated Jin/Liao was sold at Christie's London, 18 June 2002, lot 83. They noted there that 'rock crystal and agate were among the most popular materials chosen as adornments by the Liao aristocracy, and often carved as ornaments or belt plaques.'

Compare also a gold and crystal necklace from the Ch. Deydier Collection, dated to the Liao dynasty, illustrated in Ancient Chinese Gold (Paris: ARHIS, 2001), Han Wei & Christian Deydier, p. 191, pl.481.
Bonhams. Elegant Embellishments Featuring the RenLu Collection, 21 Sep 2020, 10:00 EDT, New York