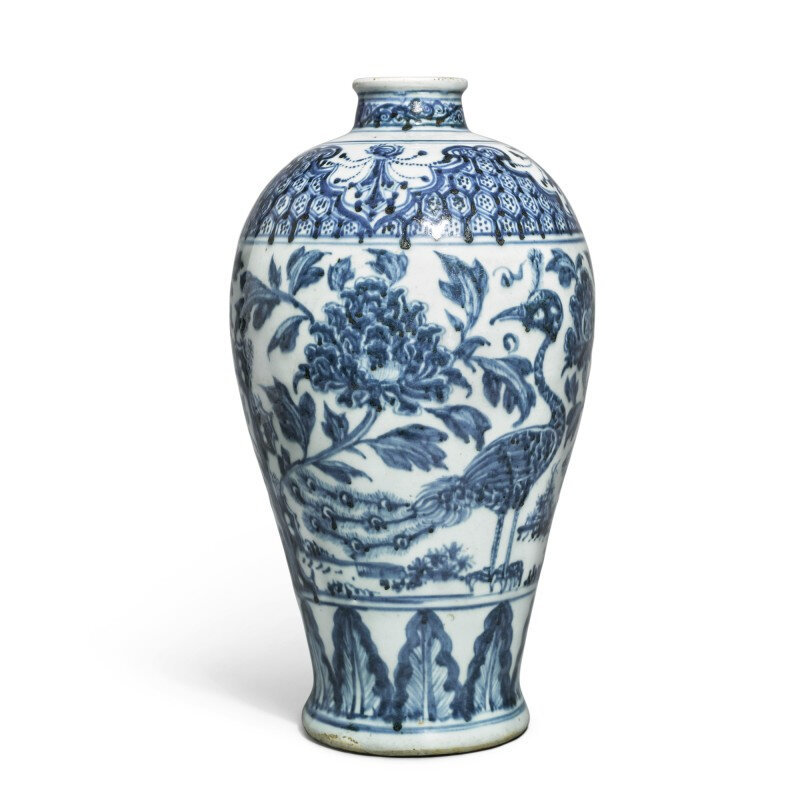 Lot 513. A rare blue and white 'peacock' meiping, Ming dynasty, mid-15th century. Height 13¼ in, 33.6 cm. Estimate 30,000 - 50,000 USD. Lot sold 107,100 USD. © Sotheby's 2020.
robustly potted with high broad round shoulders sloping down towards the tapered body and gently splayed foot, painted with a central register of a pair of peacocks amidst large blossoming peonies and pierced rockwork, framed above by pendent ornaments suspended within a cloud-lappet collar reserved on a cell diaper ground, the foot encircled by a border of upright lappets, the short tapering neck painted with a classic scroll border.
Provenance

:

Sotheby's London, 1st March 1946, lot 14.
Collection of Robert C. Bruce, Esq (1898-1953).
Sotheby's London, 12th May 1953, lot 88.
Collection of Mrs Walter Sedgwick (1883-1967).
Sotheby's London, 2nd July 1968, lot 132.
William Clayton Ltd., London, 29th July 1968.
Exhibited

:

Ming Blue and White Porcelain, The Oriental Ceramic Society, London, 1946, cat. no. 54.
The Cosmopolitan Club, New York, 18th September - 22nd October 1979.
Note: This meiping bears many of the characteristics of wares of the Interregnum period (1436-1464), in particular the deep inky cobalt-blue used in a fairly liquid solution. Peacocks and peonies were a popular design to decorate meiping vases at that time. Compare a vase with this design, excavated in Nanjing and now in the Nanjing Museum, which has been attributed to the Xuande period (1426-1435), in Complete Collection of Ceramic Art Unearthed in China, Beijing, 2008, vol. 7, pl. 189; and to the Zhengtong period (1436-1449) in Zhang Pusheng and Huo Hua, San yi Ming kongbaiqi qinghua ci [Three thoughts on Interregnum blue-and-white porcelain], Zhuo shuo zhong xian. Shiwu shiji zhongqi Jingdezhen ciqi guoji xueshu yantaohui lunwen gao/Lustre Revealed. Proceedings of the International Symposium on Jingdezhen Porcelain in Mid Fifteenth Century, Shanghai, 2019, p. 75, figs 1-1 and 1-2. Compare also a jar in the Tianminlou Collection with peacocks among peonies and a similar diaper border around the shoulder, and a meiping with peacocks among peonies in the Shanghai Museum, both attributed to the Interregnum period, and another meiping with this design in the Palace Museum, Beijing, attributed to the Zhengtong reign, included in the exhibition catalogue Zhuo shuo zhong xian. Shiwu shiji zhongqi Jingdezhen ciqi teji/Lustre Revealed. Jingdezhen Porcelain in Mid Fifteenth Century China, Shanghai Museum, 2019, cat. nos 226, 239, and 240. Further examples of meiping with this subject include one in the Museum of Fine Arts, Boston, included in the exhibition, The Charles B. Hoyt Collection. Memorial Exhibition, Boston, 1952, cat. no. 390, attributed to the Xuande period; another in the Roemer Museum, Hildesheim, illustrated in Ulrich Wiesner, Chinesisches Porzellan, Mainz, 1981, p. 56, pl. 4, attributed to the 15th century.
Sotheby's. Important Chinese Art, Live Auction, 23 September 2020, New York