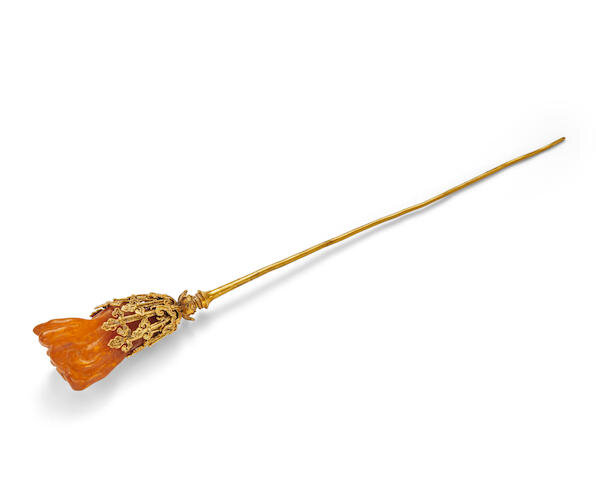 Lot 339. A gold and amber hairpin, baotoulian zan, 18th-19th century; 6 5/8in (16.8cm) long overall. Sold for US$ 4,450 (€ 3,790). © Bonhams 2001-2020
The slender needle-shaped shaft topped with a carved amber finger citron held by layered ruyi collars and floral design finely worked in filigree technique, all above an open lotus..
Note : A group of similarly designed hairpins has been identified and the applied design is described as baoshi baotoulian. They belong to the zan hairpin style category, characterized with a tapering thin shaft and crowned with a bead, carved or plain, held by flower petals. The overall design is both simple and lively. Two examples from this category are recorded and illustrated in Zhongguo Gudai Jinyin Shoushi, Yang Zhishui (Beijing: Gugong, 2014), vol. 3, pp. 826-827, pl. 8.42.1 & pl. 8.42.2: one excavated from a Qing dynasty tomb in Chifeng, Inner Mongolia, the other in the Collection of the Forbidden City Museum.

Similar hairpins had also been excavated from Ming burial sites. Compare a closely related example illustrated in Chinese Gold Ornaments, Simon Kwan and Sun Ji (Hong Kong: Muwen Tang Fine Art Publication Ltd., 2003), p. 483, pl. 323. See also a group of hairpins of this type from the Carl Kempe Collection, dated to the Ming dynasty, illustrated in Chinese Gold and Silver in the Carl Kempe Collection by Bo Gyllensvärd (Stockholm, 1953), p. 120, pl. 60, 61, & 62.
Bonhams. Elegant Embellishments Featuring the RenLu Collection, 21 Sep 2020, 10:00 EDT, New York