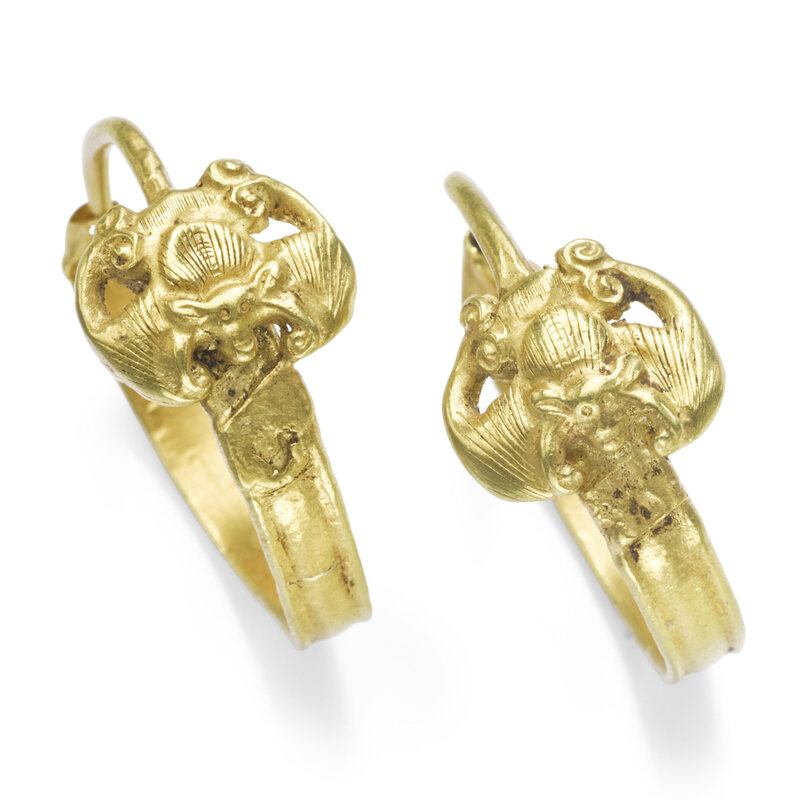 Lot 343. A pair of gold 'bat' earrings, erqian, Qing dynasty; 1 1/8in (2.8cm) diameter (2). Sold for US$ 1,530 (€ 1,303). © Bonhams 2001-2020
Each decorated with a carefully cut and chased bat soldered to the flattened hoop with beaded edges that narrows to a wire pin for threading through the earlobe.
Note: Yang Zhishui states in Zhongguo Gudai Jinyin Shoushi (Beijing: Gugong, 2014) that during the Qing dynasty a new style of earrings came in fashion, known as erqian (vol. 3, p. 842). A erqian is a type of hoop earring without a pendant; any decorative design is being applied directly to the hoop.

Compare a similar pair of Qing dynasty gold earrings with a bat design illustrated in Chinese Gold Ornaments, Simon Kwan and Sun Ji, (Hong Kong: Muwen Tang Fine Art Publication Ltd., 2003), p. 533, pl. 371.
Bonhams. Elegant Embellishments Featuring the RenLu Collection, 21 Sep 2020, 10:00 EDT, New York