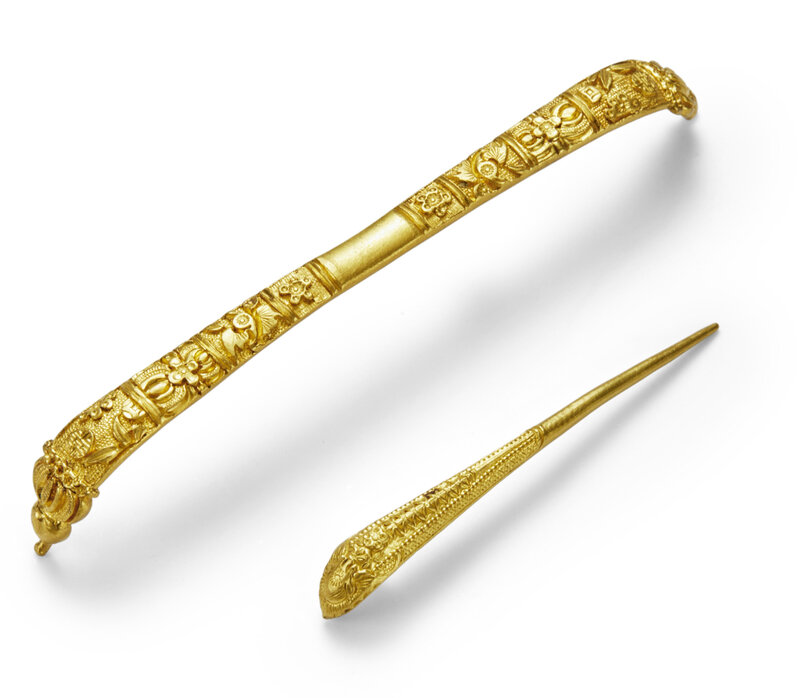 Lot 345. Two gold hairpins, zan, Late Qing dynasty; 3 1/2 and 2 1/8in ((8.9 and 5.4cm) long (2. Sold for US$ 2,805 (€ 2,389). © Bonhams 2001-2020
Including a bianzan made in the shape of a flat weaving shuttle, the central waist un-decorated, separating four registers of chased flowers on each side, curving toward two double-gourd finials, the underside with two cartouche marks, reading 'Yuzhen', and 'zujin' (pure gold); the second a dingzan hairpin with a tapering shaft widening and curving to one end, decorated with the image of an additional hairpin and framed with granulated bands.
Note: Both bianzan and dingzan were distinctive types of hairpin widely used by women during the Qing dynasty. bianzan was used to underpin the hairdo, whilst dingzan was applied vertically to strengthen and stabilize the chignon.For more information and illustrated examples of this type, refer to Zhongguo Gudai Jinyin Shoushi, Yang Zhishui (Beijing: Gugong, 2014), vol. 3, pp. 798-800. Compare also a similar gold bianzan with a floral design, illustrated in Chinese Gold Ornaments by Simon Kwan and Sun Ji (Hong Kong: Muwen Tang Fine Art Publication Ltd., 2003), p. 526, pl. 365.
Bonhams. Elegant Embellishments Featuring the RenLu Collection, 21 Sep 2020, 10:00 EDT, New York