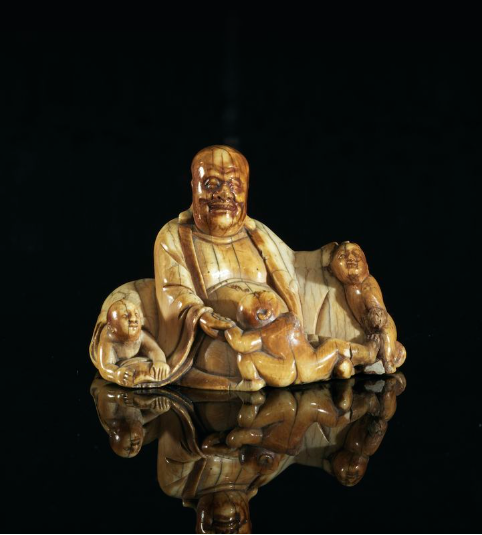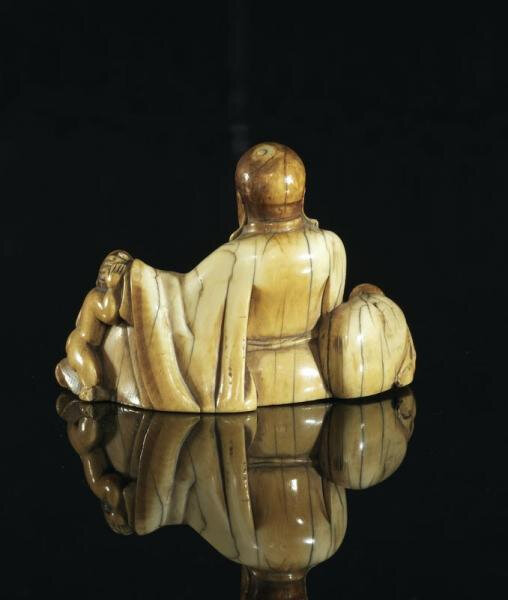 Lot 48: Budai et enfants, Chine, ca 18° siècle. Ivoire. 7,5 x 5 cm. Est: 1 200 € - 1 800 €. Courtesy Cornette de Saint-Cyr.
Budaï est souvent ainsi représenté entouré d'enfants du fait de son association traditionnelle avec leur protection.
Provenance : - Succession de Madame Anne-Marie Rousset
- Ancienne collection Robert Rousset (1901-1981)
- Porte deux étiquettes d'anciens inventaires de la collection Robert Rousset antérieurs à 1935.
Spécimen en ivoire d'Elephantidae spp (I/A)pré-Convention, antérieur au 1er juillet 1947 et de ce fait conforme aux réglementations en vigueur. Pour une sortie de l'Union Européenne, un CITES de ré-export sera nécessaire, celui-ci étant à la charge du futur acquéreur. La délivrance d'un tel document n'est pas automatique. Pour une éventuelle réexportation, il appartiendra à l'adjudicataire de se renseigner - préalablement à tout achat - auprès des douanes du pays concerné, particulièrement s'il s'agit de la Chine ou des Etats-Unis.

Import restrictions may apply or a CITES permit might be required as this lot is made (or contains) ivory (Elephantidae spp., I/A), coral (Corallium spp., II/B),- tortoise shell (Cheloniidae spp., I/A) or rhinoceros horn (Rhinocerotidae spp., I/A). Please note that- it is the client's responsibility to determine and satisfy the requirements of any applicable laws or regulations applying to the export or import of property containing such a material, specially for clients living in China or the United States of America.
Cornette de Saint-Cyr. Arts d'Asie Succession de Madame Anne-Marie Rousset Ensemble d'objets hérités de son oncle Robert Rousset. Jeudi 15 octobre 2020 à 14 heures 30. Experts : Cabinet Daffos-Estournel. Tél : +33 (0)6 09 22 55 13 - daffos-estournel@aaoarts.com