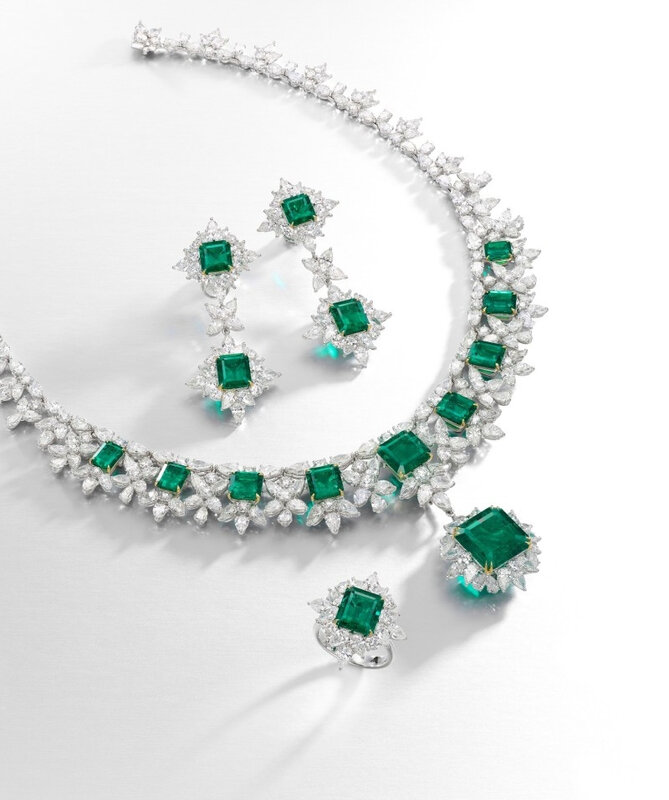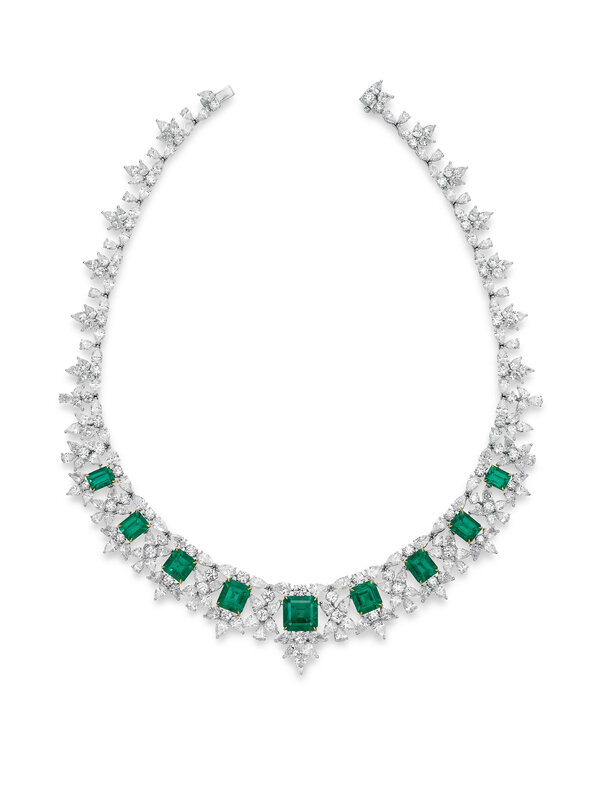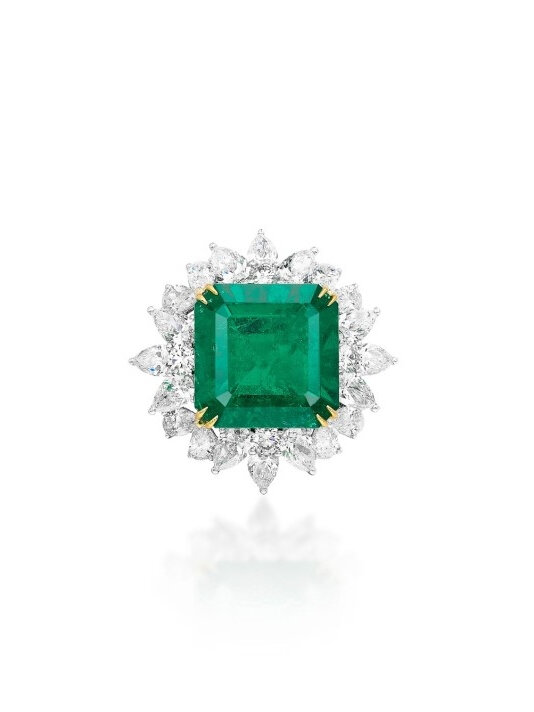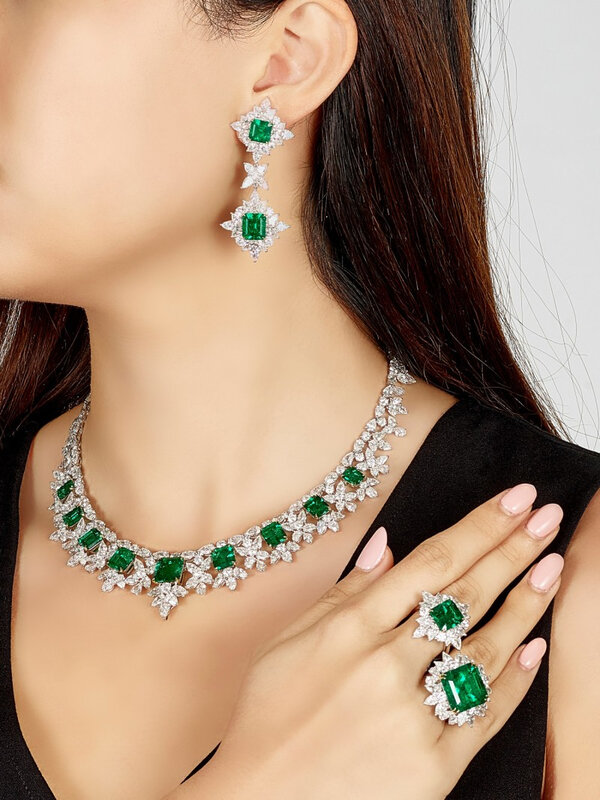 Lot 1725. A Colombian emerald and diamond parure. Estimate: HK$10,000,000 - 12,000,000 / US$1,290,335-1,548,400. Courtesy Sotheby's.
Comprising a necklace set with graduated step-cut emeralds weighing 21.03 carats in total, decorated with pear-shaped and brilliant-cut diamonds, length approximately 390mm, and a pair of pendent earrings, emeralds weighing 10.30 carats in total, post and butterfly fittings, and two rings en suite, emeralds weighing 12.49 and 4.04 carats respectively, both sizes 6½, all mounted in 18 karat white and yellow gold, larger ring detachable to be worn as a necklace pendant.
Accompanied by nine Gübelin reports and five SSEF reports, stating that the emeralds ranging from 4.83 to 1.13 carats are of Colombian origin, with no indications of clarity enhancement. Also accompanied by Gübelin and AGL reports no. 20041061, dated 27 April 2020 and no. 1107572, dated 9 March 2020 respectively, both stating that the 12.49 carat emerald is of Colombian origin, with no indications of clarity enhancement; further accompanied by a Gübelin Gemmological Profile.
Further accompanied by six gemmological reports and appendices, stating that the colour of six emeralds are formally described as "Muzo Green" and commonly known in the trade as "Old Mine" emeralds.
Muzo Magic
Emeralds have long been pursued by virtually every glorious empire since ancient Egypt, including the Romans, Spanish conquistadors, and India's Mughals whose affection for the "King of Emeralds" had no limits. The emeralds were once mined in Egypt at locations on Mount Smaragdus since 1500 BCE, India, and Austria since as early as the 14th century. The focus was redirected with the discovery of legendary Colombian deposits in the 16th century.
Today, Colombia is the world's largest producer of emeralds and Colombian emeralds are the highest valued in the world. The Colombian emerald production increased rapidly in the last decade, reaching 50-95% of the world's production. The main emerald mining areas are Muzo, Coscuez, and Chivor. 60 miles north-west of Bogota, high in the Andes mountains lies a path amongst the clouds leading down to the semi-tropical jungle valleys where the forest-like gemstones are hidden. Muzo emeralds are natural national treasures of Colombia, exhibiting rich, saturated and intense green hues due to high levels of chromium, iron and vanadium combined with the millenary formation far within the Earth's crust.
Natural, untreated Colombian emeralds of considerable sizes are extremely rare and much adored by collectors and connoisseurs. Lots 1724 and 1725 are exemplary specimens of this pedigree.
Lot 1724 combines the finest of Colombian emeralds with the enigma that is a pink diamond. The theory behind its geological beginnings goes back over 1.6 billion years ago, as colourless diamonds were formulating under extreme pressure, heading towards the earth's surface from 90 miles below, their pure carbon structure was altered, resulting in the sweet pink hues prized from the Argyle mines. Located in the East Kimberly frontier of Western Australia, the strikingly red-hued ranges of dusty bushlands and gorges lies the unrivaled Argyle mines known for their pink diamonds coveted for their rarity, revered for their beauty as scarce as they are sought after. Virtually the sole source of the world's supply of rare pink diamonds for more than three decades, despite the fact that only 1% of the mine's total production being pink. The finite resource, estimated to close at the end of this year, 2020, leaves a level of prestige for those who are able to acquire an Argyle pink.
The combination of two of the world's most sought after gemstones together represent the epitome of alluring elegance.
Sotheby's. Magnificent Jewels, 7 October 2020, Hong Kong.