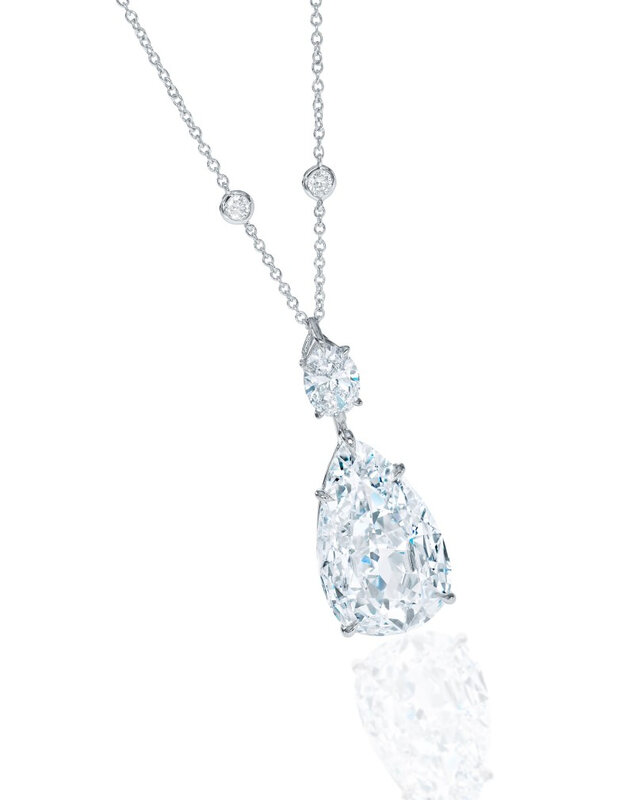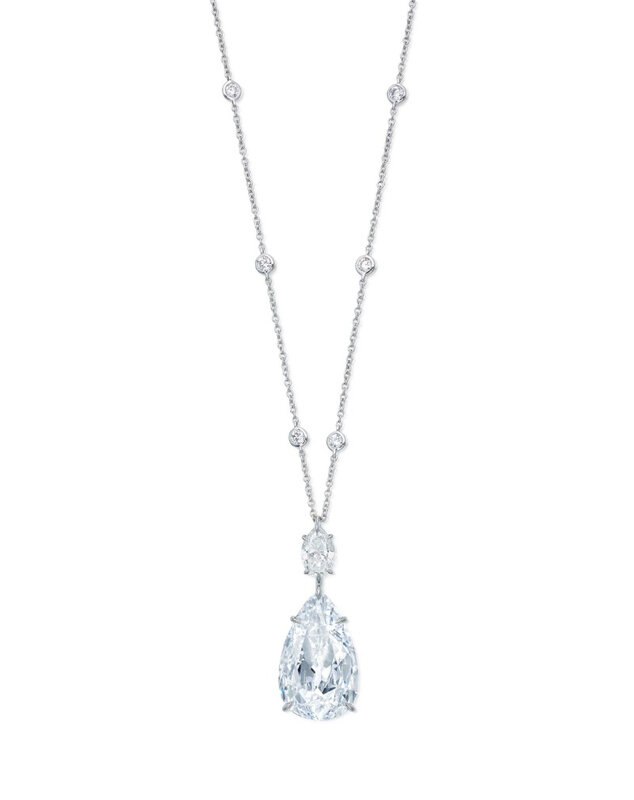 Lot 1725. A 12.85 carats IF Type IIa diamond pendant necklace. Estimate: HK$8,000,000 - 10,000,000 / US$1,032,270-1,290,335. Courtesy Sotheby's.
Suspending a pear-shaped diamond weighing 12.85 carats, from the oval diamond surmount weighing 1.19 carats, decorated with brilliant-cut diamonds, mounted in 18 karat white gold, length approximately 450 and 400mm.
Accompanied by GIA report no. 5171798518, dated 1 March 2018, stating that the 12.85 carat diamond is D Colour, Internally Flawless; further accompanied by a diamond type classification letter stating that the diamond is determined to be a Type IIa diamond. Type IIa diamonds are the most chemically pure type of diamond and often have exceptional optical transparency. Also accompanied by Gübelin report no. 18080050, dated 28 August 2018, stating that the 12.85 carat diamond is D Colour, IF, diamond type IIa; further accompanied by Gübelin "Olde Water" Appendix, stating 'While some Type IIa diamonds can be tinted pink or brown, others are blessed with the most exceptional and pure colour and are often associated with a high degree of transparency, a quality sometimes referred to as "water". Such diamonds can look so colourless that they seem to appear like "crystal clear water"... This diamond of 12.85 ct combines such exceptional characteristics as to display this particular quality of the finest "water"...Diamonds of this kind and size, exhibiting a superior quality as well as an old cutting style, and belonging to the finest of natural colour type IIa diamonds are very rare.'
Further accompanied by GIA report no. 2205758262, dated 26 November 2019, stating that the 1.19 carat diamond is E Colour, VVS1 Clarity, Excellent Polish and Symmetry.
Sotheby's. Magnificent Jewels, 7 October 2020, Hong Kong.