Courtesy Sotheby's.
A universal symbol of poise, elegance and sophistication, the tiara has long been an inspiration for fascination worn by the most powerful and beautiful women in history.
Stemming from the ancient world when victors were crowned with laurel wreaths, and newlyweds with myrtle, sacred to Aphrodite, to festive, celebratory daisy chains, gold wreaths were the evolution of endless possibilities made possible through the craft of goldsmiths. Gold wreaths established an important role in Ancient Greece, often worn as a tribute to Zeus, symbolising power and omniscience soon lending its inspiration to the future of tiaras to come.
Tiaras are often admired for their delicate nature and craftsmanship holding a sacred position in the world of jewellery. Pieces so intricately engineered to balance atop beautifully set hair paying tribute to the lavish history and symbolism it holds. Pageants, masquerades and costume balls surround the idea of extravagance, a crucial participant of each eccentric event was the part in which headdresses played.
At the turn of the century, there was hardly a goldsmith who failed to recognize the importance of tiaras, often the subject of their prized collections. Whilst International Exhibitions and Paris Salons presented the platform for jewellers to impress, it soon became apparent that no other jewel would outshine the potential of a tiara.
Today, modern monarchies wear their tiaras which are rich in family history and telling of their heritage whilst modern brides often bring a regal touch to their bridal looks elevated with a hint of antiquity. Lots 1654, 1655 and 1656 demonstrate the styles of three different eras, unique in their own ways. Versatility is also a virtue of longstanding craftsmanship. Lot 1654 can be detached into three openwork brooches whilst Lot 1656 converts beautifully into a stylish necklace by Cartier lending the wearability of these masterworks into everyday life.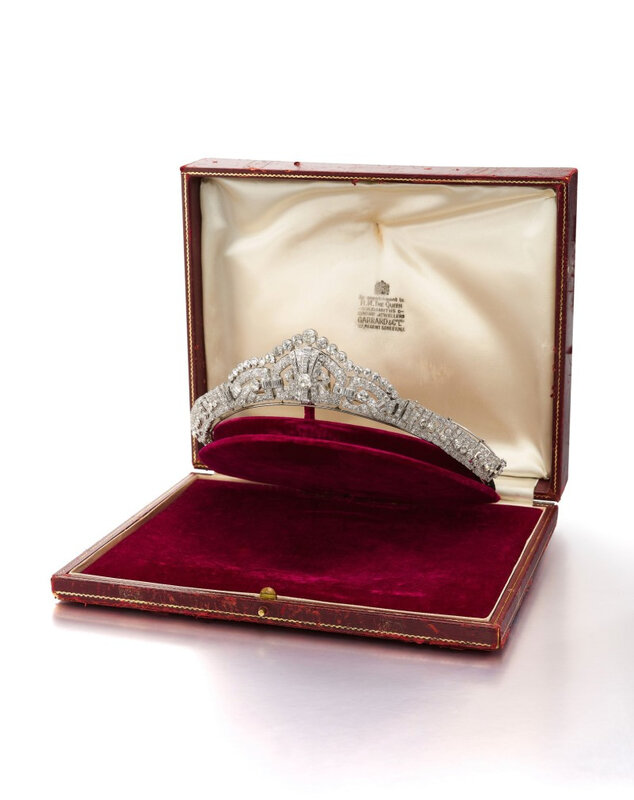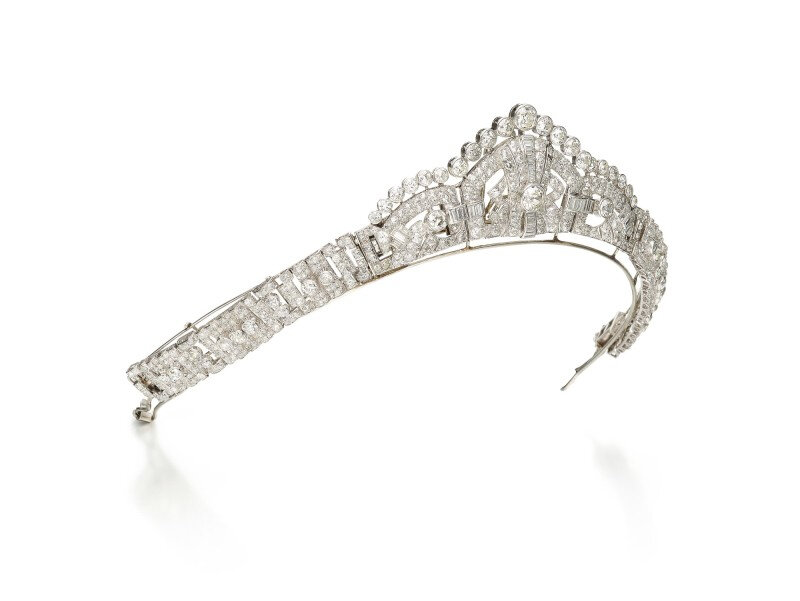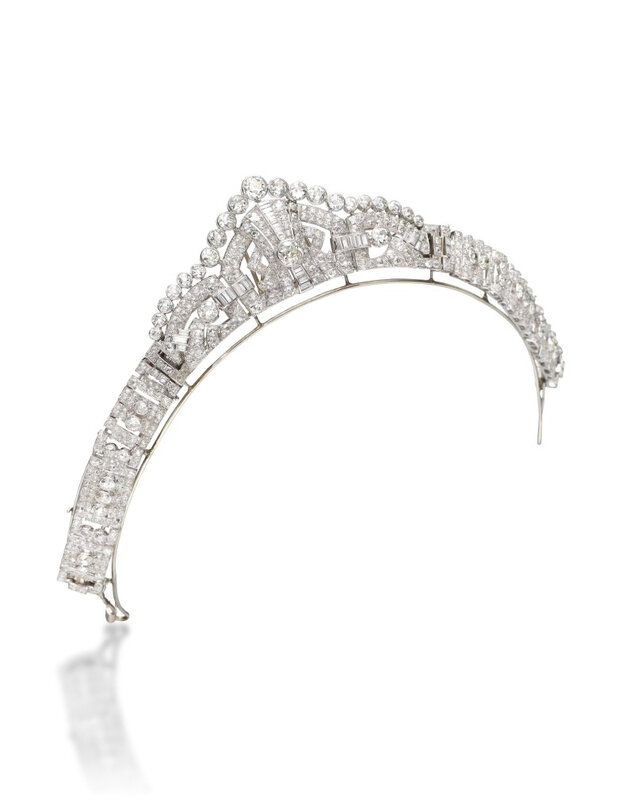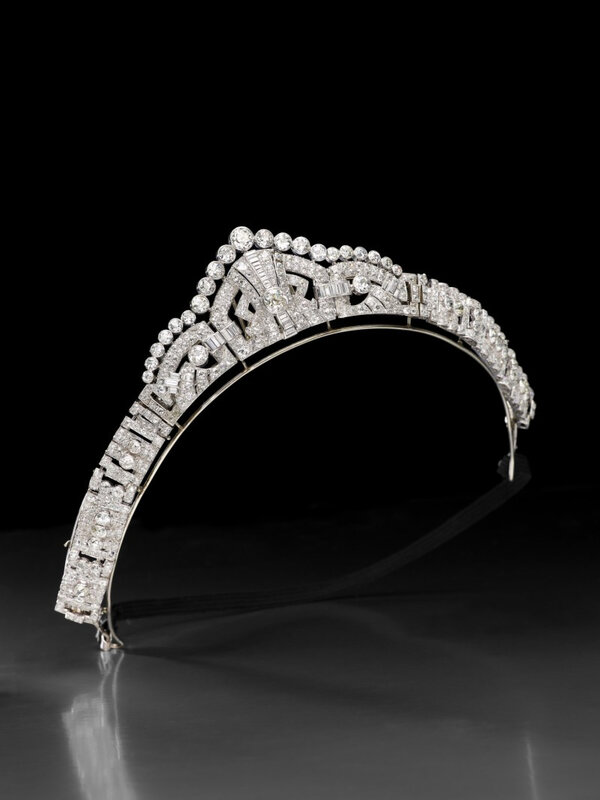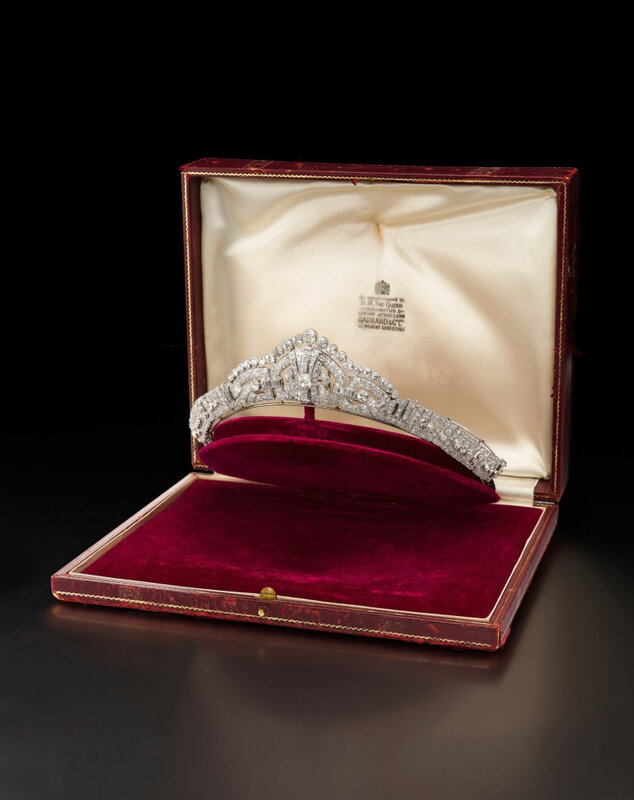 Lot 1654. Diamond tiara/Clip brooches/Bracelet, possibly Garrard & Co. Estimate: 1,000,000 - 1,500,000 HKD. Courtesy Sotheby's.
Set with old-mine- and old European-cut and baguette diamonds, tiara detachable and can be worn as three separate clip brooches and a bracelet, tiara inner circumference approximately 310mm, bracelet length approximately 175mm, fitted case stamped Garrard & Co. Ltd.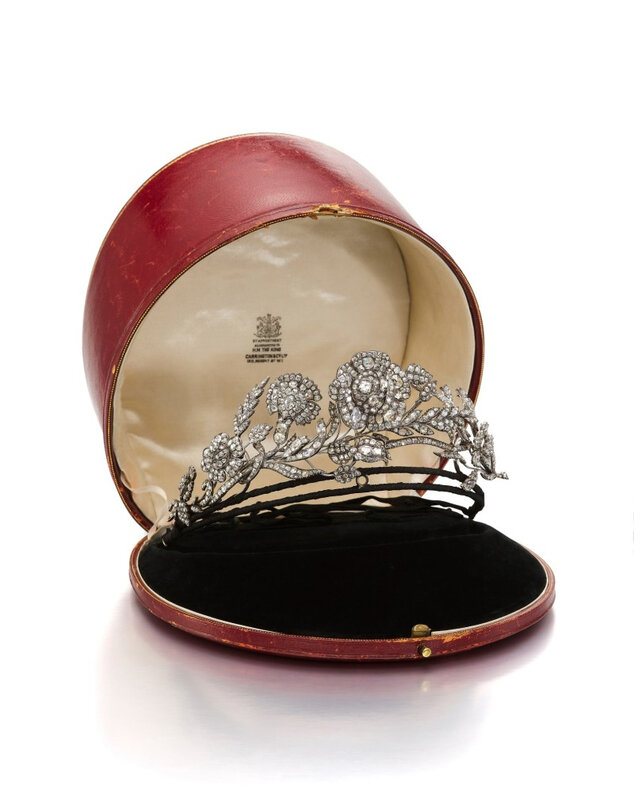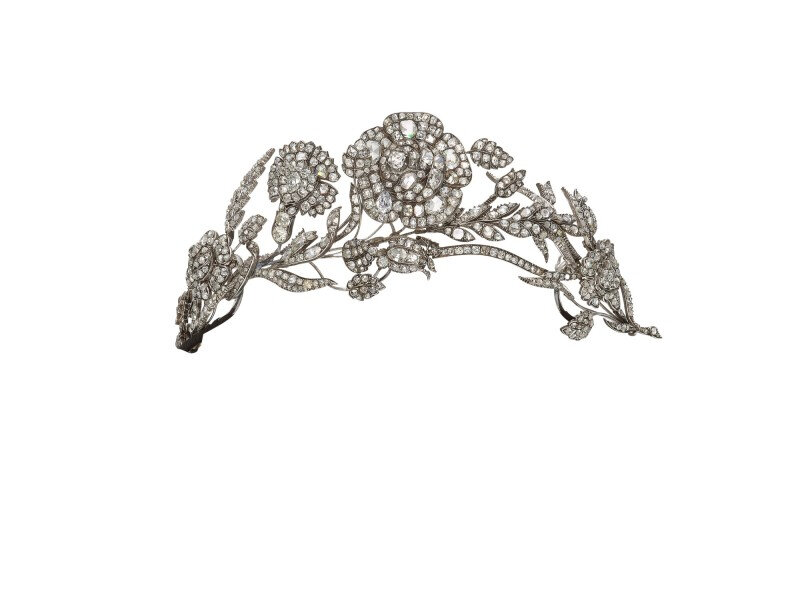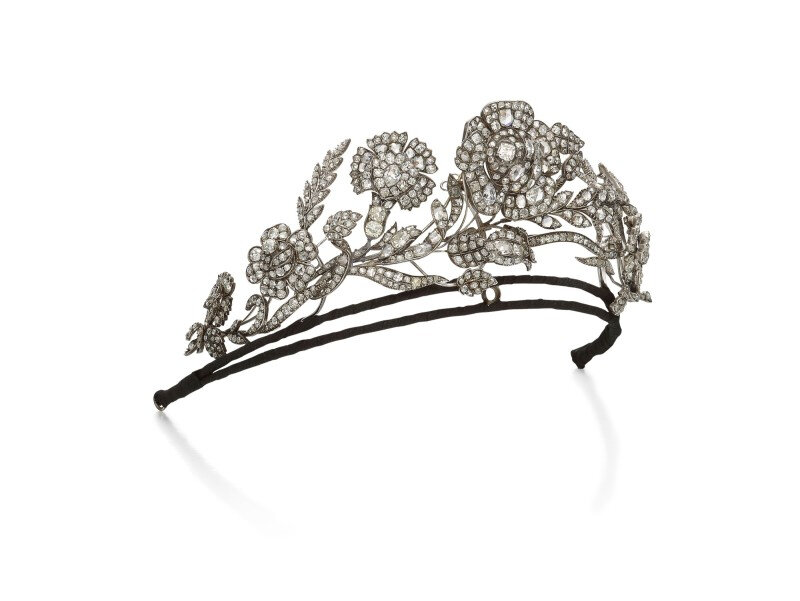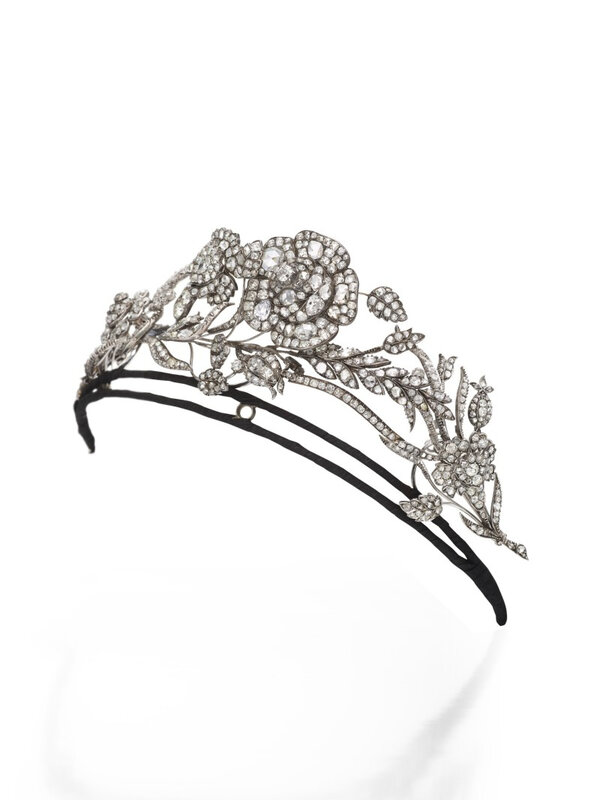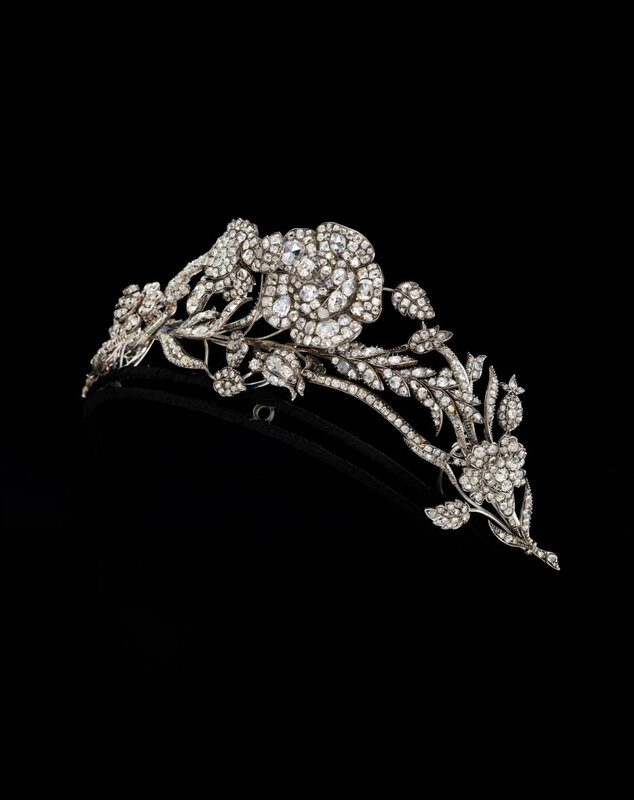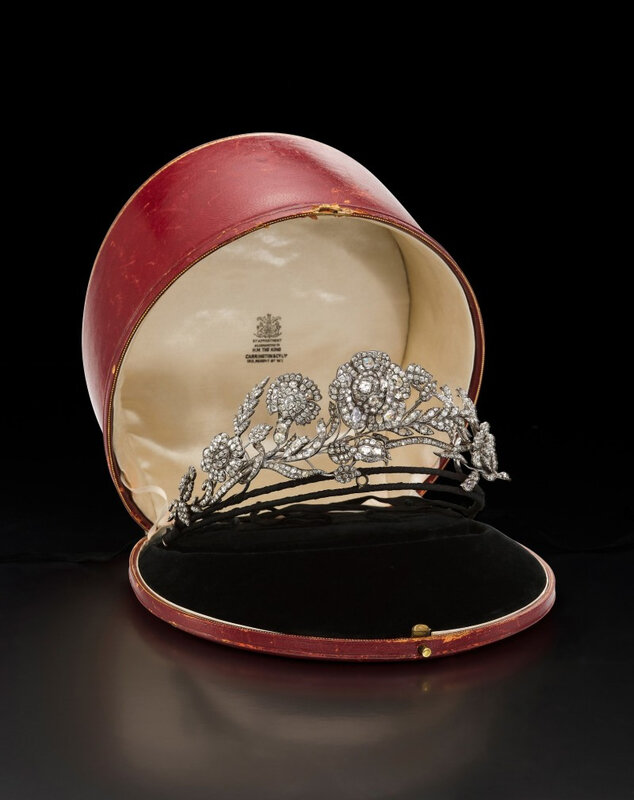 Lot 1655. Diamond tiara, possibly Carrington & Co., late 19th century. Estimate: 1,400,000 - 1,800,000 HKD. Courtesy Sotheby's.
Of floral design, set with old-mine- and rose-cut diamonds, centre flower set en tremblant, inner circumference approximately 245mm, fitted case stamped Carrington & Co. Ltd, one small diamond deficient.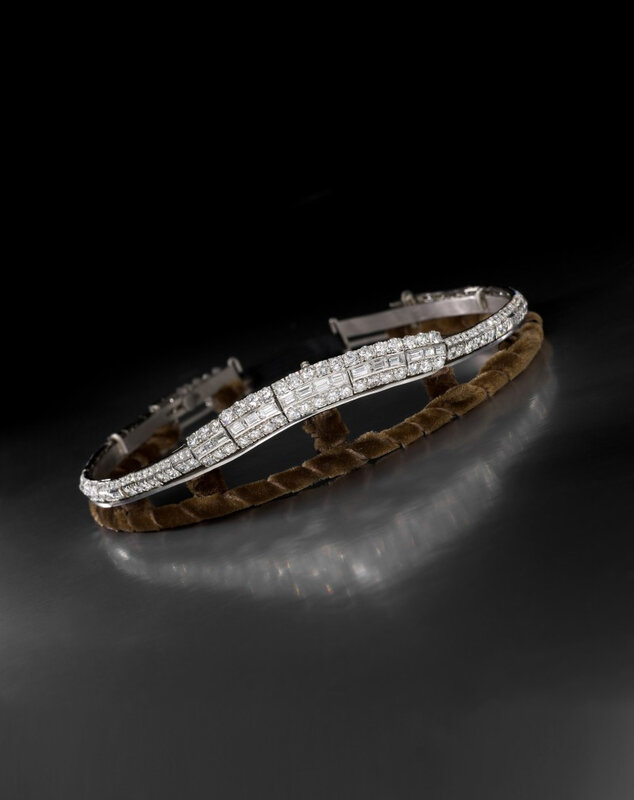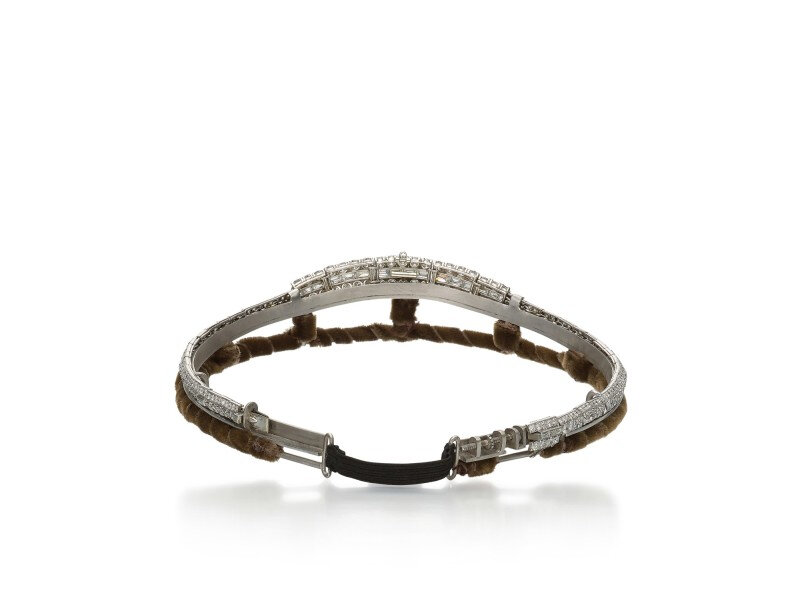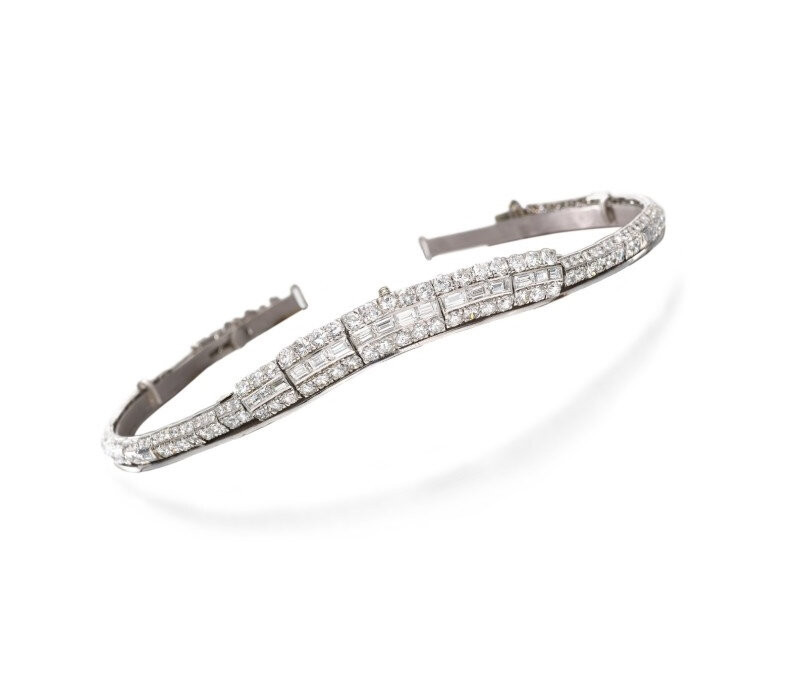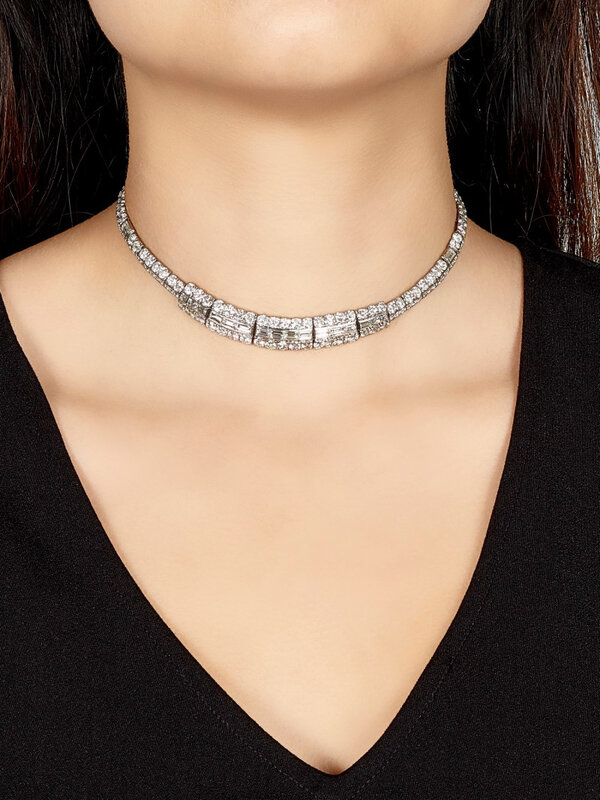 Lot 1656. Cartier, Diamond tiara. Estimate: 1,300,000 - 1,700,000 HKD. Courtesy Sotheby's.
Set with baguette, old European- and brilliant-cut diamonds, mounted in platinum, signed Cartier, numbered, French assay and maker's marks, detachable to be worn as a necklace, tiara inner circumference approximately 380mm, necklace length approximately 330mm.
Sotheby's. Magnificent Jewels, 7 October 2020, Hong Kong.