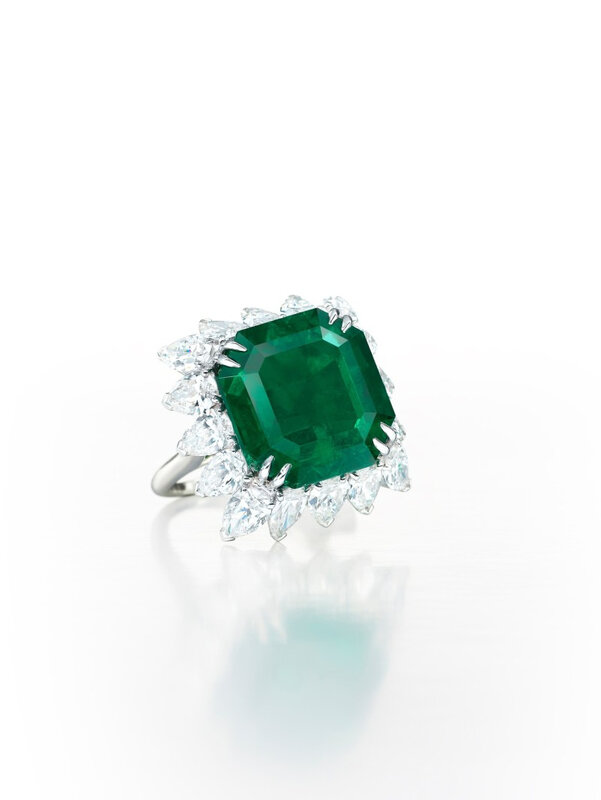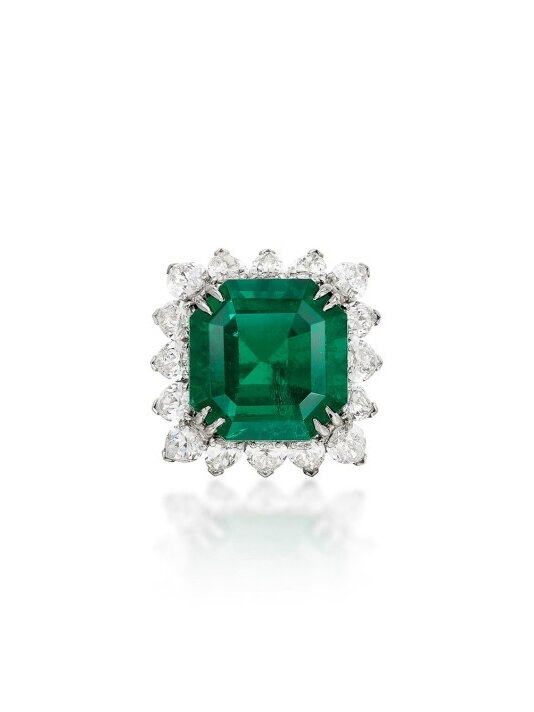 Lot 1651. Harry Winston. A rare and important 16.08 carats Colombian emerald and diamond ring. Estimate: 6,000,000 - 9,000,000 HKD. Courtesy Sotheby's.
Set with a step-cut emerald weighing 16.08 carats, within a pear-shaped diamond surround, mounted in platinum, signed Winston, size 8.
Accompanied by Gübelin report no. 20023082, dated 14 February 2020, SSEF report no. 112488, dated 12 February 2020 and AGL report no. 1105696, dated 17 January 2020, stating that the emerald is of Colombian origin, with no indications of clarity enhancement.
House of Winston
The 1950s is considered one of history's great diamond eras, the decade when diamonds became a girl's best friend, when they proclaimed the Majesty of the newly-crowned young British Monarch, Queen Elizabeth II, when De Beers told the world that a Diamond is Forever and when Harry Winston became known as the New York jeweller to the stars, crowned as the King of Diamonds.
Bathed in the glow of post-war optimism, promising peace and prosperity, the 1950s held out the allure of the New Riches. Jewels, and especially the diamond, with its celebratory, light and dream-filled life captured the zeitgeist, answering the longing for luxury, after years of hardship and depravation, and at the same time offering security and longevity.
Creating spectacular jewels from precious gemstones is an extraordinary art. Master jewellers must possess not only a sound knowledge of the finest materials, but the creative curiosity and technical virtuosity to awaken an unimagined brilliance in each individual gem. Celebrating the beauty of the world's most precious diamonds and rarest gemstones, Harry Winston's high jewellery creations bring the breadth and creativity of the House's design legacy to life. Combining exceptional techniques in craftsmanship and innovation with decades of experience and tradition, Harry Winston designers and craftsmen challenge their imagination – from the first design sketch to gemstone sourcing and setting – to create jewels like no other. Jewels that transform fine jewellery, into fine works of art.
Colombian emeralds that are of impressive size, possessing a rich, vibrant hue and determined to be of no oil quality are increasingly rare to the market. For millennia, emeralds have been one of the most admired and sought-after gemstones in the world. Having adorned the Egyptian Pharaohs and Roman emperors, emeralds have achieved an exalted status when they returned to Europe in the 16th Century on the boats of Spanish Conquistadors from what is now South America.
Lot 1651 is a perfect example of how the House of Winston maintains its taste of exquisite, rare gemstones, set impeccably in a classic Winston mounting, a quintessential piece for every jewellery collection.
Sotheby's. Magnificent Jewels, 7 October 2020, Hong Kong.