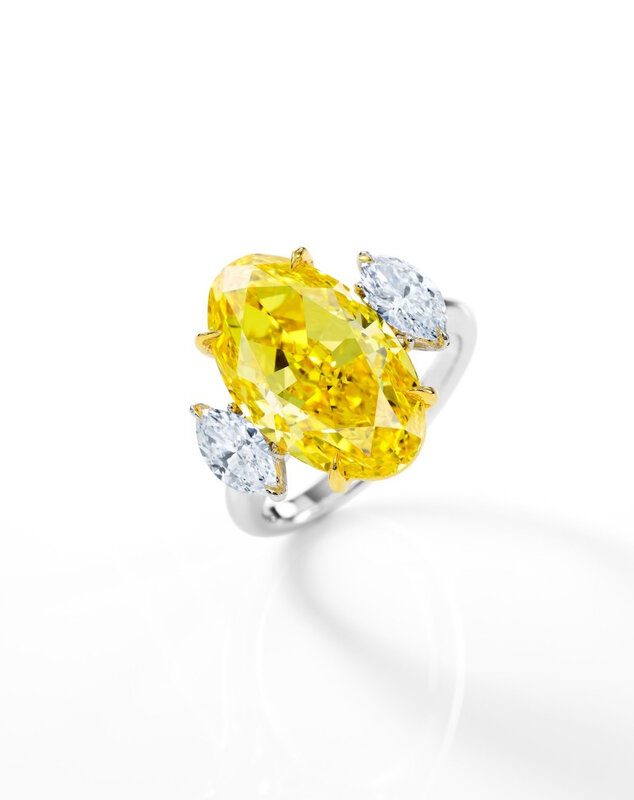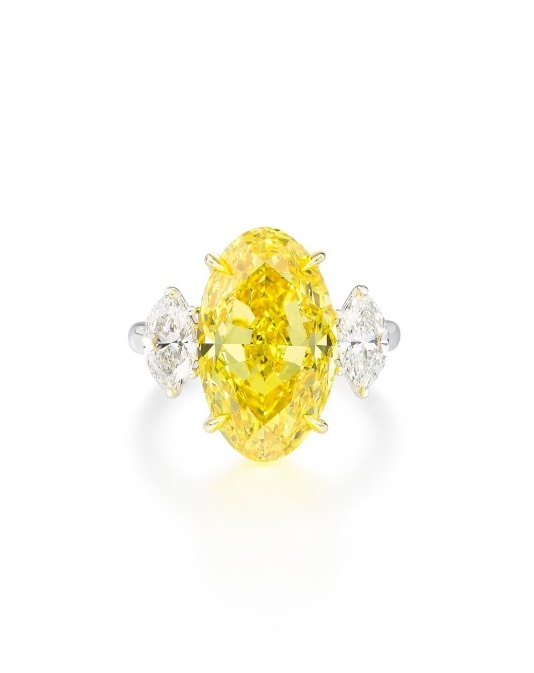 Lot 1750. An exceptional 8.88 carats fancy vivid yellow diamond and diamond ring. Estimate: 5,500,000 - 7,000,000 HKD. Courtesy Sotheby's.
Set with an oval fancy vivid yellow diamond weighing 8.88 carats, between two marquise-shaped diamonds, mounted in 18 karat white and yellow gold, size 6.
Accompanied by GIA report no. 2205965096, dated 17 July 2020, stating that the 8.88 carat diamond is Fancy Vivid Yellow, Natural Colour, VS2 Clarity.
Yellow Vivacity
The fascinating hue of a yellow diamond has quickly become an integral part of any diamond connoisseur's collection. The inherent charm of a yellow diamond capturing the sun's rays gives the sentiments of joy and happiness. This eclectic and electric hue is owed to the presence of nitrogen within a diamond's atom. Unsurprisingly, the intensity of the yellow colour depends entirely on the amount of nitrogen present. Yellow diamonds occur in a wide range of saturations and the grade of Fancy Vivid Yellow is the highest and most coveted colour grade for yellow diamonds determined by GIA.
Even amongst the fancy vivid yellow colour grade alone, there can be a range of hues and tones which register differently in its appearance. Some carry a crisp lemon yellow colour whilst others emulate a warm golden ray. To each is their own but some vibrant hues are simply unmistakable. A renown mine in Sierra Leone, right in the heart of the rainforest region, lies a small community named Zimmi. For many years, the most sought-after yellow diamonds have been discovered from the region, better known as The Zimmi Diamond. Zimmi Diamonds are a rare vivid yellow which stands out from the more commonly seen canary yellow diamond. It has a much higher level of colour saturation raising its value up to around 2 times higher than their other vivid peers. With colour comparable to a Zimmi Diamond, lot 1750 is a treasure which radiates from deep within.
Lot 1750 not only embodies the most captivating glow of colour but is a remarkable fancy vivid yellow diamond of 8.88 carats which personifies the number symbolising luck and wealth. In Chinese, the number eight, pronounced as "ba" has a special association with prosperity owing to the similarity of its pronunciation to the term "prosperous", "fa", in Chinese. The spectacular 8.88 carat Fancy Vivid Yellow diamond exemplifies three eights – an extremely rare and fortunate case.
Though a fortunate occurrence, it is by no coincidence that such an in-demand carat weight exists. The skill and expertise required of the diamond cutter to achieve such an immaculate level of precision cannot be left to fate, one polish too deep and the idyllic carat weight of 8.88 would diminish.
A result of nature's blessing, a saturation so strong, perfected by the careful workmanship upon discovery brings to light a beam of vibrancy encompassed within Lot 1750.
Sotheby's. Magnificent Jewels, 7 October 2020, Hong Kong.