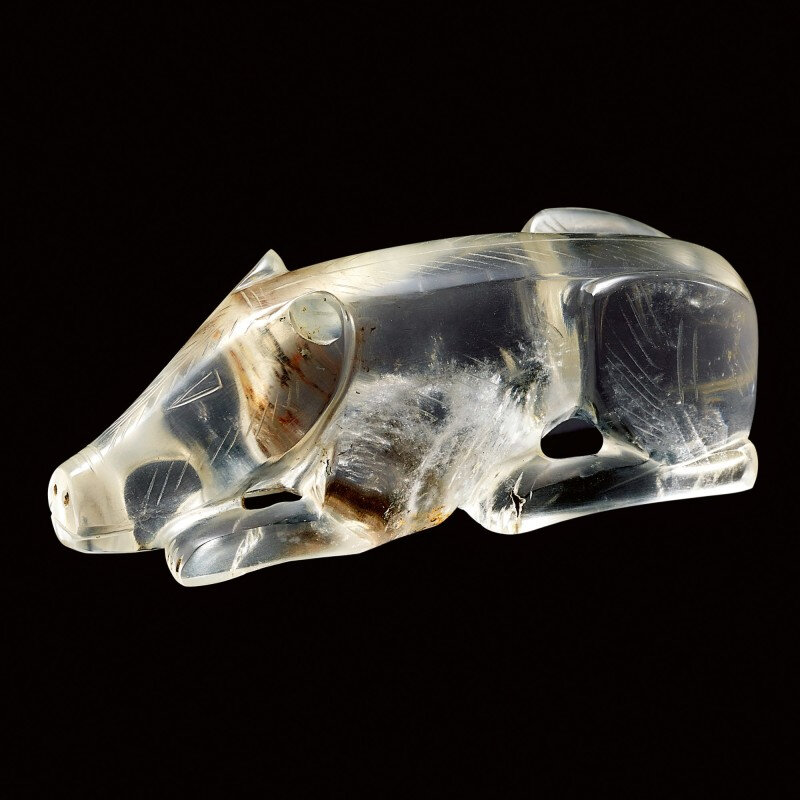 Lot 71. A rock-crystal figure of a recumbent boar, Eastern Han dynasty (25-220); 7.7 cm, 3 in. Estimate: 240,000 - 300,000 HKD. Lot sold 277,200 HKD. Courtesy Sotheby's.
depicted with the head resting between the front paws, the elongated snout with a flat end picked out with two nostrils, the body of the beast incised with short lines to simulate fur.
Property from the Hei-Chi Collection.
Literature: Jiang Tao and Liu Yunhui, Jades from the Hei-Chi Collection, Beijing, 2006, p. 130.
Note: Carved in the round from rock-crystal, the recumbent boar is well articulated with triangular eyes, a long snout and a coat of short fur picked out with finely incised striations. Compare two pairs of rock-crystal pigs, carved in a slightly less refined style, included in the exhibition Sparkling Splendours. The Art of Ancient Chinese Carvings on Rock Crystal and Agate. The Taoshi Zhai Collection, Art Museum, The Chinese University of Hong Kong, Hong Kong, 2000, cat. nos 215-216. Similar animal figures were also made in other materials during the Han dynasty. For example, see a slightly larger stone recumbent pig with a long snout in the Metropolitan Museum of Art, New York, no. 1994.605.113. A small Eastern Han recumbent beast with triangular eyes and a big rounded nose, together with a closely related stone animal figure decorated with striations similar to those on the present lot, was excavated from Wubaizhuang, Linyi, Shandong, and preserved in the collection of Linyi Museum (Regional Culture in China: Qilu Culture, Shanghai, 1998, pl. 260).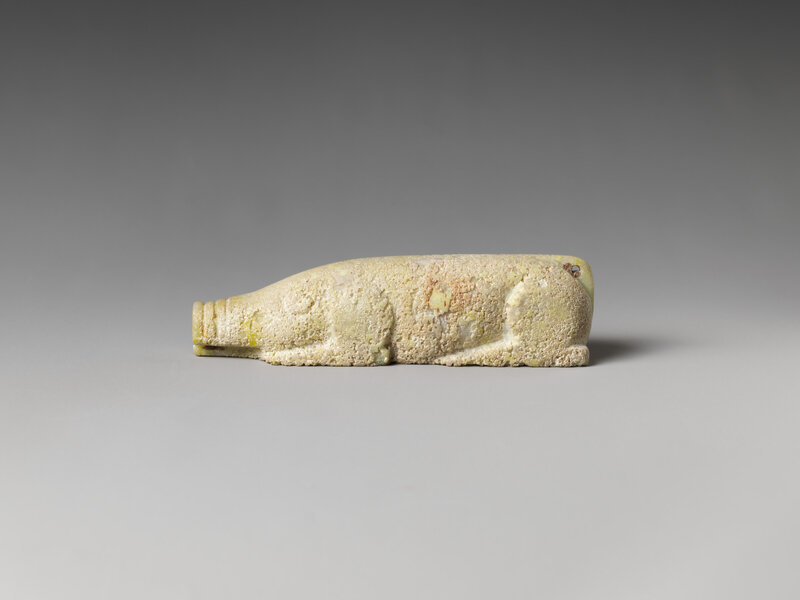 Pig in Recumbent Position, Eastern Han dynasty (25–220), 1st–2nd century. Dolomite. H. 1 3/16 in. (3 cm); L. 4 3/16 in. (10.6 cm). Charlotte C. and John C. Weber Collection, Gift of Charlotte C. and John C. Weber, 1994, 1994.605.113. © 2000–2020 The Metropolitan Museum of Art.