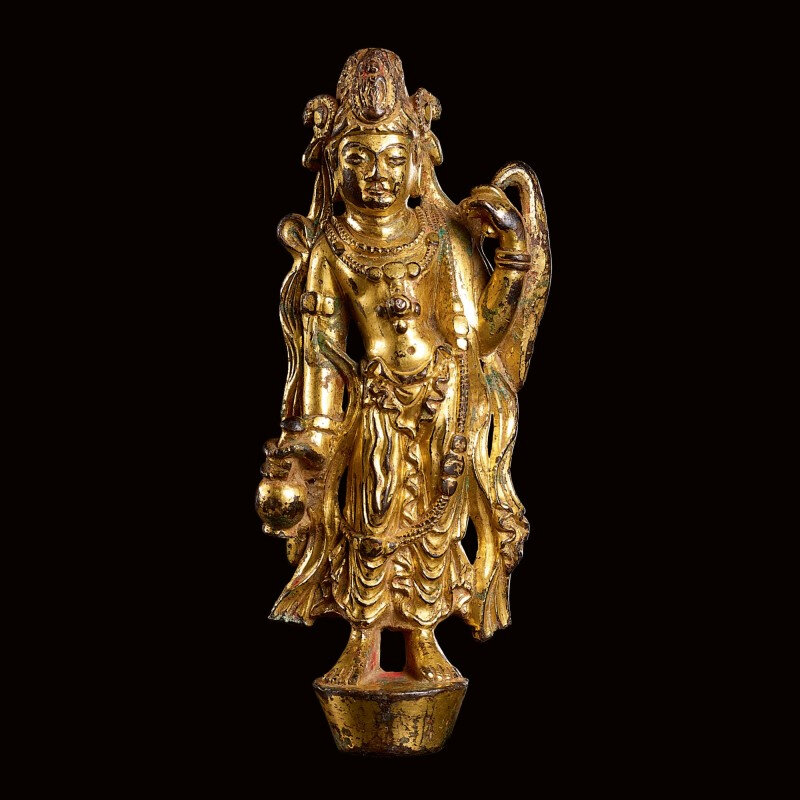 Lot 39. A gilt-bronze figure of Avalokiteshvara, Tang dynasty (AD 618-907); 11.5 cm, 4 ½ in. Estimate: 300,000 - 400,000 HKD HKD. Courtesy Sotheby's.
finely cast standing in tribhanga and portrayed with the left elbow bent and holding a long willow stem in his left hand and a vase of amrita in the right, adorned with a headdress containing an image of Amitabha and elaborate jewllery, stand.
Provenance: Christian Deydier Oriental Bronzes Ltd, London, 26th June 1995.
Exhibited: Ancient Chinese Bronze Vessels, Gilt Bronzes and Early Ceramics, Christian Deydier Oriental Bronzes Ltd, London, 1986, cat. no. 14.
Note: This beautifully rendered image of the most beloved deity in Buddhism displays classic characteristics of the Tang period. Representations of Avalokiteshvara during the Sui and Tang periods frequently depict the bodhisattva adorned in princely jewels and a crown, bearing a vase of amrita, believed to heal or bestow immortality upon worshippers, in one hand; and a willow branch, also representative of healing, in the other. The willow branch iconography can be traced to the complex sinicisation of Avalokiteshvara in relation to the developments in Chinese worship of the deity, as the attribute is not seen in Indian and Tibetan depictions of the bodhisattva.
A closely related smaller Tang gilt-bronze figure of Avalokiteshvara formerly in the collections of Sir Percival David and Stephen Junkunc was sold in our New York rooms, 12th September 2018, lot 1.