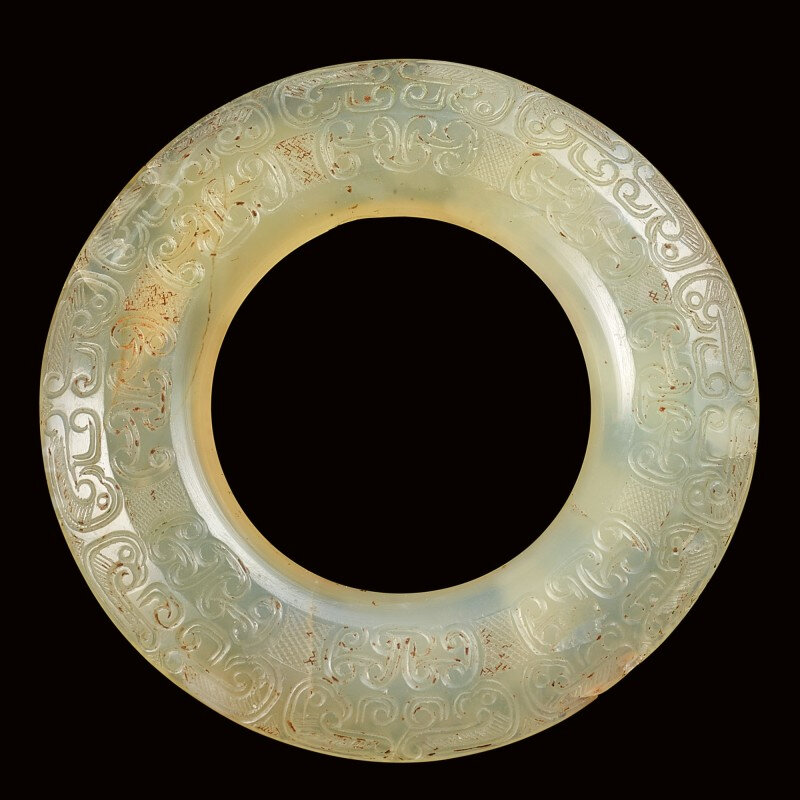 Lot 49. An agate 'phoenix' ring, huan, Eastern Zhou dynasty, Spring and Autumn period (770-475 BC); 7.2 cm, 2 ¾ in. Estimate: 80,000 - 100,000 HKD HKD. Courtesy Sotheby's.
similarly decorated on both sides with a central raised frieze incised with eight groups of stylised scrollwork alternating with cross-hatch lines, encircled by a bevelled outer ring with eight pairs of phoenix.
Property from the Hei-Chi Collection.
Literature: Jiang Tao and Liu Yunhui, Jades from the Hei-Chi Collection, Beijing, 2006, pp. 84-85.
Note: A larger agate ring (d. 10.4 cm), incised with C-shaped scrollwork, occasionally interspersed by hatching, was included in the exhibition Sparkling Splendours. The Art of Ancient Chinese Carvings on Rock Crystal and Agate. The Taoshi Zhai Collection, The Art Museum, The Chinese University of Hong Kong, Hong Kong, 2000, cat. no. 102. Similar rings made of rock crystal, agate or chalcedony, oftentimes undecorated, were used as the top components in the configuration of ritual ornaments in the Eastern Zhou dynasty; see The Ancient Qufu City of the Kingdom of Lu, Jinan, 1982, pl. 118:3.
Sotheby's. Monochrome II, 9 October 2020, Hong Kong