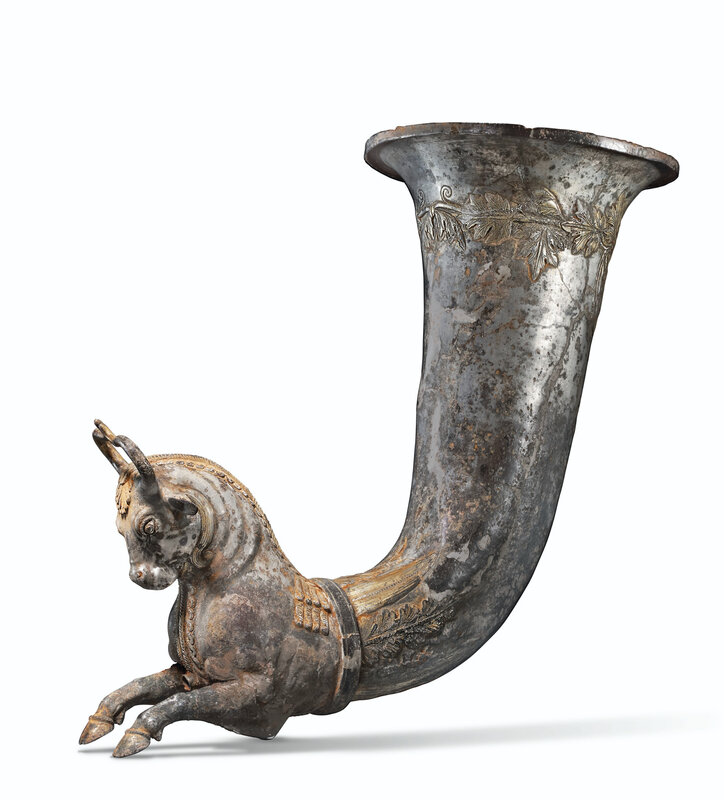 Lot 56. A Seleucid or Parthian parcel gilt silver bull rhyton, Hellenistic period, circa 2nd century B.C.; 13 ¾ in. (34.9 cm.) long. Estimate USD 30,000 - USD 50,000. © Christie's Image Ltd 2020.
Provenance: Acquired by the father of the current owner, U.S., by 1992; thence by descent.
Note: The horn-shaped beaker has a gilt foliate wreath below the flaring rim. At the join to the separately-made bull protome is a raised cuff, from which a calyx of gilt acanthus and lanceolate leaves rise along the horn. The muscular bull has its forelegs extended, with a pouring spout centered in between. It is richly decorated with raised gilt ornament along the chest and back, extending over the poll between the separately-made ears and tapering horns.
Rhyta were designed to aerate wine, and were fashioned from a number of materials, including gold, silver, bronze, stone, terracotta and glass (see p. 241 in K. Lapatin, Luxus: The Sumptuous Arts of Greece and Rome). For a related parcel gilt silver bull rhyton see the example in Toledo, a zebu, fig. 7.7 in S. Ebbinghaus, et al., Animal-shaped Vessels from the Ancient World: Feasting with Gods, Heroes, and Kings. According to H.P. Colburn ("Rhyta in the Hellenistic and Roman Mediterranean," in Ebbinghaus, et al., op. cit., pp. 316-317), the Toledo bull rhyton draws on earlier Achaemenid tradition, since the bull was an important symbol of royal power, representing strength but also fertility and affluence. However, the extended forelegs are a Greek concept, since Achaemenid bulls fold their legs beneath the body. The floral embellishments and the naturalism of the bull protome are also purely Greek in inspiration. The Hellenistic craftsman, working for a Seleucid or Parthian patron, drew from both traditions for this luxury vessel for an aristocratic banquet table.
Christie's. Antiquities, New York, 13 October 2020.