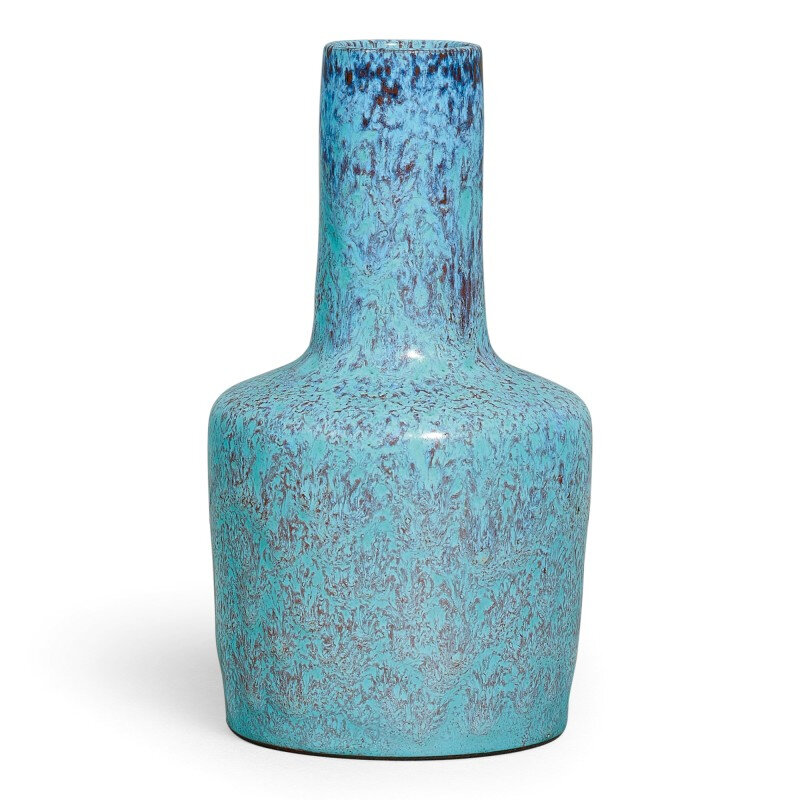 Lot 37. A rare 'robin's egg'-glazed mallet vase, Seal mark and period of Yongzheng (1723-1735); 16.1 cm, 6 ¼ in. Estimate: 1,000,000 - 1,500,000 HKD. Lot sold 5,015,000 HKD. Courtesy Sotheby's.
the well-proportioned body slightly tapering towards the foot, rising to a wide angled shoulder surmounted by a cylindrical neck, applied liberally overall with a brilliant opaque turquoise-blue glaze heightened with purplish-brown cascades, the recessed base incised with a four-character seal mark.
Note: It is extremely rare to find a Yongzheng 'robin's egg' vase of this mallet form. Robin's egg glaze is a bicolour glazing technique whereby the turquoise glaze was blown onto the blue-glazed vessel to produce a delicate stippled effect. It is also known as lujun or 'furnace Jun' in China due to the low temperature of the furnace when firing the glaze. Earlier examples were prone to streaking and unevenness in texture; therefore Yongzheng vases such as the present example are rare. Yongzheng mark and period vessels covered in a robin's egg glaze include a miniature vase, from the Qing Court collection and still in Beijing, published in The Complete Collection of Treasures of the Palace Museum. Monochrome Porcelain, Hong Kong, 1999, pl. 187; and a rectangular jardinière sold in these rooms, 11th April 2008, lot 2816.
For the origins of the mallet form see a Southern Song Longquan vase originally in the Hachisuka family collection, sold in our London rooms, 8th November 2006, lot 54 and again at Christie's Hong Kong, 26th November 2018, lot 8007. It has been suggested by several scholars that this shape, despite resembling a paper mallet, may in fact have been introduced to China as a glass vase or bottle from the Islamic west, possibly Iran. An Islamic glass bottle vase, probably from Nishapur, North East Iran, was among the treasures found in the tomb of the Princess of Chen, Liao dynasty, dating to no later than 1018 and illustrated in Grand View: Special Exhibition of Ju Ware from the Northern Sung Dynasty, National Palace Museum, Taipei, 2007, cat. no. 25, fig. 2. Fragments of glass vessels of this shape were found in 1997 among the excavated material from the cargo of the Intan shipwreck excavated off the Indonesian coast. This ship is believed to date to the Northern Song period. Furthermore, according to the Yi Jian Zhi [Record of Yi Jian] by the Song scholar official Hong Mai, Emperor Huizong owned a collection of imported glass