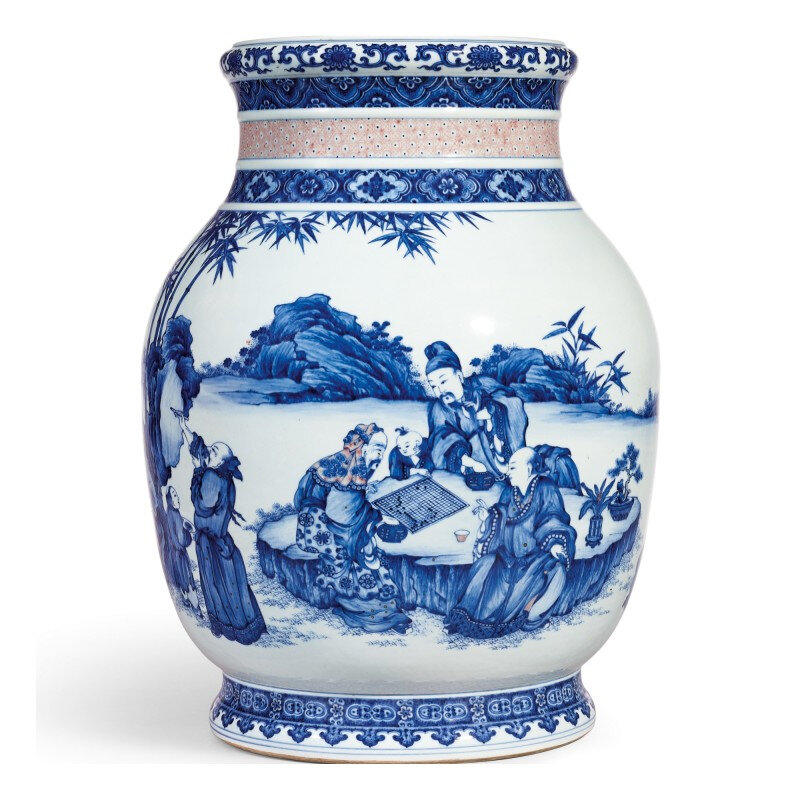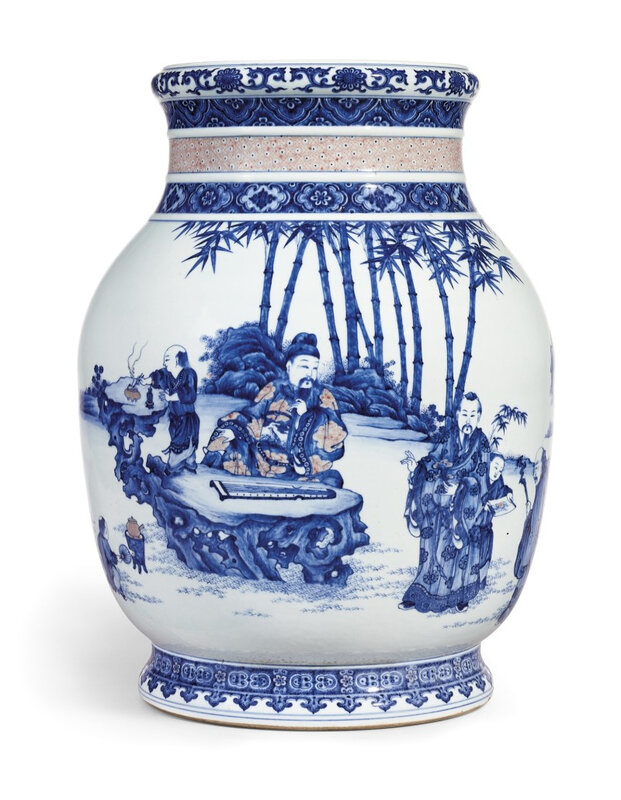 Lot 3602. A fine and large underglaze-blue and copper-red 'Seven Sages of the Bamboo Grove' vase, Qing dynasty, 18th century; 48 cm, 18 ⅞ in. Estimate: 800,000 - 1,000,000 HKD. Lot sold 4,773,000 HKD. Courtesy Sotheby's.
well decorated with a continuous scene of the Seven Sages of the Bamboo Grove with attendants nearby, one figure depicted playing the qin whilst another three are gathered around a game of chess, between finely rendered friezes encircling the waisted neck and splayed foot, all below a further floral scroll band along the rim and painted in underglaze blue with accents picked out in copper red.
Note: This large vase, finely painted with an idyllic scene depicting the Seven Sages of the Bamboo Grove, demonstrates the technical proficiency of the 18th century craftsmen. Not only is the painting on the vessel precisely and meticulously executed with fine details rendered in copper red, the skillful control of the highly unstable copper-red pigment is exceptionally impressive as it could easily run or fire to a much less striking tone during the firing process. The form of the current vase is likely to be modelled on the cylindrical rouleau vases made popular during the Kangxi reign, with the straight outlines of the prototypes replaced with more rounded and generous proportions. The portrayal of the Seven Sages of the Bamboo Grove, a group of scholars of the Wei dynasty (220-265) who had renounced their official status and career in protest against corruption, is a popular subject in the 18th century and one that reflects the way in which contemporaneous ideology was heavily steeped in Daoist beliefs and thoughts.
While no identical example depicting the Seven Sages of the Bamboo Grove appears to be recorded, there are comparable examples similarly decorated with Daoist motifs. See a slightly shorter example with a less bulbous body and decorated with the Three Star Gods, sold in these rooms, 28th November 2019, lot 15, from the collection of Sir Quo-Wei Lee. Compare also two slightly shorter examples with Qianlong seal marks and of the period, the first (46.2 cm) decorated with deer and pine trees from the Wang Xing Lou collection, published in Imperial Perfection. The Palace Porcelain of Three Chinese Emperors, Hong Kong, 2004, pl. 27; and the other (45 cm) painted with the Three Star Gods, from the collection of Ernest Grandidier, now in the Musée Guimet, Paris, no. G 4280.